Accountability Lab's HackCorruption team joins the Anti-Corruption & Governance Center podcast to discuss how a series of Tech-For-Good events are building diverse communities of anti-corruption activists in emerging markets. Accountability Lab Global Director of Learning Cheri-Leigh Erasmus, Mexico Country Director Eva Sander, and Global Programs and Partnerships Manager Sara Hoenes describe how their hackathon model has set a new bar for training in anti-corruption, design, marketing, and stakeholder engagement. Listen now to hear how one southern Africa group of five winning teams is seeding the work for an upcoming series of anti-corruption hackathons in Asia and Latin America. The program is being implemented with support from CIPE. The podcast is hosted by Anti-Corruption & Governance Center Director Frank Brown and CIPE Program Officer Ben Schmidt.
---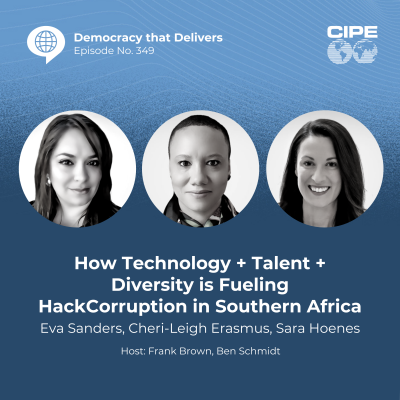 Want to hear more? Listen to previous podcasts at CIPE.org/podcast.
Subscribe to the podcast on iTunes or your Android device.
Like this podcast? Please review us on iTunes.