Introduction
In June, CIPE began surveying business associations and chambers of commerce throughout Africa. The survey was designed to measure the impact of COVID-19 on these organizations and their respective communities. In the words of CIPE's Executive Director, Andrew Wilson, business associations and chambers are "conduits of information, advocates for policy, providers of service, and mobilizers of relief." The importance of a response from these organizations is critical to recovering from the pandemic and re-opening the economy.
COVID-19 has had a major impact on business associations, chambers, and their communities. Associations expert Bill Pawlucy reflects "It is very evident that the impact of the current pandemic is very real, and the data collected shows this but also points to hope and recovery."
In light of the challenges, the survey reveals innovation and the creative response of organizations. The inherent nature of these organizations – to advocate and provide for their member's interest and well-being – has hardly been more evident. Challenges are abounding, yet so are impactful responses.
CIPE received over 100 preliminary responses from associations and chambers of all sizes and areas of focus across the continent from 12 countries including Nigeria, Kenya, Ethiopia, Rwanda, Zimbabwe, Ghana, South Africa, Liberia, Uganda, Mauritius, Algeria, and the Gambia. Since we are still in the midst of the pandemic, CIPE will continue to collect information from associations but we want to share the preliminary results and findings. The survey begins by studying the pandemic's impact on association and chamber revenue streams and transitions into programming challenges, community impact, adaptations, and areas for CIPE and other development partners to provide support.
Impact on Association Revenues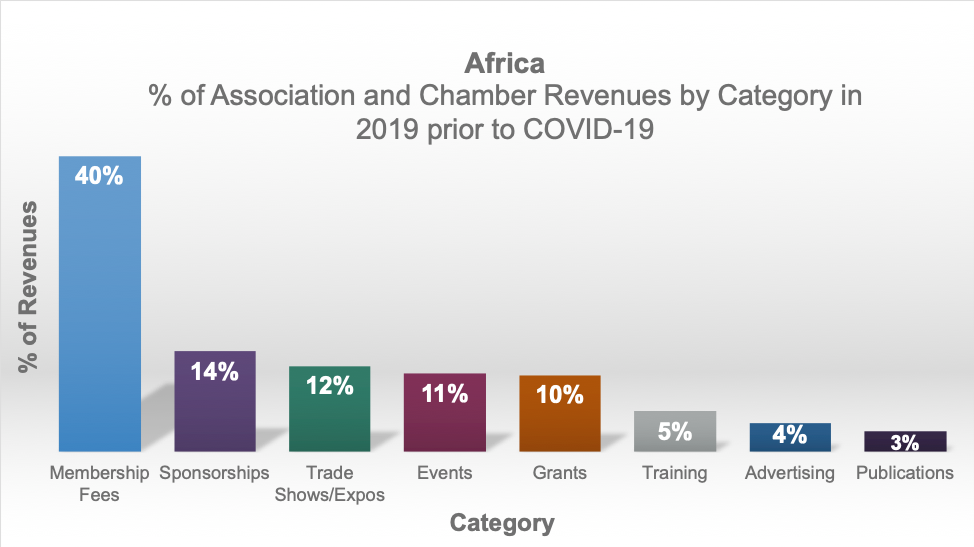 Prior to COVID-19 the largest revenue stream for surveyed associations and chambers in 2019 was membership dues by a large margin, followed by sponsorships, trade shows/expos, events, and grants. To understand the effects of the pandemic on associations' sources of revenues we initially studied the traditional sources of revenue. The results are in line with other international studies on association sources of revenue.
Many of the revenue sources are largely dependent on the ability to gather in person. The inability to currently do so in many countries due to social distancing guidelines is a serious limitation that is actively affecting association revenues. This disproportionately affects associations in Ethiopia who, on average, reported 20% of revenues from trade shows/expos – greater than the averages across the continent.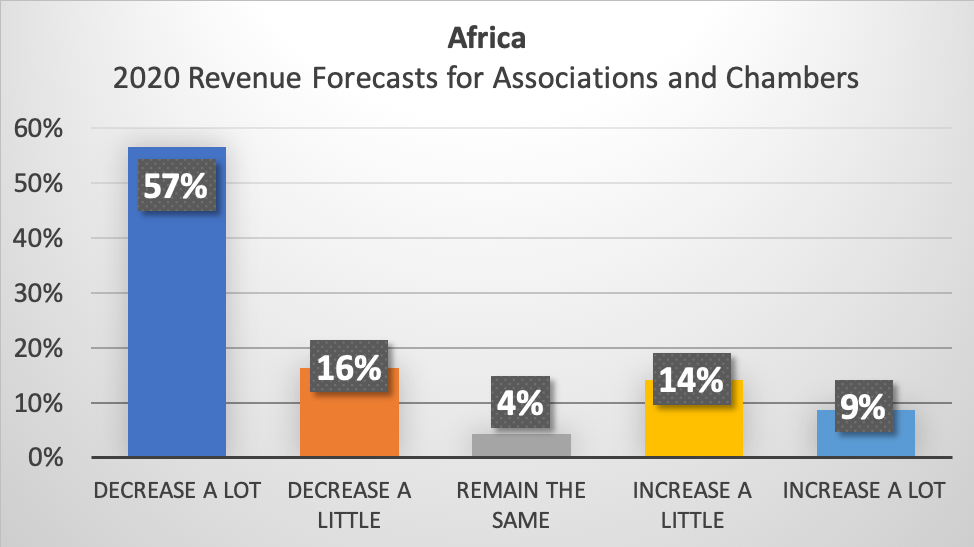 "The survey findings also point to signs of optimism" says CIPE Senior Consultant, Carmen Stanila. Almost a quarter of respondents expect revenue to increase in 2020, a testament to "African associations' positivism and capacity to rebound". Organizations reported adapting their activities and service offerings to continue to serve members during the pandemic. Many have directly assisted in recovery efforts – notably the distribution of PPE throughout local communities and marketplaces to mitigate virus spread and economic stagnation.
The overall impact of the pandemic on revenues, however, is largely negative as evidenced below in Exhibit 3.  Of all respondents surveyed, at least 43% project a 51-75% loss in 2020 revenues as a result of the pandemic while 13% expect a 76-100% loss of revenue. Without adequate reserves, the data suggests organizations will struggle to continue operations, pay their staff, and effectively advocate for their members during this crucial time.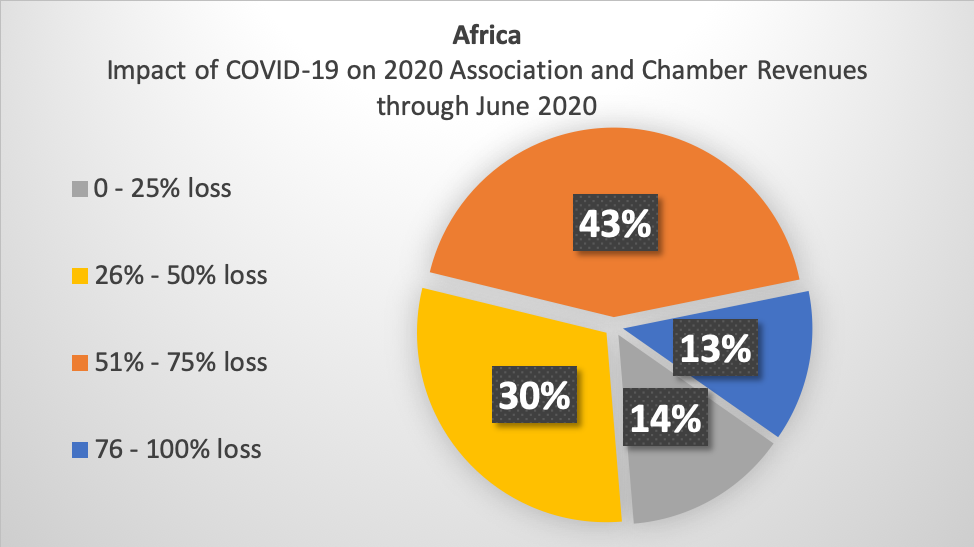 Challenges facing Associations and Chambers
Revenues have been, and will continue to be, significantly affected by the pandemic. Yet, less than a quarter of survey respondents reported challenges communicating or providing information to members and stakeholders as seen below in Exhibit 4. This serves as reassurance that while organizations face challenges of holding events, meetings, recruiting members, and retaining members, associations are finding new ways to disseminate information to stakeholders.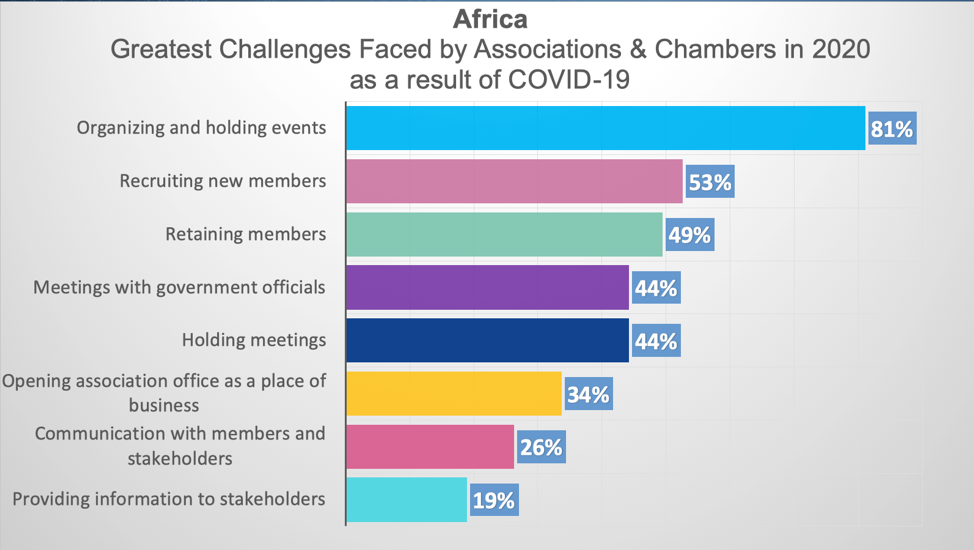 It is very evident that the impact of the current pandemic is very real and the data collected shows this but also points to hope and recovery.
— Bill Pawlucy, CEO of Association Options
As re-opening strategies continue to be implemented, the voices of associations and chambers must be present. The traditional methods are being hampered by the inability to gather and organizations must adapt – and many have – according to Exhibit 5. Without traditional in-person meetings and events, organizations have become more dependent on virtual communications. These tools have been used to communicate with members as well as government officials to advance organizational advocacy during a crucial time.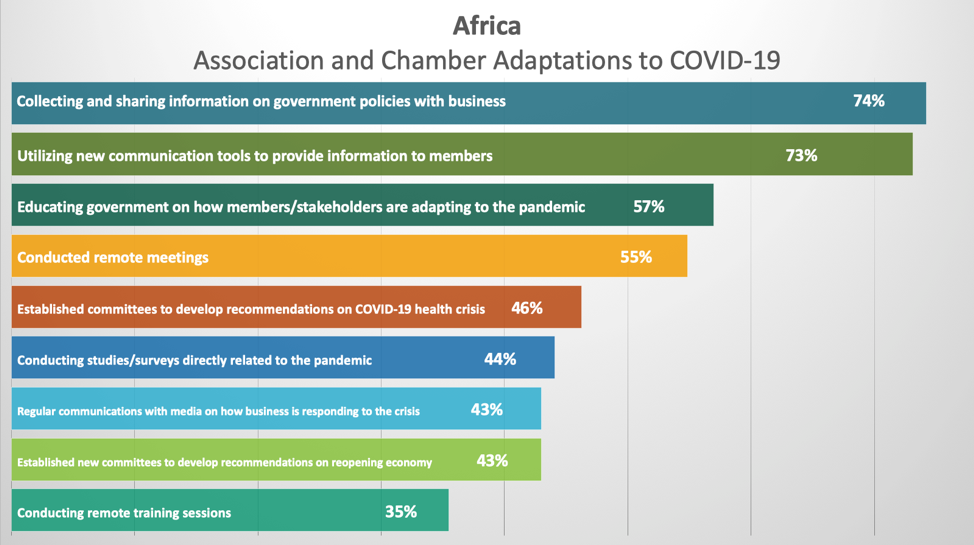 Business is being shaped by virtual webinars, more member engagement, identifying the ways in which business associations and chambers can provide immediate value, and continue to help members grow. Remaining silent is not an option and daily engagement with your members should be the norm.
— Bill Pawlucy, CEO of Association Options
Innovations during the Pandemic
Associations and chambers have proven to be adaptable even in the face of financial and organizational challenges. They continue to serve their core mission and have made impressive adaptations to continue serving their communities. Some of these adaptations include:
Surveying of local businesses in partnership with a local university on COVID-19 Impact on local business community
Online training sessions to share association expertise
Distribution of PPE including handwashing stations, masks, soaps, and sanitizers
Moving business support services to door-to-door model to support women in business
Assisting business in garnering exception permits to serve as essential businesses
Social Media/E-Commerce trainings for members
Chambers serving as guarantors for COVID-19 support loans
Farming adaptations to increase crop yield and address food insecurities
Communication, collaboration, adaptation and creativity are key values that African associations have embraced and can continue to rely on during the recovery process.
— Carmen Stanila, CIPE Senior Consultant
Association and Chamber Requests for Development Partners
CIPE requested information on how development partners can best provide assistance to associations as they respond to the pandemic. Overwhelmingly CIPE's expertise was called upon to share examples of association best practices and provide expertise in economic recovery.
The survey findings strongly affirm that business associations value CIPE's serving as a clearinghouse for business associations to share insights to member needs and new ways to solve problems for members.
— Joe Martin, Association Options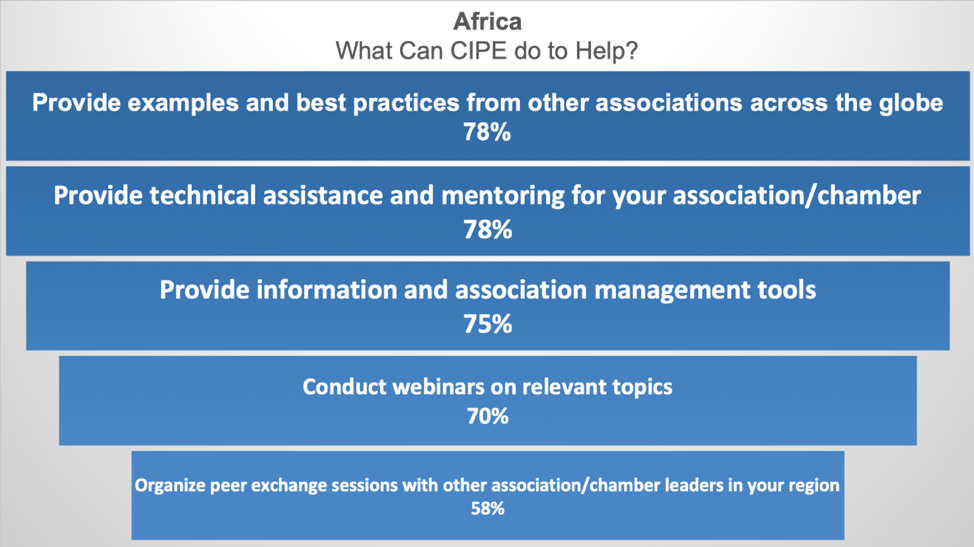 CIPE has the unique expertise and track record of successful association programs and therefore it can play an essential role in assisting associations in the recovery and rebound phase by providing best practices, management tools and resources from its partners across the globe, as well as technical assistance and mentorship.
— Carmen Stanila, CIPE Senior Consultant
---
Lars Benson – Regional Director, Africa, Center for International Private Enterprise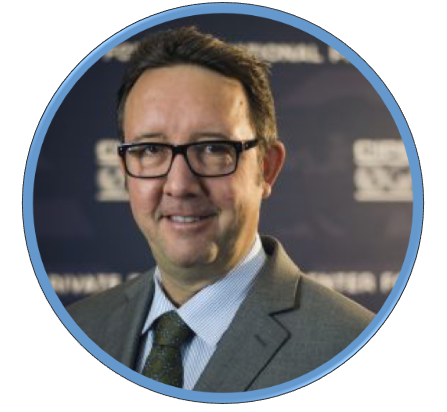 The pandemic has changed the operating environment for associations forever. In the short-term, associations need to prioritize their value addition to members, stakeholders in the community, and working with government. Associations need to provide information that will help business owners survive. In the medium and long term, associations will need to adapt and innovate how they generate revenues, communicate with members, communicate with government, and improve their internal governance structures. As a result of this survey we are beginning to see what some associations are doing to adapt and remain relevant during these challenging times as associations serve as leaders in society responding to COVID-19 and eventually in the process to safely reopen their country's economies.
Andrew Wilson – Executive Director, Center for International Private Enterprise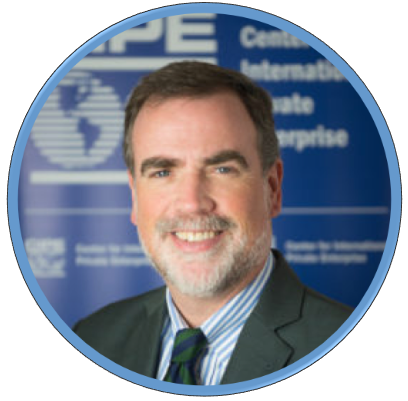 The survey indicates the demand for communications and information is high, but in a situation in which the traditional methods of public events and face to face meetings are all but impossible. Like many in the business community chambers and associations must make the leap to digital platforms for program delivery.  While the paradigm shift may tax skills and traditional practices at the outset, association managers may find the move allows them to reach greater numbers at less cost in the long run.  Building the technology infrastructure to support these moves at both the organizational and community level will become priorities for managers and policymakers alike.  Business groups will need to quickly build expertise in these issues to make sure the principles of fairness, access, and privacy are drivers of an evolution that will impact the development of a broader digital economy.
---
Association Resources
CIPE has developed a variety of resources for associations and chambers and has a collection of useful expert webinars related to pandemic adaptations for associations and chambers.
The Virtual Business Association
Tools and technology to support your business association including guides to advocacy, membership development, financial management, and organizational management
https://www.cipe.org/vba/resources/about-the-project/
Business Associations for the 21st Century
A business association management guide to help business owners and managers around the world build a stronger and more favorable business climate through effective programs and the advocacy efforts of a successful business association.
https://www.cipe.org/resources/business-associations-for-the-21st-century/
Webinar Series – Association Strong
CIPE has hosted a series of expert webinars to address the challenges of COVID-19 for associations and chambers. Below are several of the webinars available on the CIPE website that serve as useful guides.
Pandemic Economic Recovery with Bob Harris – Part 1
https://www.cipe.org/newsroom/association-strong-pandemic-and-economic-recovery/
Pandemic Economic Recovery with Bob Harris – Part  2
 https://www.cipe.org/newsroom/association-strong-pandemic-and-economic-recovery-part-2/
Ask the Associations Expert Panel with Bob Harris, Grace Nzou, and Wumi Gbadamosi
https://www.cipe.org/newsroom/ask-the-experts-association-response-to-pandemic-and-economic-recovery/
 Surveying and Presenting Data as a Story with Grace Nzou
https://www.cipe.org/events/surveying-the-covid-19-impact-on-business-associations/
Private Sector Advocacy in a Time of Crisis with Rachel Muthoga
https://www.cipe.org/events/private-sector-advocacy-in-a-time-of-crisis/
Elements of a Good Survey with Sheru W. Muuo
https://www.cipe.org/events/elements-of-a-good-survey-with-sheru-w-muuo/
Ask the Expert Panel on COVID-19 Survey Results with Bill Pawlucy,

Carmen Stanila, Grace Nzou,

and Joe Martin
Published Date: July 22, 2020