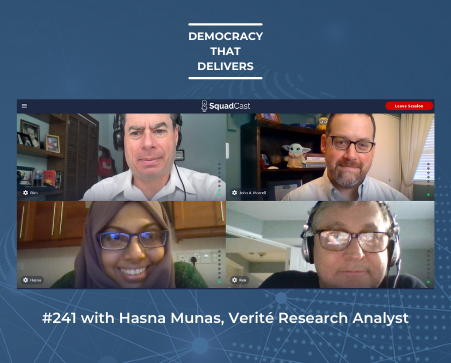 In this latest episode, CIPE's Anti-Corruption & Governance Center features Hasna Munas, an analyst for Verité Research, Sri Lanka's leading independent think tank. She tells an insider's story of the development of Sri Lanka's first-ever Right To Information (RTI) law five years ago. Since then, the law has become known as one of the best RTI laws in Asia and the basis for Verité Research's groundbreaking new website, BudgetPromises.org, a one-stop shop for citizens, visitors, and businesses to hold Sri Lanka's government accountable for how it spends money through an easily understandable visual format. The podcast is hosted by CIPE Asia Regional Director John Morrell and Communications Director Ken Jaques.
---
Want to hear more? Listen to previous podcasts at CIPE.org/podcast.
Subscribe to the podcast on iTunes or on your Android device.
Like this podcast? Please review us on iTunes