E-commerce is rapidly growing in Southeast Asia. The phenomenon of paying for goods and services in a few clicks is no longer exclusive to Chinese and U.S. markets, which already have thriving internet economies. A report by Google and Temasek, a global investment company based in Singapore, predicts e-commerce in SEA will grow from $50 billion in 2017 to $200 billion worth of transactions by 2025. Such numbers seem impressive, but are not so substantial when compared to the market sizes of U.S. and Chinese e-commerce, which recently surpassed $453 billion and $1.1 trillion in online retail sales, respectively. This comparison shows that SEA's online markets have yet to become a fully structured e-commerce system.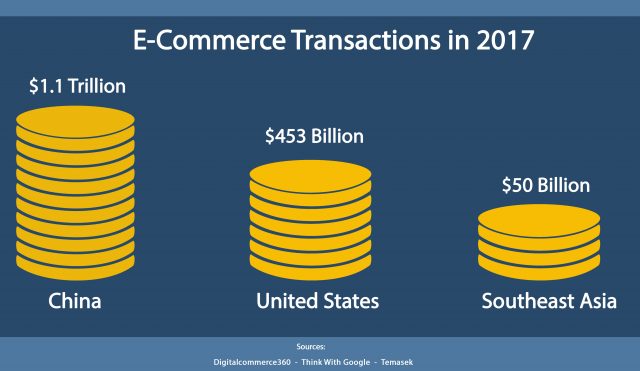 E-commerce is an essential element of thriving economies because it creates more opportunities for small and medium enterprises (SMEs) to access markets. By levelling the playing field through the expansion of online markets, economically marginalized populations can participate in the economy. Therefore, having a stabilized e-commerce system is crucial for economic inclusion and the growth of SMEs. However, the Association of Southeast Asian Nations (ASEAN) faces multiple challenges. Although many ambitious initiatives regarding logistics, online security, and e-payment have been launched, these initiatives have yet to make e-commerce in ASEAN as competitive as that of U.S or China.
Growing businesses in SEA need a sound logistics system to become successful players in e-commerce. Indonesia and the Philippines share logistics inefficiencies — a challenge posed by the geography of the region, which is a massive archipelago of 17,000 of remote islands in Indonesia and 7,000 islands in the Philippines. Along with tough geographical conditions, many Southeast Asian countries have inefficient systems of delivering goods from the transportation hub to the final destination. Local logistics companies and post office operators lack delivery capacity compared to international courier companies. To overcome this logistical obstacle, 10 ASEAN countries formed a postal authorities' alliance to gain a competitive edge over international courier companies and induce shoppers to buy ASEAN-made products. Moreover, the logistics company aCommerce, headquartered in Thailand, collaborates with online retailers. The company provides retailers with data analytics of customer experience of delivery and also enables customers to see the order status of their delivery, so that retailers' online business does not get hampered by customers' dissatisfaction with logistic issues.
Making consumers feel less reluctant about online shopping is also important for businesses to succeed in e-commerce. Thirty-four percent of Indonesian online consumers are "afraid of fraud" with regard to online purchases. Furthermore, internet users in ASEAN are reluctant to provide their personal information online, given that eight out of 10 ASEAN nations, which include Indonesia, Thailand, Philippines, and Malaysia, are most vulnerable to cyber-attacks. ASEAN countries have tried to establish collective e-commerce laws covering cyber-crime, privacy, consumer protection, and content regulation, but there are still important laws omitted in some countries. For instance, Indonesia has not enacted privacy and consumer protection laws that regulate companies' liability for the quality of products or fraudulent marketing. Privacy laws have yet to be enacted in Thailand and Vietnam as well. The United Nations Conference on Trade and Development (UNCTAD) emphasized that such gaps should be filled in order to improve consistency in regional e-commerce law that would help build consumer confidence in online transactions.
In the meantime, as an alternative to online transactions, which consumers are still not fully comfortable with, merchants have permitted cash payment on delivery to gain consumer trust. However, such reliance on cash should be minimized in order to build a smooth e-commerce ecosystem, since a cash-based system entails corruption risks. Payment information is difficult to trace due to the anonymity of the payer and recipient, leaving the money vulnerable to being misappropriated. However, the method is offered by more than 80% of merchants in Vietnam and the Philippines. Even 90% of people in Singapore, a country with a relatively high percentage of bank account holders in ASEAN, prefer cash transactions.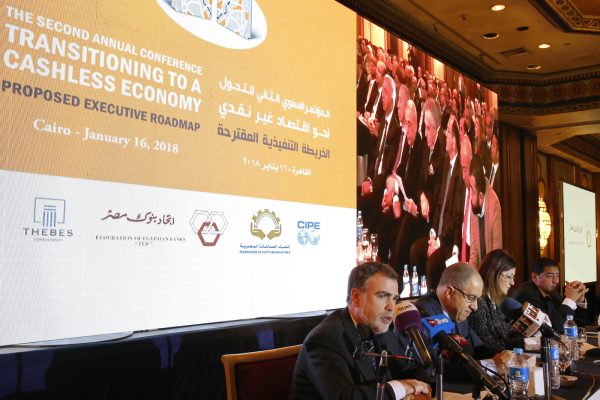 In Egypt, a country that relies heavily on cash transactions, an initiative is underway to help the country transition towards a cashless economy. The Center for International Private Enterprise's (CIPE) Middle East and North Africa team aims to raise awareness of the issues involved and the benefits of such a transition, including transparency and the growth of SMEs. The initiative is driven by the Federation of Egyptian Industries and Federation of Egyptian Banks, which CIPE helped form an advisory council called the Cashless Economy Experts Council. This advisory council includes public and private stakeholders who are deeply engaged and work on developing policy reform priorities. These priorities include introducing innovations in banking services, such as mobile payments and electronic payment cards. It is notable that in 2017, the number of electronic cards issued by banks in Egypt increased more than 36%.
In ASEAN, there also have been efforts like those of CIPE to engage both public and private entities to reduce cash reliance. For instance, Maybank and CIMB Bank in Malaysia launched a mobile payment platform that connects account holders' smartphones and debit cards. The Monetary Authority of Singapore worked closely with the Association of Banks in Singapore to propose legislation and regulations on e-payment. The enormous success of Chinese mobile payment systems, such as Alipay and WeChat, also led to the emergence of various players in the field of mobile payment in the SEA market trying to replicate the success. Singaporean local banks launched DBS PayLah!, and the ride-hailing mobile service Grab added the "GrabPay" function, a mobile wallet service used for paying for public transportation. Even so, challenges still remain in the mobile payment market in ASEAN. There are still no dominant players like Alipay in China among the mobile payment market in Southeast Asia, since there is no e-commerce platform robust enough to induce high usage of mobile payment; the main reason for Alipay's huge success is the rapid development of online platforms like Taobao.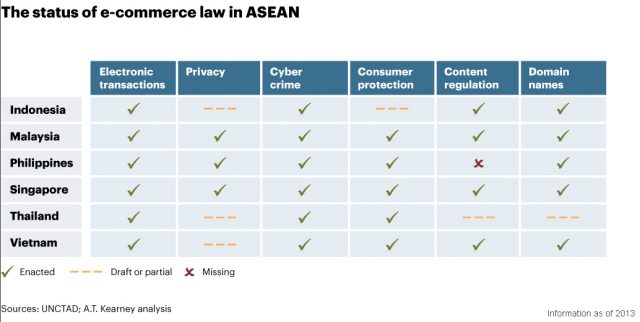 In short, ASEAN faces many obstacles on the path to stabilizing its e-commerce ecosystem. Numerous bold initiatives have been pursued in the region, but it is still premature to call these approaches successful. In order to overcome challenges, an ASEAN-wide alliance and the cooperation of public and private sectors have emerged. Ten countries in ASEAN formed the post authority alliance to boost the postal service's competitiveness, and the leading logistics player is cooperating with online retailers. ASEAN also established collective regulations in e-commerce, and banks formed an association to launch an e-payment system. With continued efforts, e-commerce can play a key role in the region's economic growth and create a more inclusive economy that engages not only SMEs but other marginalized economic populations, including women and young entrepreneurs in ASEAN.
Jeehyun Seo is a CIPE Asia Intern and a Asan Academy Fellow.
For more information:
Read about the significant contribution that small and medium-sized enterprises make to Southeast Asia's economies.
Listen to a podcast by Randa Al-Zoghbi, CIPE's Program Director in Egypt, who discusses the release of an innovative app, Tamweely, in partnership with the World Bank. The app is designed to connect financiers to small businesses and entrepreneurs in Egypt seeking start-up funding.