Because small and medium-sized enterprises (SMEs) are measured according to the size and level of development in a particular country, the definition of an SME varies from country to country. This is one of the main reasons that SME research and data analysis entail serious impediments. Despite debate over whether SMEs are beneficial compared to multinational corporations, there is no denying that SMEs drive sustainable growth and positively affect the economies of individual countries and the global economy.
First of all, SMEs play a significant role in national economies around the world, according to a June 2017 report by the Organisation for Economic Co-operation and Development (OECD). In many countries, SMEs represent 98 percent or more of all businesses. They are also great economic engines, accounting for an average of 70 percent of jobs in OECD countries and 45 percent of net total employment and 33 percent of gross domestic product (GDP) in emerging economies. Moreover, the World Economic Forum and the National Center from the Middle Market (NCMM) have shown that SMEs, as the main source of economic growth, produce the region's middle class and consequently contribute to poverty reduction.
Additionally, SMEs are central to efforts to achieve more inclusive growth. They create opportunities for upward mobility in society by allowing disadvantaged or marginalized groups including youth, women, seniors, migrants, and minorities to actively participate in a country's productivity. By employing broad segments of the labor force, including low-skilled workers, SMEs provide employees with access to social services, such as improved health care. For example, as part of its efforts to increase SMEs' participation in the macroeconomy from 20 to 35 percent by 2030, Saudi Arabia's government announced that four in 10 startups launched in 2017 were owned by women.
Lastly, SMEs are an effective tool to address societal needs through the international market by providing much-needed public goods and services. Although the presence of individual SMEs may not be as visible as that of multinational corporations, SMEs' aggregated impact on green industries and clean technology markets is undeniable. SMEs are well-suited "to seize green business opportunities in local tech markets, which may be unattractive or impenetrable for large firms in both emerging economies and low-income nations," according to the World Bank's International Bank for Reconstruction and Development. Furthermore, SMEs can work outside of ordinary business models and exploit technological or commercial opportunities that have been undervalued by more established companies. As a result, SMEs are often regarded as the driving force behind progressive international innovation.
SMEs in Southeast Asia
Southeast Asia is an important region for economic and geopolitical reasons. The region is currently home to around 8 percent of the world's population, and collectively, the countries that comprise Southeast Asia are projected to become the world's fourth-largest economy by 2050, according to the International Monetary Fund (IMF).
SMEs make a significant contribution to the economies of Southeast Asia. To gauge SMEs' importance, four indicators are prevalently used: (1) their share of enterprise, (2) their share of employment, (3) their contribution to GDP and (4) their total exports. The chart below shows that SMEs are vital to Southeast Asia because they contribute to roughly 70 to 90 percent of the labor market, 30 to 60 percent of GDP, and 20 to 40 percent of exports.*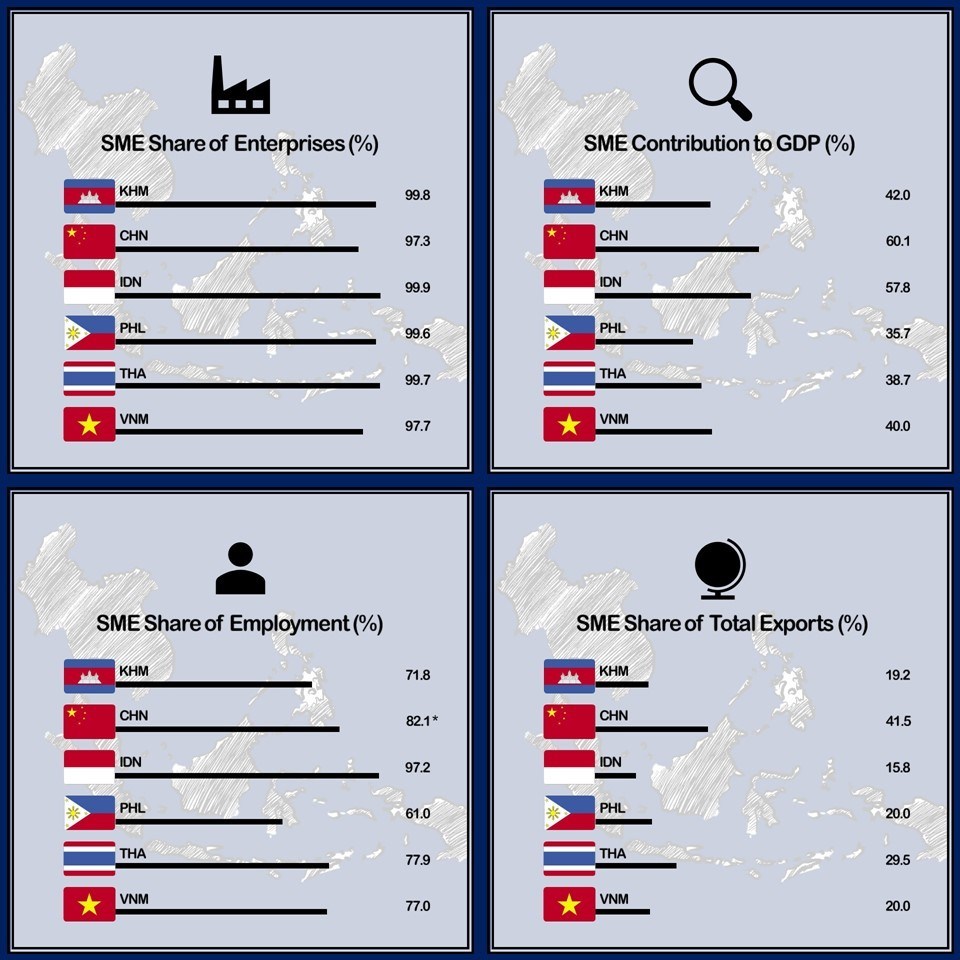 As shown in the chart below, it is clear that large enterprises dominate the supply trade chain compared to SMEs, which face many constraints and challenges. However, there are endeavors taking place to change the status quo, as depicted in the IMF's 2016 empirical report, "Causes and Consequences of Income Inequality: A Global Perspective." Prior to this report, the IMF had been recommending government policies based on the "trickle-down" theory, which asserted that large enterprises were leaders of economic development. Following harsh criticisms that debunked the trickle-down theory, the IMF has since placed more emphasis on encouraging policies that favor SMEs. For example, governments can make policies to change their financing system or level the playing field for SMEs to compete in the global marketplace.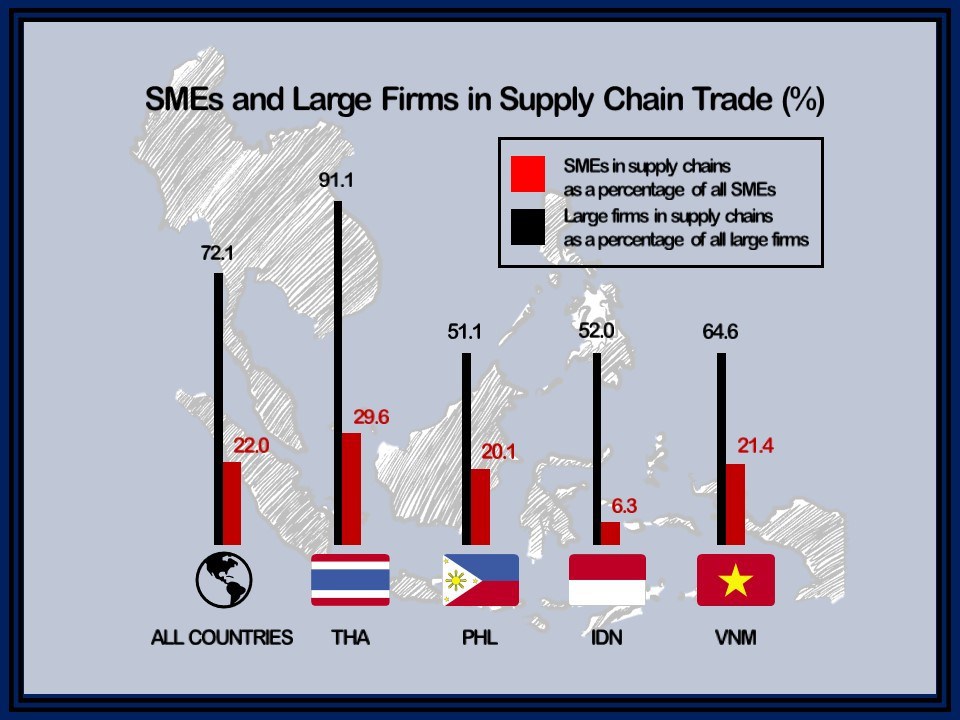 SMEs, economic growth, and democracy
Research shows that SMEs are catalysts of democratization because the process of their development requires a cross-cutting strategy that encompasses many areas of society. In fact, promoting SMEs includes:
(1) Good governance:
Specifically, the improvement of the government's ability to implement sound macroeconomic policies in order to facilitate free and fair market competition;
(2) Market reform:
In the sense that it builds politically credible business environments from discussions and partnerships among stakeholders, enterprises, public sector, private sector and civil society that lead to legal and regulatory frameworks;
(3) Efforts for suitable infrastructure and supportive education:
In both public and private institutions in order to foster a healthy and flexibly skilled, educated labor force that will strengthen the ability of SMEs to implement competitive operating practices and business strategies;
(4) Increased economic participation of women and youth:
Gender inequality, as well as the social challenge of youth unemployment, can be addressed throughout SME development programs.
Challenges facing SMEs
In some parts of Southeast Asia, the concept of democracy is still nascent and unstable. The Philippines President Rodrigo Duterte's martial law declaration, as well as his war on drugs, increased risks of human rights abuses. Cambodia is also currently experiencing what some analysts are calling the death of democracy. By dissolving the opposition party, oppressing freedom of speech (with the closure of at least 19 independent media outlets) and repressing foreign NGO activities in the country, many argue that Prime Minister Hun Sen is running a kleptocratic government.
Amid suppression of democracy in the region, some countries are focusing more on supporting SMEs in order to achieve both economic and democratic development. For instance, Indonesia's delegation at the Asia-Pacific Economic Cooperation (APEC) Forum 2017 presented its vision to empower women via the promotion of SMEs. Vietnam also recognized SMEs as engines of growth and innovation that are poised to change the current economic growth trajectory by including more youth and women in the labor force.
Does economic growth trigger democratization? Or does a democratic society spur economic development? This is a question in dispute among researchers and experts. However, one thing is clear: as the Center for International Private Enterprise (CIPE) states, "functioning democracies and market economies are essentially two sides of the same coin." Recognizing the significant role of SMEs in building democracy, CIPE has been deeply involved in collaborating, communicating and working with SMEs globally.
Read more about CIPE's unique approaches to the challenges facing democratic and economic development in Southeast Asia in our Dec 7 blog post, "Safeguarding Democracy and Free Markets in Southeast Asia."
Read other related blogs about CIPE's work around the world:
Women's Business Resource Center Helps Women Entrepreneurs in Papua New Guinea Succeed against the Odds
Progress on Pro-SME Legislative Reform in Ukraine
Supporting Small and Medium Sized Businesses in Senegal
Entrepreneurship in the Philippines: Opportunities and challenges for inclusive growth
Carrots Before Sticks: Motivating Mid-Sized Businesses in Emerging Markets to Launch Compliance Programs
* Chart sources: SMEs Internationalization and Finance in Asia, Frontier and Developing Asia – Asian Development Bank (ADB) 2015, Asia SME Finance Monitor – ADB 2015, White Paper on Small and Medium Enterprises in Thailand – Government of Thailand 2015, Association of South East Asian Nations (ASEAN) SME data 2013, Department of Trade and Industry (DTI) Philippines 2014, Ministry of Industry and Information Technology of China, European Commission (2016), Small Business and Entrepreneurship Council, World Bank Data (2012), Using foreign factors to enhance domestic export performance: a focus on Southeast Asia – OECD Trade Committee (2015)
Kyounghye Shim is an intern at CIPE and a fellow at the Asan Academy.