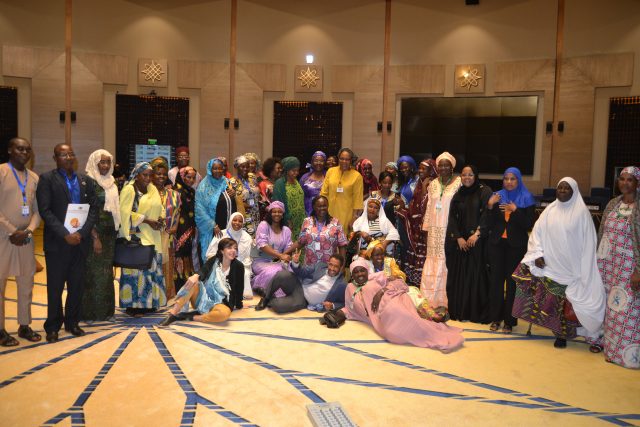 A preparatory technical roundtable for the African Women in Processing (AWIP) Forum was recently held in Niamey, Niger on September 19 and 20, 2022. The roundtable was organized by CIPE along with other notable partners, including the Government of Niger, the African Union, UNECA, the Noor Foundation, and UN Women. Prior to the roundtable discussion, Eloïse Roos-Kilhoffer, a Program Associate from the CIPE Africa team, took to the floor as a featured speaker to welcome the initiative and was featured in two articles (linked below).
In one article, posted on Le Sahel, Eloïse is quoted as emphasizing how "CIPE makes women's empowerment a priority. It is in this capacity…that the Program supports women (not only businesswomen or entrepreneurs but simply engaged women) through a dialogue on the economic crisis of women in Africa and around the world. This is in view of strengthening women's leadership capacities, sharing knowledge and connecting them."
Roundtable participants collaborated to set up an effective advocacy strategy to be deployed at the full African Women in Processing Forum in November. The theme of the upcoming forum is "Women in Processing: An Accelerator of the Process of Industrialization in Africa." The forum will take place at a time between November 18 to November 25, 2022 in Niamey, and aims to empower and connect women who produce local goods across the continent.
Links to Full Articles (originally posted in French, with auto-translations available on many browsers).
Preparatory Technical Roundtable of the African Forum of Women Transformators: Valuing Women's Efforts for Sustainable Development – The Sahel (lesahel.org)
Ouverture à Niamey d'une Table Ronde technique préparatoire du Forum Africain des femmes transformatrices | Agence Nigérienne de Presse (anp.ne)