About the Event
How can Indo-Pacific countries that need foreign investment guard themselves against corrosive capital that threatens to corrupt markets and weaken governance, while also building a better environment for constructive capital that generates greater opportunity? This is the focus of a new event series by Center for International Private Enterprise (CIPE) and partners across Asia and the Pacific region.
Chinese investment in the Philippines headlines a November 17 event by CIPE and the Stratbase ADR Institute for Strategic and International Studies (ADRi). In recent years, Chinese projects there have expanded from traditional, large infrastructure projects to digital investments, forming the Digital Silk Road. This event drew on case studies highlighted on the BRI Monitor website and focused on security and governance risks of Chinese ICT investments in the Philippines, as well as drew comparisons to the China-Pakistan Economic Corridor. Panelists also discussed the need for environmental and social protections and the importance of transparency.
About the Panelists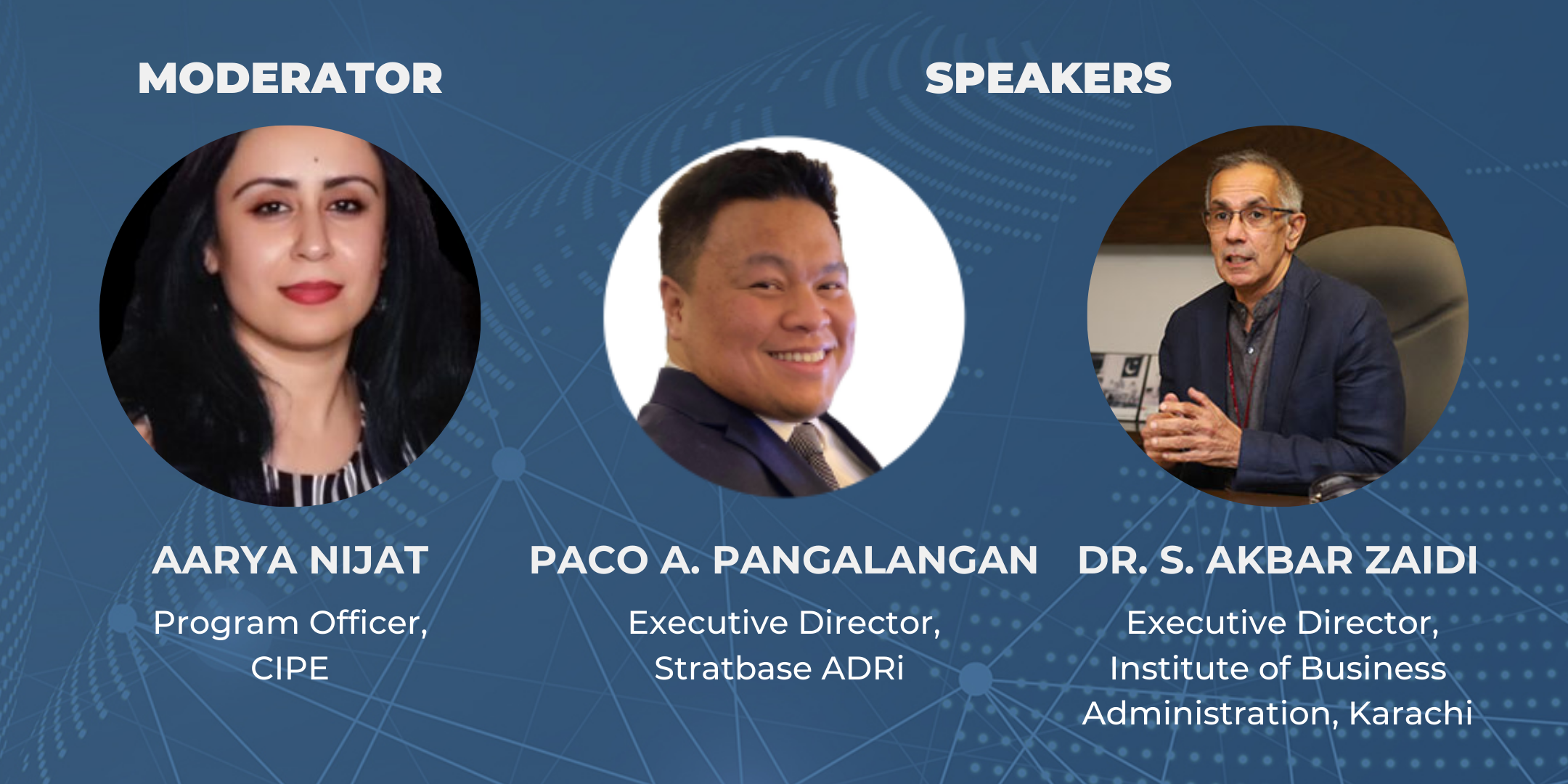 Aarya Nijat manages CIPE's programs in South Asia. In this role, she is responsible for the overall program design, partnership development and program management throughout South Asia, with a thematic focus on democratic governance, enterprise eco systems, anti-corruption and business advocacy. Nijat's portfolio projects are mostly implemented through partnering with business associations, civil society organizations and think tanks to strengthen the role of the private sector and non-governmental organizations and mobilize local networks of small and medium enterprises, civil society and policy think tanks for constructive policy reform in South Asia. She works closely with local program partners to ensure progress towards stated results, and travels throughout the region to monitor outcomes and meet with partners, stakeholders and beneficiaries. Nijat is a skilled international development professional with over a decade of experience in developing national policies and conceiving, implementing, monitoring and evaluating programs in South Asia. Previously, Nijat was the Executive Director for the University of California San Diego, where she provided technical assistance to financial digitization reform in the civil service sector. Nijat is a published policy author on governance and women's leadership and has a Master's degree in Public Administration from Harvard Kennedy School of Government, a Master's degree in International Relations from Quaid-i-Azam University and double bachelors in Law and Political Science from Punjab University.
Paco A. Pangalangan serves as the Executive Director of the Stratbase ADR Institute and the Director for Public Policy, Research, and Advocacy of Stratbase Consultancy Inc. where he specializes in political risk analysis, policy advocacy, and strategic communications. Paco holds Masters of Science degree (MSc.) in Public Administration from Leiden University, and a Bachelor of Arts degree in Public Administration and Masters degree in Technology Management from the University of the Philippines. Passionate about effecting meaningful change through advocacy and policy work, Paco also serves as the Lead Convenor of Democracy Watch Philippines, a citizen-led initiative that advocates for democratic values and good governance reform.
Dr. S. Akbar Zaidi is currently the Executive Director (Vice Chancellor/President) of the Institute of Business Administration (IBA), Karachi. He was Professor at Columbia University, New York from 2010 to 2020, where he held a joint position at the School of International and Public Affairs (SIPA), and the Department of Middle Eastern, South Asian, and African Studies (MESAAS). He was also Adjunct Professor at the IBA from 2013 to 2020. S Akbar Zaidi is a Political Economist who has had nearly four decades of teaching and research experience in Pakistan and abroad. He has taught courses on colonial history, Pakistani history and on the political economy of South Asia. Amongst his books are: Military, Civil Society and Democratization in Pakistan (2011), The New Development Paradigm: Papers on Institutions, NGOs, Gender and Local Government (1999), and Pakistan's Economic and Social Development: The Domestic, Regional and Global Context (2004). His recent books include Issues in Pakistan's Economy: A Political Economy Perspective published by Oxford University Press (2015), and a co-edited volume entitled New Perspectives on Pakistan's Political Economy: State, Class and Social Change, published by Cambridge University Press in April 2019. His history manuscript Making Muslims: Reading Publics and Contesting Identities in 19th Century North India is to be published by Cambridge University Press later this year.
About the Event Series
This event is the third of five in a series of bi-weekly discussions on findings from the BRI Monitor, a regional project that seeks to identify governance gaps associated with Chinese-funded projects and advocate for greater transparency and good governance. Each meeting will highlight findings from one of the BRI Monitor partners as part of a discussion on transparency and governance with experts on the focus country or project type. The BRI Monitor is a project by five partners from Southeast Asia and the Pacific: IDEAS (Malaysia), Stratbase ADRi (the Philippines), Institute for National Affairs (Papua New Guinea), Future Forum (Cambodia), and Sandhi Governance Institute (Myanmar). The BRI Monitor includes case studies and a transparency heatmap that assesses the transparency of BRI projects along 38 project data points that should be proactively released by host countries.
Save the Date for the Next Events:
December 2: Malaysia

December 6:

Papua New Guinea
Catch up on the Previous Events:
Location
Zoom & CIPE DC Facebook Live