About the Event
How can Indo-Pacific countries in need of foreign investment guard themselves against corrosive capital that threatens to corrupt markets and weaken governance, while also building a better environment for constructive capital that generates greater opportunity? This is the focus of a new event series by CIPE and partners across Asia and the Pacific region. The event series will kick off on October 7 with a virtual panel discussion co-hosted by the Center for International Private Enterprise (CIPE) and the Sandhi Governance Institute (SGI) of Myanmar.
Myanmar, struggling with the pandemic and the challenges posed by the February coup there, faces an economic contraction of 20% in the next year. The military regime is trying to attract foreign investment and is welcoming massive infrastructure projects funded through China's Belt and Road Initiative. New case studies by SGI and its regional BRI Monitor partners spotlight how huge Chinese-funded projects have exploited and widened governance gaps in recipient countries. CIPE and its partners have created a robust assessment tool to help host countries identify problem areas and incorporate policies and laws that promote transparency and accountability and limit public financial exposure in the future. The panel will take stock of research on Chinese investment in Myanmar, analyze the situation on the ground, and discuss concrete ways to mitigate the impact of corrosive capital given the limited prospect of any meaningful reform.
About the Panelists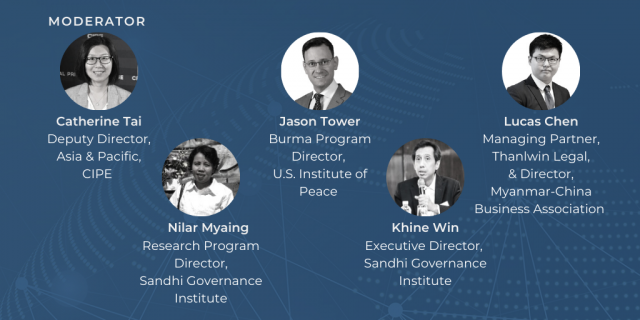 Lucas Chen is a Myanmar-based lawyer with a special focus on advising foreign investors in Myanmar throughout different phases of investment. He is the Managing Partner of Thanlwin Legal, a Committee Member of Myanmar Bar Association, and a Director of the Myanmar-China Business Association. Lucas' practice covers a broad spectrum of foreign direct investment, mergers and acquisitions, corporate law, sanctions, and tax.
Khine Win has served as the executive director of the Sandhi Governance Institute since 2008. He holds a master's degree in public policy from the Lee Kuan Yew School of Public Policy. In 2008, he founded the Sandhi Governance Institute with the purpose of nurturing leadership to promote good governance. He is an expert on public-private partnership and has been providing various trainings for regional members of parliament, political parties, and civil society organizations. His main interests include civil society development, local governance, economic development, public sector reform, public- private partnership (PPP) and democratization.
Nilar Myaing is a development professional with over 17 years of extensive experience in program design and development, strengthening civil society organizations, and engaging in policy analysis and advocacy in Myanmar. She served as research consultant for Sandhi Governance Institute's case studies under the BRI Monitor. Previously, Nilar served as the Myanmar program director for The Border Consortium and as the Executive Director for the Local Resource Center. She holds a master's in public policy from the National University of Singapore and a Master of Art in English from Yangon University.
Jason Tower is the Country Director for the Burma Program of the United States Institute of Peace. Jason has 20 years of experience working on conflict and security issues in China and Southeast Asia. From 2009 to 2017, he worked to establish the Beijing office of the American Friends Service Committee and initiated programming across north and southeast Asia on the impacts of cross-border investments on conflict dynamics. He also led a series of research initiatives relevant to China's role in peacekeeping operations in East Africa and on China's evolving role in international conflict dynamics. Since 2019, Jason's research has focused on a range of issues at the nexus of crime, investment and conflict in Southeast Asia. Recent publications include a study of the impacts of Chinese transnational criminal networks on conflict in Burma and regional security across Southeast Asia; a report on criminal activity on the Belt and Road Initiative (BRI), and a review of the impacts of the BRI on conflict. Jason has also published more than half a dozen articles analyzing the impacts of the recent military coup in Burma, including on regional security in Asia. Jason completed his undergraduate work in economics and international studies at St. Louis University, and his graduate studies in political science and Asian studies at the University of Michigan at Ann Arbor.
Catherine Tai is the Deputy Director for CIPE's Asia & Pacific Programs. Cathy is a seasoned international development professional with more than a decade of experience conceiving, implementing, monitoring, and evaluating programs in East and Southeast Asia. Her portfolio of projects focuses on partnering with business associations to strengthen the role of the private sector and mobilize local networks of small and medium enterprises for constructive policy reform. In addition, she manages anti-corruption initiatives that improve the monitoring of public procurement.
About the Event Series
This event is the first of five in a series of bi-weekly discussions on findings from the BRI Monitor, a regional project that seeks to identify governance gaps associated with Chinese-funded projects and advocate for greater transparency and good governance. Each meeting will highlight findings from one of the BRI Monitor partners as part of a discussion on transparency and governance with experts on the focus country or project type. The BRI Monitor is a project by five partners from Southeast Asia and the Pacific: IDEAS (Malaysia), Stratbase ADRi (the Philippines), Institute for National Affairs (Papua New Guinea), Future Forum (Cambodia), and Sandhi Governance Institute (Myanmar). The BRI Monitor includes case studies and a transparency heatmap that assesses the transparency of BRI projects along 38 project data points that should be proactively released by host countries.
Save the Date for the Next Events:
October 28: Cambodia

November 17: Philippines

December 2: Malaysia

December 6:

Papua New Guinea