About the Event
The Center for International Private Enterprise is celebrating 5 years of professional commitment to championing Business Integrity in Africa by hosting the Maiden Edition of the Africa Business Integrity Network (ABIN) Awards & Recognition event. Since 2017, CIPE Africa has partnered with change agents from 13 Sub-Saharan Countries to help the African business community build capacity to resist corruption and enable them operate with integrity in alignment with the Global standards of Ethical compliance.
Scheduled Activities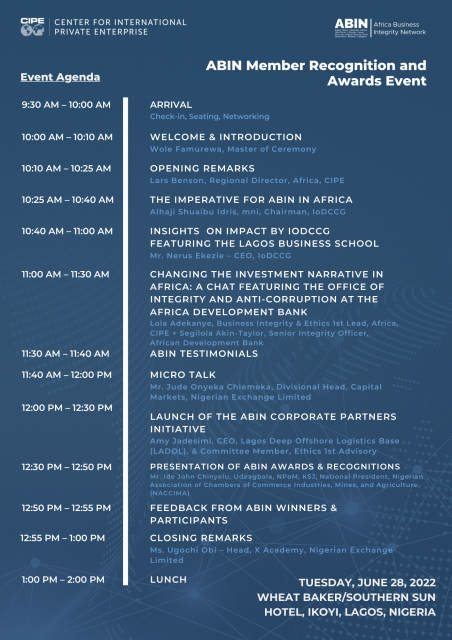 About the Speakers

Dr Amy Jadesimi is the CEO of Lagos Deep Offshore Logistics Base (LADOL), a $500 million Industrial Free Zone. Prior to this, Amy was a Commissioner for Business & Sustainable Development Commission. Amy received financial training at Goldman Sachs & Stanford Graduate School of Business & medical training at Oxford University. Her accolades include being appointed to UNDP Steering Committee on SDGs (2019) and the UNICEF Advisory Group (2019) and re-appointed to the Prince's Trust International Advisory Board (2019).
Dr. Jadesimi is one of the 275 Global Female Influencers 2020 (Oil and Gas Council), 1000 Rising Women in Africa 2020 (CNBC), Top Transformational Women Leaders 2020 (Industry Wired), Top 50 Women in Technology by (Forbes, 2018), Oil and Gas Leading Woman of the year (Foreign Investment Network, 2018), voted the Young CEO of the Year (African Leadership Forum, 2018), an Archbishop Tutu Fellow, a Young Global Leader – Alumni (WEF), a Rising Talent (Women's Forum for Economy and Society), one of 20 Youngest Power Women in Africa (Forbes), one of Top 25 Africans to Watch (Financial Times), one of the Most Influential People of African Descent (Under 40) Worldwide (United Nations International Decade for People of African Descent (UN IDPAD), 2018), one of 50 most Influential Women in Business (The Africa Report, Jeune Afrique, Africa CEO Forum) and she is a member Advisory Board of Prince's Trust International and the International Chamber of Commerce (ICC) Advisory Group on Trade Finance (ATF) and contributor to Forbes.

Lars Benson is Regional Director for Africa at the Center for International Private Enterprise (CIPE) in Washington, DC. He works closely with partners representing the private sector, civil society, and government to implement policy and regulatory reforms, enhance anti-corruption initiatives, engage in public-private dialogue, and improve democratic governance across the continent. 
Prior to joining CIPE, Benson served as the country director assisting small and medium enterprises to provide services and products to the oil industry in Angola. He also led an economic development and private enterprise program in Azerbaijan and worked on numerous projects in Africa, the Middle East, and Central Asia. In the private sector, Benson served as a regional sales manager for a U.S. manufacturer of electronic repair equipment and was responsible for sales and marketing in Latin America, Europe, and the Middle East. He has an MBA from the University of Maryland and a Bachelor of Arts from Tufts University. 

Lola Adekanye leads the Accountability, Integrity, and Governance strategy and policy reform programs in Sub Sahara Africa at the Center for International Private Enterprise (CIPE). She manages a diverse portfolio spanning 12 countries and is leading the launch of a due diligence initiative designed to standardize compliance for small and large businesses across Africa to enhance economic and investment integrity. Her specialty is in public policy for transparency and accountability in the public and private sector, standardizing corporate governance and compliance metrics for businesses in diverse contexts to increase competitive advantage and sustainable development.  
Adekanye sits on several committees and editorial boards applying her experience in beneficial ownership transparency, financial crime prevention, and business ethics compliance in value chains and in emerging markets. Adekanye sits on several committees and editorial boards applying her experience in beneficial ownership transparency, financial crime prevention, and business ethics compliance in value chains and in emerging markets. She is passionate about advancing innovative solutions and leveraging technology to strengthen public and private sector accountability and is exploring innovative methods of aligning market forces with ethical ESG values.  
As a licensed attorney, Adekanye is a member the New York State and the Nigerian Bars and she holds two LL.M degrees; in Securities and International Financial Regulations from Georgetown University and in International Economics Law from the University of Warwick, England. 

Alhaji Shuaibu Idris, mni is the Chairman Board of Governors, IoD Centre for Corporate Governance, one time Treasurer and Member of Governing Council of Institute of Directors Nigeria (IoD), Member of Board of Trustees, Investors Protection Fund of the Nigerian Stock Exchange, Member Regulatory & Compliance as well as Electoral Committees of the Institute of Marketing of Nigeria (NIMN). Mr. Idris is also a member of the Board of Directors of quite a number of companies amongst which include Consolidated Hallmark Insurance Company Plc., Capital Trust Investments & Asset Management Limited, Coronation BDC Limited, WACOT Limited, and Aims Media Limited amongst others. He has a BSc. in Accountancy from the prestigious Bayero University, Kano and an MSc Banking and Finance from the University of Wales, United Kingdom. 
 Shuaibu started his career as Kaduna State Board of Internal Revenue as an Inspector of Taxes after which he rose to many leadership roles in consulting and management. Shuaibu Idris has nurtured and established a few Non-Governmental Organizations such as Care Organization Public Enlightenment (Breast Cancer NGO), Birnin Gwari Educational Endowment Fund- BEEF, Teens Empowerment and Salvage Initiative-TESI etc. 
 Shuaibu is a motivational speaker, a mentor to many and a regular commentator on financial, economic and political issues in local and international print and electronic media. 

Mr. Bede-Nerus Ekezie joined IoD Centre for Corporate Governance as the Head of Programmes and Membership in 2016 and in 2020 he was appointed the Ag. Executive Director. Prior to joining the Centre, Mr Ekezie served as the Director of Programmes, Membership and Public Relations at the Nigerian Association of Small and Medium Enterprises, NASME from 2006 to 2016. He also had a decade experience as an investment Banker with the defunct Nigerian Bank for Commerce and Industry (now, Bank of Industry) where he played significant roles across key departmental lines.    
Mr. Ekezie is a Corporate Governance and Leadership coach, a UNIDO certified Lead Auditor on ISO 9001:2015 and an IFC Certified Board Evaluator with over 25 years' experience in consulting, financial services and MSMEs development. He brings with him extensive leadership skills, programme management, learning & development design and delivery, strategy, organisational development, stakeholder and innovation management. 
Ekezie is a fellow of the Institute of Professional Industrialist and Management Development, (FIMD), Fellow of Institute of Management Consultants, (FIMC), Fellow of the Institute of Management Specialist (FIMS, UK) and a member of the Nigerian Institute of Management (MNIM). He holds a B.Sc. in Business Administration from the University of Lagos and an MBA in Managerial Finance from Lagos State University. He has attended many professional certificate courses, including a provisional certification on Anti-Corruption and Ethics Compliance from the Center for International Private Enterprise, CIPE, USA. 

Mr. Chiemeka has over twenty-eight (28) years of professional experience in Securities Trading and Asset Management across markets in Africa. He joined The Nigerian Stock Exchange as Divisional Head of Trading Business in February, 2019 and is now the Divisional Head of Capital Markets in Nigeria Exchange Limited. Before joining the Exchange, he worked with United Capital Securities Limited, a subsidiary of United Capital Plc. As the MD/CEO of United Capital Securities Limited, he championed the first cross broader trading under the West African Capital Market Integration initiative and was also responsible for Strategy, Market penetration, Product development and Client Management. He also championed the issuance and listing of the First  
Eurobonds Mutual Fund($10M) listed on the Nigerian Stock Exchange and Wealth for Women Mutual Fund, the first gender focused mutual fund listed on the Nigerian Stock Exchange.   
Before joining United Capital Plc, He was the CEO/MD of Chapel Hill Denham Securities where he was responsible for Strategy, Leadership, Product development and Customer relationship management. He led the firm to rank among the Top 10 brokerage firms responsible for over 70% of market trades with 4% market share. Prior to that, he was the CEO/MD of RenCap Securities (Nigeria) Limited a fully owned subsidiary of Renaissance Capital Plc. At RenCap Securities he was responsible for Customer relationship management, Trading, Management reports, Budgets and clients acquisition.   
In 2008, prior to joining RenCap, he was the Head of Securities Trading at Afrinvest West Africa Ltd where he was responsible for Fixed Income and Equities Transactions across African markets for International and domestic institutional clients. He was also involved in several landmark transactions including the first Global Depository Receipts (GDR) transaction on the floor of the Nigerian Stock Exchange, Nigerian International Debt Fund, Reverse GDR trades etc. Prior to this, he was with Dominion Trust Limited where he started his career in 1994.   
He is a Fellow and Council Member of the Chartered Institute of Stockbrokers (FCS), Member of the Institute of Directors (IOD), Fellow of Association of Investment Advisers and Portfolio Managers and Associate of the Certified Pension Institute of Nigeria.   
He completed the Oxford Business School Advanced Management Program (AMP) in 2007, Master in International Law and Diplomacy in 2004 from the University of Lagos and the Lagos Business School Senior Management Programme in 2001. He has a BSc. degree from the University of Lagos in 1992.  

Ugochi Obi is currently the Head, X-Academy for The Nigerian Exchange Limited, with the obligation to ensure education of the public and Capital Market operators on workplace development, capital market and financial affairs
A focused and experienced Talent Development Professional, with a demonstrated history of working in the L&D space, business and relationship building. She also has over 14 years' experience in exceptional customer relationship & experience management capabilities, managing training academies, talent capacity building, facilitation, and e-learning for large global companies.
Highly trained Client Experience Management professional, adept at cultivating, managing and leveraging client relationships, in-depth knowledge of managing Learning via classroom or e-learning. A certified anti-corruption compliance trainer. member of several professional bodies both local and international.
Famous for the ability to transform ideas into action, driving performance improvement and identifying opportunities, strategies and solutions that are directly linked to organizational and business goals and success. She holds a Masters in Computing from the London Metropolitan University. Member of the Association for Talent Development (ATD), Chartered Institute for Securities & Investment (CISI) UK, Client Experience Professional Association (CXPA), Chartered Institute of Personnel and Development (CIPD), Learning & Development International (LDNI), Certified Provisional Business Integrity & Anti-Corruption Compliance Trainer and Consultant within the African Business Integrity Network(CIPE) and a certified Senior Professional in Human Resources – International™ (SPHRi™) .
She truly enjoys playing chess, suduku, and other puzzles and finds time to watch game shows, thrillers and comedies.

Segilola Akin-Taylor is a Senior Integrity Officer in the Office of Integrity and Anti-Corruption of the African Development Bank (AfDB), with over nine years Legal & Compliance experience. Her experience includes conducting compliance and integrity due diligence assessments on private sector projects, development of due diligence policies and tools to ensure proper utilization of the Bank's funds. She also responsible for  monitoring the compliance status of AFDB sanctioned entities and individuals. 
 Prior to joining the AfDB, she worked as a Legal and Compliance Officer at Vetiva Capital Management Limited, a boutique investment firm in Lagos, Nigeria, where she provided legal advisory services, contributed to policy development and implementation, and management of the compliance program of the company and its subsidiaries. 
 She holds a Bachelor of Laws degree from the University of Lagos, and a Master of Laws degree from Queen Mary, University of London. 
About the Organization

CIPE launched a flagship anti-corruption compliance training of trainers program for African professionals in May 2017 to unlock the potential for the business communities in Africa to combat corruption through increased adherence to high standards of business ethics and integrity. Participating organizations in the CIPE anti-corruption compliance training of trainers program are members of the Africa Business Integrity Network (ABIN) who share a common objective to promote corporate ethics, integrity, and compliance with laws and regulations that prevents corruption and illicit transactions in Sub Sahara Africa.
Until now, the efforts to reduce corruption in Africa has placed responsibility on governments and on civil society organizations through regulation of the behavior of public officers or through various transparency initiatives and naming and shaming the recipients of bribes: politicians, public servants and employees of state-owned enterprises. This focus on the demand-side of corruption has left the supply-side which are businesses and investors in Africa quite passive in the efforts to tackle corruption creating a vulnerability in the business environment that makes businesses both enablers, facilitators, and yet victims of corruption. As long as the private sector has willing bribe payers who believe that bribes, kickbacks, and other forms of fraud are an inevitable cost to doing business in Africa, there will be little change to these corrupt practices that disenfranchise and complicate business on the continent.
Featured Host Organizations

Nigerian Exchange Limited (NGX Limited) Plc is a leading integrated market infrastructure in Africa. We service the largest economy in Africa and are strengthening the competitiveness of African economies to achieve global prosperity. As a key player in the continent's financial markets, we take an active role in shaping the future of the markets through our investment in business innovation and technology.
NGX Limited provides a wide range of services including listing and trading securities, licensing, market data solutions, ancillary technology, regulation, real estate, and more through its wholly-owned subsidiaries – NGX Exchange, NGX REGCO, and NGX RELCO. The Group is also invested in the financial infrastructure space with investments in NG Clearing Limited, Central Securities and Clearing Systems (CSCS), OTC platforms and three fintech companies.
Nigerian Exchange Limited is committed to the highest international standards. To support this commitment, NGX Group b​elong​s to a number of international and regional organisations that promote the development and integration of global best practices.
NGX Limited continues to evolve in order to meet the needs of its valued customers and to achieve the highest level of competitiveness.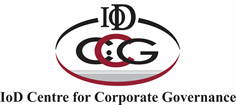 IoD Centre for Corporate Governance is a collaborative project of the Institute of Directors, Nigeria, the Securities and Exchange Commission (SEC) and the Corporate Affairs Commission (CAC). The Centre is committed to improving and promoting good Corporate Governance standards in Nigeria through advocacy, advisory services, research and high-quality training programmes for Board members and Management in public and private sector organisations. IoDCCG is an Affiliate Member of the African Corporate Governance Network (ACGN) and it collaborates with The Center for International Private Enterprise, (CIPE) Washington, USA on Anti-Corruption and Ethics compliance training and services.
Location
HYBRID
Virtual: Zoom & Facebook livestream
In-person: Wheat Baker/ Southern Sun Hotel, Ikoyi, Lagos, Nigeria