On World Refugee Day, CIPE celebrates refugee entrepreneurs for their contribution to the development of entrepreneurship ecosystems and the expansion of economic opportunity for all in host countries. Refugee entrepreneurship supports sustainable livelihoods and resilience among refugee and host communities, while fostering social cohesion and offering a win-win scenario both for the socio-economic situation of the host country and the refugees themselves.
With 3.5 million refugees, Turkey figures at the top of refugee-hosting countries worldwide. As the Syrian conflict entered its 8th year in March 2019, the Syrian refugee crisis has been protracted. The result is that the majority of Syrian refugees do not intend to return to their home country anytime soon. A March 2019 UNHCR survey data suggests that while 75.2% of Syrian refugees hope to return to their home country one day, only 5.9% of them intend to return in the next 12 months. This results in major socio-economic challenges for refugee-hosting countries like Turkey. In this context, it is critical to think beyond short-term humanitarian assistance and adopt a sustainable development approach to address this prolonged crisis. CIPE's model is at the nexus between humanitarianism and sustainable development by placing entrepreneurship at the core of the solution to bridge this gap, as well as foster refugees' economic and social integration in host countries.
Over the past two years, CIPE, and a Consortium of Turkey and U.S-based partners, have implemented the Livelihoods Innovation through Food Entrepreneurship (LIFE) Project, a food business incubator program for refugees and host communities in Istanbul and Mersin. To date, 162 food entrepreneurs graduated from the business incubation program and two more cohorts are ongoing in both Istanbul and Mersin.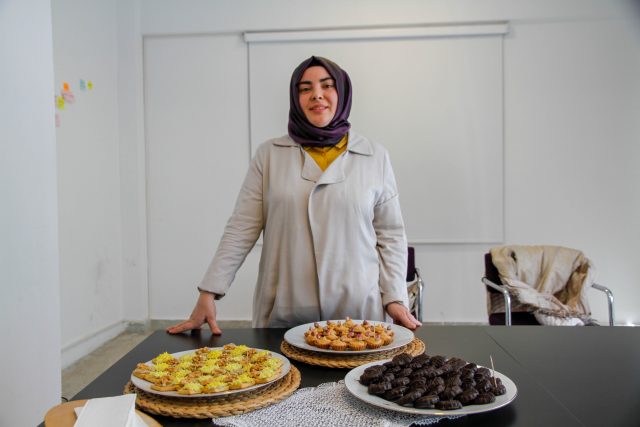 Sustainable livelihoods and revenue generation
Refugee entrepreneurship, especially in the food sector, creates sustainable livelihoods and offers revenue generation opportunities. Sixty-five percent of LIFE Project members report having either a registered business or being self-employed and, despite the current economic crisis in Turkey, 22% of members report increased income after participation in the incubation program. For instance, Mersin-based Syrian member Waad secured an agreement with a local market to sell her stuffed dates product soon after participating in the incubation program.
Business support services and opportunities to access the market are critical to support members in business registration processes and grow their business. For instance, LIFE Project members have access to tailored support from both a lawyer and an accountant to navigate Turkish regulations and business registration. As Syrian member Shadi noted, "with the LIFE Project, I learned how to properly identify the required resources for my business project without over or underestimating them."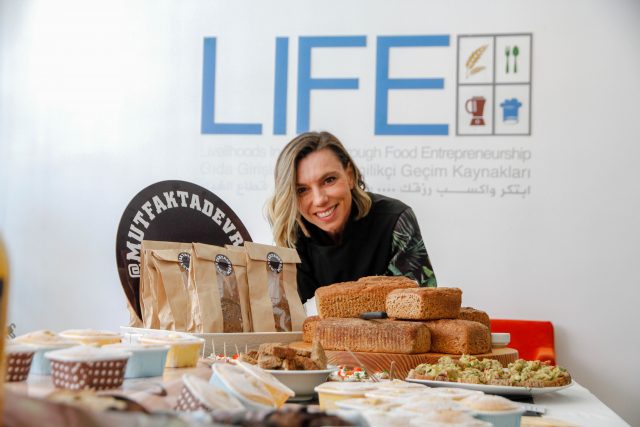 Resilience and new life chapter in host country
"LIFE helped me start a new life in Turkey" says Inam, a LIFE Project member from Syria who caters various Syrian dishes in Istanbul. Prior to moving to Turkey, Inam was a housewife in Syria. As a result of participation in the LIFE Project, Inam developed leadership and public speaking skills that led her to present her food business at various talks and conferences for women entrepreneurs in Istanbul. Inam's story exemplifies how entrepreneurship restores refugees' sense of agency and builds resilience. Similarly, Waad, a Syrian member in Mersin, noted, "The business pitch competition itself was a very big step for me to take; it developed my character and allowed me a chance to meet people."
LIFE Project members develop leadership and networking skills, and build self-confidence during business pitch competitions, food festival events, and Demo Days, during which they network with suppliers, potential customers, and investors. The food incubator offers them a safe space to build a new chapter of life in the host country: "I was super active back in Syria and had a wide network of people around me. After moving to Turkey, I spent two years not daring to make any connections due to fear of being stereotyped […] The LIFE Project provided a safe environment where we can interact and learn about each other. Now I feel more confident to communicate and make new friends," shares Sawsan, LIFE Project member in Istanbul.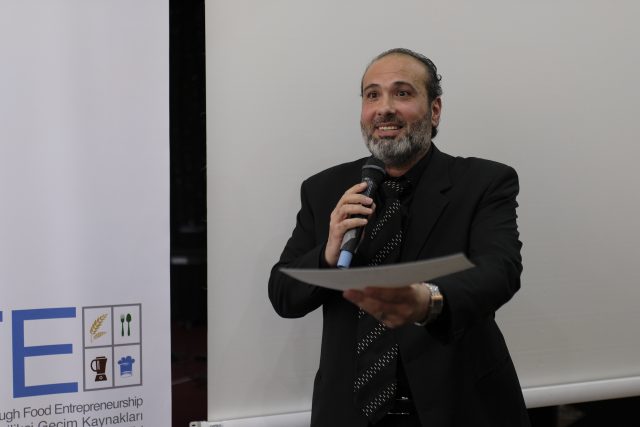 A win-win socio-economic situation for the host country
With the rise of xenophobic rhetoric worldwide, fostering entrepreneurship ecosystems is critical because it creates a win-win situation for both refugees and the host country. With more than 7,000 Syrian businesses established in Turkey that employ about 100,000 people, refugee entrepreneurs significantly contribute to the host country's economy. For instance, LIFE Project Syrian member Nahed recently registered her catering and frozen food company and hired a Turkish and a Syrian employee. After conducting market research during the incubation program, refugee entrepreneurs also bring new products to the Turkish market. For instance, Shaker, who had seven sweet shops in Syria prior to the war, brought "cheese mamul" to Turkey. Mamul is a traditional Middle Eastern pastry filled with a variety of stuffing. Instead of using nuts and dates to fill the mamul, Shaker uniquely uses cheese. Similarly, Syrian member Saleh noticed that the market in Mersin lacked chocolate shawarma, a product only available in Antalya, Istanbul, and Bodrum. He is now developing his product to sell this flat bread sandwich filled with chocolate in Mersin.
The host community also benefits from this situation. During the incubation program, Turkish and Syrian entrepreneurs learn from each other through a variety of workshops, business support services, peer learning and social cohesion activities. "It is amazing to be with other future food entrepreneurs side by side in the same project" affirms Ahmet, a young agricultural technologies entrepreneur from Turkey working on hydroponics, soil analysis, and microgreens. The LIFE Project has created a community of entrepreneurs who share the same passions: food and business.
CIPE's innovative approach with the LIFE Project exemplifies the impact of entrepreneurship on refugees' social and economic integration in host countries. Refugee entrepreneurs build sustainable livelihoods for themselves and their Turkish counterparts while enhancing the host country's economy. Entrepreneurship also empowers them to be active contributors of their new environment, cope with vulnerabilities associated with forced migration, and start a new chapter in life.
Funding for the LIFE Project in Turkey is provided by the United States Government.
Agathe Christien is a Program Associate for the Middle East and North Africa team at the Center for International Private Enterprise.
Published Date: June 20, 2019