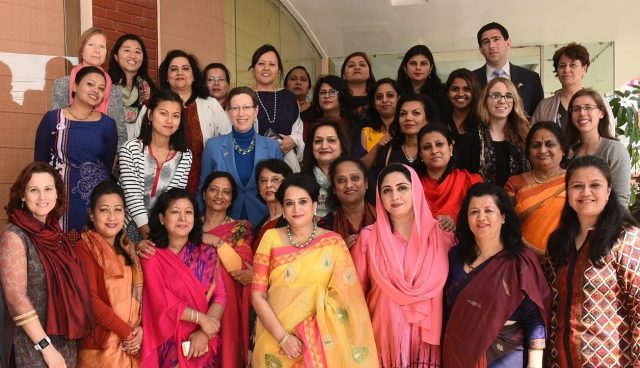 Only with the equal participation of women in the economy can a country strengthen both its free market and democratic institutions.  Women own close to 10 million of the world's small and medium-sized enterprises (SMEs), and SMEs account for nearly 80 percent of jobs around the world. Women hold the key to unlocking the GDP potential for each and every country in the world.
CIPE's proven strategy to foster economic empowerment involves partnerships among civil society, the private sector, and government. Its network spans more than 70 countries with innovative and successful programs for women and girls that are not only breaking legal and regulatory barriers to women in business, but also traditional barriers such as the perception of women's leadership in the community.
In Bangladesh, after identifying and addressing the social, financial, and capacity barriers that inhibited women from succeeding in business, CIPE worked with the Bangladesh Women's Chamber of Commerce and Industry (BWCCI) to develop a women's national business agenda. Since then, $93 Million in SME Loans have been provided to almost 10,000 women, helping create tens of thousands of new jobs.  In addition, the number of women receiving commercial bank loans went from 19 percent in 2007 to 50 percent in 2014; and more than 65 percent of the country's desks now have desks staffed by female loan officers.
In Pakistan, CIPE's partners formed a coalition to advocate benefits for female artisans. As a result, the State Bank of Pakistan decreased the interest rate for export financing for artisans from 13 percent to between six and seven percent and extended the loan repayment period.
Through CIPE's work in Papua New Guinea, Turkey, Cambodia, Nigeria, Nepal, and many other countries around the world, CIPE has had the privilege to work with incredible female leaders who have the vision to not only change their current economic situation but to make a change that will last for generations to come.
For example, CIPE partner Shamama Arbab, President of the Women's Chamber of Commerce and Industry in Peshawar, Pakistan (WCCIP) said, "When you know what you are talking about, it is a little shocking to society that a woman is saying the right things and knows what needs to be done. This capacity building and confidence in ourselves has changed attitudes in our society – they're shocked and surprised."
One of the three pillars of the administration's Women's Global Development and Prosperity Initiative that was announced February 7 focuses on "Working to identify and reduce the policy, legal, and regulatory barriers to women's participation in the global economy and promote improved practices." CIPE shares this key objective and believes it's absolutely critical that women have a voice in the laws that govern them.
"CIPE is proud of our achievements working hand in hand with women's business associations and chambers of commerce around the globe," said CIPE Executive Director Andrew Wilson.  "Investing in women provides a development dividend:  it is good for economic development, reduces poverty, diversifies the perspective of policymaking, and helps build strong democratic governance institutions."
Elena Padbury is a Program Assistant for Latin America and the Caribbean.
Barbara Langley is the Director of CIPE's Center for Women's Economic Empowerment.