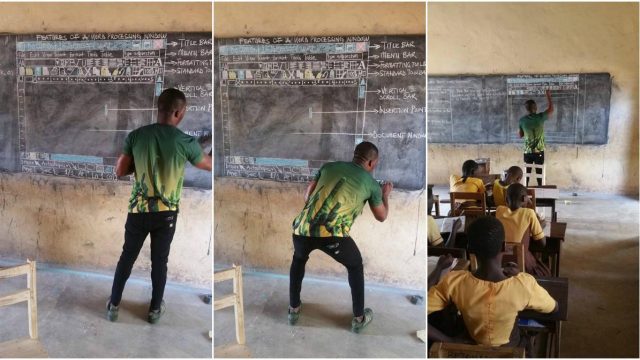 This opinion piece was originally published in "The Hitch News."
When a photo of Ghanaian teacher Richard Appiah Akoto went viral last February, a world of social media outsiders were quick to comment on Mr. Akoto's superhuman dedication to teaching. While it is easy to stop at the feel-good, click-optimized headlines, the news clipping failed to raise heads in the way it should have. We're assuming that when Africa's more than 200 million young people meet the surge of tech-based startup activity, the region's structural inequalities will dissipate and suddenly unlock untold opportunities for economic development. But, if Mr. Akoto's classroom shows us anything, it is that many of those 200 million young people are woefully unprepared and unequipped for the economic opportunity that lies in front of them.
While technology and demographics present unprecedented opportunities for many African countries, the stakes there are higher than for any other region that has similarly benefited from a demographic boom in recent history. There is potential for Africa's rising youth population to lead the way in the continent's economic transition, leveraging the speed and power of technological advancement to tackle some of the most challenging problems that have hindered development. But, if countries cannot quickly find a way to expand digital adoption throughout the economy, with a focus on increasing opportunities for young people, the demographic and digital dividends will dissipate before they've had the change to take hold.
The conjunction of young people and new technologies should be an opportunity to bolster economic growth, create a larger middle class, and reduce poverty. Approximately 50% of the regional population is under 20 years old and will enter the workforce in the next 10 to 15 years. At the same time, mobile phones, drones, and data are creating opportunities to quickly overcome challenges in infrastructure and banking that have historically undermined economic development across Africa. Financial services technologies, like Kenya's M-Pesa for example, allow people without bank accounts to transfer money from one person to another via mobile phone. The data generated from these transactions is creating new opportunities for businesses to demonstrate their creditworthiness and access loans.
Despite the productivity gains promised by a larger workforce and digital technologies, there is a significant risk that the speed of the same technological advances could lead many countries to miss this opportunity entirely, especially if young people are not prepared to participate. The economic playing field is already tilted against young people. Seventy percent of young Africans are considered working poor, earning less than $3.10 USD per day. While the total number of people living in extreme poverty has decreased globally, Sub-Saharan Africa is one of the only regions where the percentage of the population living in extreme poverty has increased over the past 50 years. If this large portion of the workforce remains disconnected from opportunities to participate in the economy, their potential dividend become a drain, undermining economic growth. This would exacerbate existing inequalities while allowing a small portion of the population to benefit.
Bridging the gap between people and productivity isn't merely a matter of creating jobs or even betting on technology, but investing in young people themselves. Connecting young people to opportunities to learn and engage with technology allows them to lead and to find the local solutions African economies need to remain globally competitive.
Access to the internet and electricity remain the most significant barriers to broader pubic engagement, and increasing investment in satellites, data centers, and solar energy is needed to bring more young people online. Education is critical, but it cannot be limited to schools. In many countries, tech hubs have not only created spaces for young people to access digital skills and resources, but also a community of people who are equally interested in finding ways to use technology to solve difficult problems. Expanding the number and reach of such communities is key. Finally, governments must incentivize the expansion and diversification of digital technology across the economy to make room for future jobs. Few industries will remain unaffected by technology. Diversifying the reach of the digital economy ensures that productivity gains accrue more equally across the economy while creating new opportunities within supply chains for people and businesses to participate.
The scope of the change needed to benefit from the rapidly increasing population and global technologies is immense, and the concern that some people will be left behind is not unique to African countries. Similar conversations appear almost daily in headlines around the world, warning what rapidly changing technologies will mean for the livelihoods of workers who cannot rapidly reskill or change industries to keep up with the changing nature of work. We must consider that the story is similar for many African countries, but reconsider the tone. Yes, these changes are coming. There is a lot to gain, and a lot to lose, so let's invest now in the people who will be most prepared to address them.
Hanna Wetters is the Africa Program Coordinator at the Center for International Private Enterprise (CIPE) and the Africa Fellow for Young Professionals in Foreign Policy (YPFP).