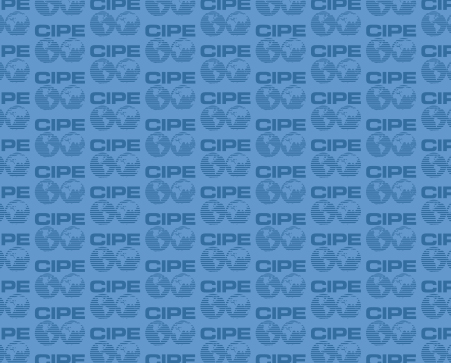 On October 28, Pakistan's Prime Minister Nawaz Sharif announced that the performance of each of his ministries will be evaluated in what the government describes as the country's first-ever such accountability exercise. Planning and Development Minister Ahsan Iqbal of the ruling Pakistan Muslim League-Nawaz party (PML-N) has said that four benchmarks will be used assess each minister: implementation of the PML-N campaign platform from the 2013 election; internal department and ministry reforms; public service delivery and public welfare; and whether the ministry has a strategic plan, or a "future agenda."
This development is particularly notable because for the past year, CIPE and one of its key partners in Pakistan – the Policy Research Institute on Market Economy (PRIME), an Islamabad-based think tank – have spearheaded a program to track the government's implementation of its economic policy platform. PRIME issues a quarterly performance scorecard, tracking key macro- and microeconomic indicators, as well as legislative and policy initiatives, to measure whether the government is following through on its 2013 pledge to overhaul the economy.
The idea of such monitoring follows, in turn, on CIPE's earlier work to engage the business community in policy advocacy and encourage the parties to campaign on specific economic platforms – at the time a first for Pakistan. This program by PRIME and CIPE continues that innovation, and also set the tone for the government's own accountability push.
Indeed, PRIME's work has received extensive coverage in the Pakistani press, and has attracted positive attention from the government. Before the PM's public announcement, Minister Iqbal reached out to PRIME to share their scorecard with a range of ministries, as well as requesting performance updates based on PRIME's indicators. PRIME was also contacted by the Prime Minister's Secretariat to design a special "Status Report" on ten ministries (of 29 total), and this information was then sent to the PM's office.
The PM's announcement comes on the heels of recent large-scale demonstrations that took place across Pakistan beginning in the summer. Popular discontent focused on the government's perceived lack of follow-through on its robust plans to tackle a range of entrenched economic challenges. The demonstrations have reinforced Pakistani citizens' desire for democratic governance, accountability, and economic revival, and this assessment is part of the government's response. This idea can be traced to the timely and important work that PRIME has carried out with CIPE's support.
While to date, PRIME has given the PML-N government fairly low scores on its economic revival efforts, the scorecards also provide recommendations and concrete steps that can be taken to improve performance. Key recommendations include privatization of state-owned enterprises, tax collection reform, and government debt reduction.
In addition to supporting PRIME's ongoing research and analysis, CIPE also continues to work with its partners in chambers of commerce and business associations to ensure that they are leading an advocacy push to keep private sector pressure on the government to follow through on its economic revival agenda.
Jennifer Anderson is a Program Officer for South Asia at CIPE.