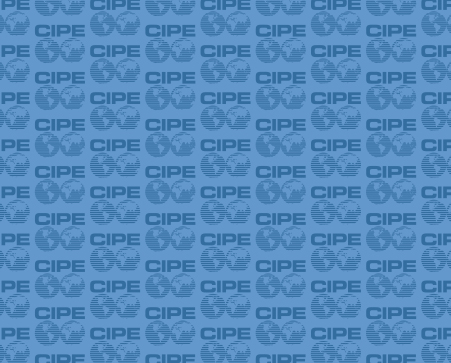 "The sessions in Dhaka and Kathmandu helped develop structure and set direction and proper governance guidance to our business associations, which usually tend to be run according to individual chairperson's goals. Setting vision and mission based on a membership needs assessment is such a simple idea that we learned…so basic but yet hardly used as we tend to overlook membership requirements in our day to day chamber activities and operations" – Rezani Aziz, Sri Lanka
Despite severe challenges, women's business associations are playing effective roles in promoting interests of their members. However, CIPE has observed that most women's business associations in South Asia are struggling to perform optimally.
CIPE took this challenge as an opportunity to work with a selected group of eleven business associations in the South Asia region, aiming at strengthening institutional capacity to help them become stronger advocates for their members. In the first phase of this project, CIPE organized a two-day session for the group in Dhaka in January 2013.
The second workshop for the same group was held in Kathmandu, Nepal on 22 and 23 April. After the Dhaka session, the Peshawar Women Chamber of Commerce & Industry embarked upon an advocacy project to identify barriers to women's entrepreneurship in the terror-affected Khyber Pakhtoon Khawa region, while the Lahore Chamber of Commerce & Industry conducted a survey focusing on their 600 women members. These two case studies from Pakistan were presented to participants in Kathmandu.
Aasia Saail Khan of Lahore Chamber said that, "only after attending the Dhaka event, I realized how important it is to speak to our members to identify their needs and how they perceive the chamber as their partner in business development'"
Shamama Arbab from the Peshawar Women Chamber was of the view, "It's a very healthy 'best-practices-osmosis' process, focusing on chamber development. It is so close to reality that soon after the first meeting in Bangladesh we have already started Policy Advocacy, in an effective and proven way, with a much clearer vision. We face a tough situation in Khyber Pakhtoon Khawa, but now we know how to progress."
In Kathmandu, participants were taken through the process of aligning their institutional vision and mission with their member profile and needs, how effective policy advocacy campaigns work, and also the process of developing a simple yet effective strategic plan.
CIPE will continue this process of engagement and the next session will be held later this year. In the meantime, participants are required to implement ideas generated in the two sessions in their respective business associations.
CIPE's Vice Chair Karen Kerrigan attended a part of the session and met with participants. She said:
"Giving women business owners and entrepreneurs a voice and platform for advocacy, learning and support are vital to fostering an environment that will lift women economically and politically.  CIPE's work in helping to build the capacity of women business associations and their leaders remains highly effective in strengthening key parts of the ecosystem that work to encourage entrepreneurship while increasing the visibility of successful women role models. The gathering in Kathmandu was an opportunity for attendees to share ideas and experiences, but just as important it was a forum for support.  I was inspired by the extraordinary women leaders at the meeting.  They operate under difficult conditions, yet are determined to make a difference for the women in their respective countries."