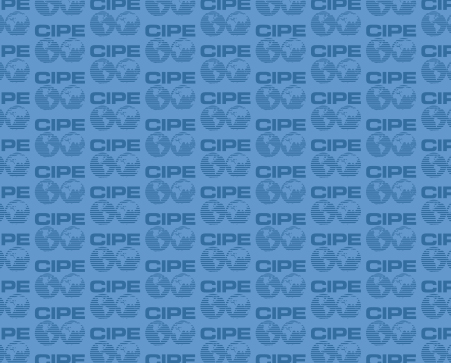 Sally Roshdy is a CIPE-Atlas Corps Think Tank LINKS  Fellow serving at the Project on Middle East Democracy (POMED) .
In Egypt, my home country, the rulers and the political elite are immersed in a struggle for power and have forgotten the simplest principles of good governance: to deliver economic opportunities to their citizens.
Given the current economic crisis in Egypt, a new approach that prioritizes economic development should be adopted. By supporting small enterprises, the government can build a stronger economy and empower people in need to be productive. This way, those in need of assistance are more than just aid recipients; they are contributors to the overall economic growth.
New and well-planned initiatives must be created to improve Egypt's economic and social conditions. These initiatives should involve all three sectors – the government,  private sector, and civil society.  
Local civil society organizations can help create economic opportunities by building the necessary skills of those who are unemployed. For example, the Misr El Kheir Foundation aims to alleviate poverty and unemployment in various communities throughout Egypt by empowering youth and women with leadership and technical skills.
The private sector can also contribute to economic development in Egypt through providing inclusive business opportunities for more citizens, thus creating jobs,  attracting more investment to the country, and increasing production. Moreover, the government can engage with the private sector and civil society in setting  effective economic policies and ensuring inclusion of all actors to help grow Egypt's economy.
Most Egyptians would agree that solving the current economic crisis should be the priority of the country. If we analyze the voting behavior of the last election, most Egyptians voted for the party that would improve "their pocketbooks" and provide them with "cooking oil, sugar, [and] food for Ramadan." This reflects the genuine concern of the people for the country's faltering economy.
As the country gears up for another round of elections this year, I hope more parties will address how they will address this pressing domestic issue, rather than focusing on their power struggle.
The CIPE-Atlas Corps Think Tank LINKS Fellowship brings talented young professionals with strong research backgrounds to shadow researchers and experts at leading U.S. think tanks for six month. Sally Roshdy is part of the inaugural class, serving at the Project on Middle East Democracy (POMED).