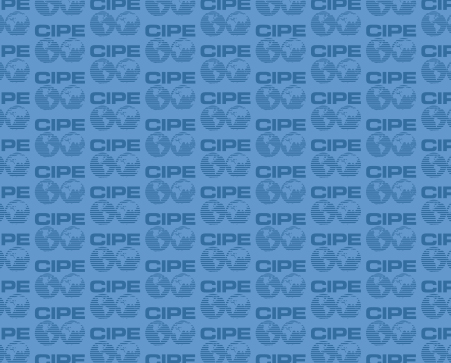 The Peshawar Women's Chamber of Commerce and Industry (PWCCI) celebrated Global Entrepreneurship Week with an event held in partnership with CIPE and the Kauffman Foundation on November 15. More than 50 students and lecturers from various Peshawar universities gathered to discuss both the hurdles facing women entrepreneurs in Pakistan, as well as the reasons why the Peshawar region lags behind other parts of the country in producing entrepreneurs. Speaking at the event, PWCCI Vice President Shamama Arbab noted that while young people in Pakistan have no lack of potential, a challenging business climate makes it difficult for them to harness their skills and capabilities.
According to the Global Entrepreneurship Index, Pakistan lags in the number of start-ups, with less than half the rate of early-stage entrepreneurial activity than comparable countries. CIPE Pakistan Deputy Country Director Hammad Siddiqui commented that young Pakistani graduates tend to seek employment in multinationals after graduation, rather than considering the option of entrepreneurship. Furthermore, he noted, "To turn around Pakistan's economy, women need to participate in the mainstream, including by starting their own businesses."
During the discussion it was stressed that business development centers should be established to incubate new firms, and that chambers and associations can play a key role in mentoring students who are considering entrepreneurship, as well as new entrepreneurs. The participants emphasized that the government should promote an entrepreneurial culture, and universities should introduce entrepreneurship in the curriculum. The student also noted that the media can play a role in encouraging young people to make their careers in business.
For more information about this event, as well as another event marking Global Entrepreneurship Week in Pakistan held in conjunction with the Young Entrepreneurs' Forum at the Islamabad Chamber of Commerce and Industry, please see more on the Business Support Organization Forum, an online resource for Pakistani chambers.