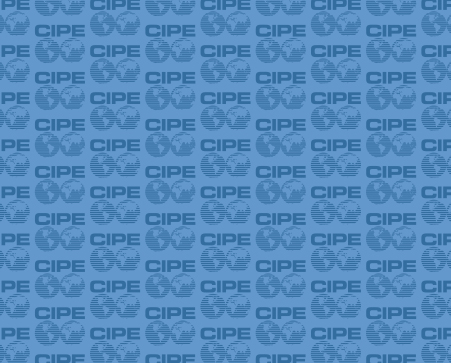 On November 11, in Lahore, Pakistan, CIPE, the Responsible Business Initiative (RBI), and the Association of Certified Chartered Accountants (ACCA) launched a new tool to encourage greater transparency, accountability and integrity in Pakistan's companies – the Responsible Business Guide: A Toolkit for Winning Companies. The Guide is a new element in CIPE's emerging focus on corporate citizenship, which represents a move from philanthropy and corporate social responsibility – often viewed as "giving back" to the community – to a deeper understanding of the commitment of companies to society.
Work on the document began in 2007, with research, roundtables, focus group discussions, and drafting guided by a working group including leading Pakistani firms, such as National Foods, Shell Pakistan, and the Standard Chartered Bank, business associations and chambers of commerce, the Securities and Exchange Commission of Pakistan, and others. The result, as CIPE Executive Director John D. Sullivan explains in the Guide's preface, is a roadmap for companies to "embrace and demonstrate ethical business practices," allowing them to "create jobs, strengthen civil institutions, combat corruption, and promote growth." The Guide focuses on six practical areas: Governance and Management, Principles and Values, Compliance and Disclosure, Stakeholder Involvement and Social Investment, Product Integrity and Customer Focus, and Financial Viability and Capitalization.
Underscoring the level of interest in the topic, the launch was standing-room-only: CIPE staff expected 75 participants, and yet nearly 150 turned out. Business leaders, academics and the media attended, and two stories in the Express Tribune covered the event. Remarks were made by John D. Sullivan and CIPE Pakistan Country Director Moin Fudda, and CIPE's Regional Director for Eurasia and South Asia Andrew Wilson participated in a panel discussion and question-and-answer session together with Arif Masood Mirza of ACCA, Waqar A Malik of Azkanoble, Ambreen Waheed of RBI, and Dr. Faiz Shah. Another highlight of the event was a keynote address by Hussain Dawood, one of Pakistan's leading businessmen, Chairman of Dawood Hercules Chemicals Limited.
The event ran over time, and the discussions continued over lunch. Clearly, corporate citizenship and responsible business are growing areas of importance in Pakistan. Why the growing interest in this topic? What is corporate citizenship, and how can responsible business practices contribute to Pakistan's economic and political development? These were among the issues considered at the event.
As was pointed out during the panel discussion, the difference between corporate philanthropy and corporate citizenship is that the former is concerned with how companies use profits; the latter asks how they make their profits. Giving charitable donations can be a part of being a good corporate citizen, but it is not the whole picture. One panelist described responsible businesses as "islands of excellence," oriented toward sustainable growth, using resources wisely, and taking into account the interests of a wide range of stakeholders.
As Dawood explained in his remarks, this emphasis on sustainability underlines the link between responsible business practices and Pakistan's ability to overcome the myriad challenges it faces. Responsible business encourages long-run economic growth, an effect which functions in two key ways. First, entrepreneurs who conduct their business in a fair, transparent, responsible and accountable manner, and who recognize that with increasing profits comes increasing responsibility to all stakeholders – employees, customers, management, boards, shareholders, the country at large – engender a culture where employees feel more valued, and are thus more productive. This helps the business to grow faster and increases earnings.
Second, when companies voluntarily adopt, and then adhere to, ethical principles, they can head off attempts by politicians to mandate the same behavior through regulation. Excess regulation drives up costs, so responsible business helps firms unleash the economic potential of the private sector for the benefit of the whole society. These ideas were picked up by the panel as well; one speaker noted that against the backdrop of a growing population, Pakistan has a relatively small economy and low levels of economic growth. Foreign investment is needed to create the jobs that are necessary to provide economic opportunity for the younger generation, and securing that investment will require building a culture of responsible business.
The push toward corporate citizenship is a global trend, as many of the speakers explained. Sullivan cited the example of Pittsburgh, Pennsylvania, where after the collapse of the steel industry, major municipal businesses reached out to government (rather than the other way around) to spur investment, create jobs, and grow small businesses. By displaying civic leadership, the private sector helped to turn the community around. Now all over the world, firms are realizing that investing in the community is profitable. Wilson and several of the other panelists highlighted a range of factors driving business to be more responsible, including increased consumer attention to environmental and labor practices throughout their supply chains; increased government attention to, enforcement against, corruption; and the desire on the part of many top graduates to work at firms with solid corporate reputations.
So what stops companies from being more responsible? The panel noted a common misconception that responsible business means higher costs. As Mirza explained, a more complete analysis makes it clear that it is profitable to be responsible. In fact, more frequently, accountants and investors alike are considering the total picture of a firm's costs, taking into consideration aspects that were previously ignored, such as social, legal or environmental costs. Further, if consumers want responsibly produced products, then adopting responsible business practices becomes a question of a firm's survival. In this sense, the cost of doing nothing is much higher than the cost of being responsible – the firm could go out of business if it doesn't respond to consumer demand.
As Fudda remarked, instituting responsible business practices remains a challenge for many Pakistani firms, but these firms are recognizing the need to keep up with international trends. To continue building on this initiative, the audience and panelists sketched out some ideas for further activities, including more research, advocacy and education, training firms to implement responsible practices, and greater coordination among interested stakeholders. CIPE and its partners plan to continue engaging on the issues of corporate citizenship, including through tools such as the new Guide, not just in Pakistan, but in countries around the world.