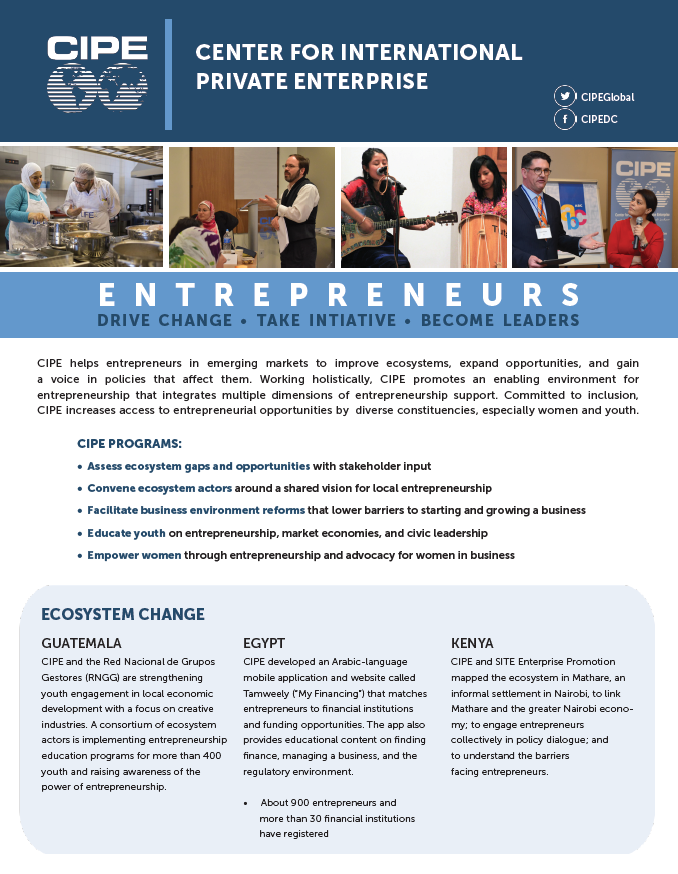 CIPE helps entrepreneurs in emerging markets to improve ecosystems, expand opportunities, and gain
a voice in policies that affect them. Working holistically, CIPE promotes an enabling environment for
entrepreneurship that integrates multiple dimensions of entrepreneurship support. Committed to inclusion,
CIPE increases access to entrepreneurial opportunities by diverse constituencies, especially women and youth.
CIPE PROGRAMS:
• Assess ecosystem gaps and opportunities with stakeholder input
• Convene ecosystem actors around a shared vision for local entrepreneurship
• Facilitate business environment reforms that lower barriers to starting and growing a business
• Educate youth on entrepreneurship, market economies, and civic leadership
• Empower women through entrepreneurship and advocacy for women in business
Download the flyer to read about our entrepreneurship programs in countries like Bahrain, Peru and Turkey.