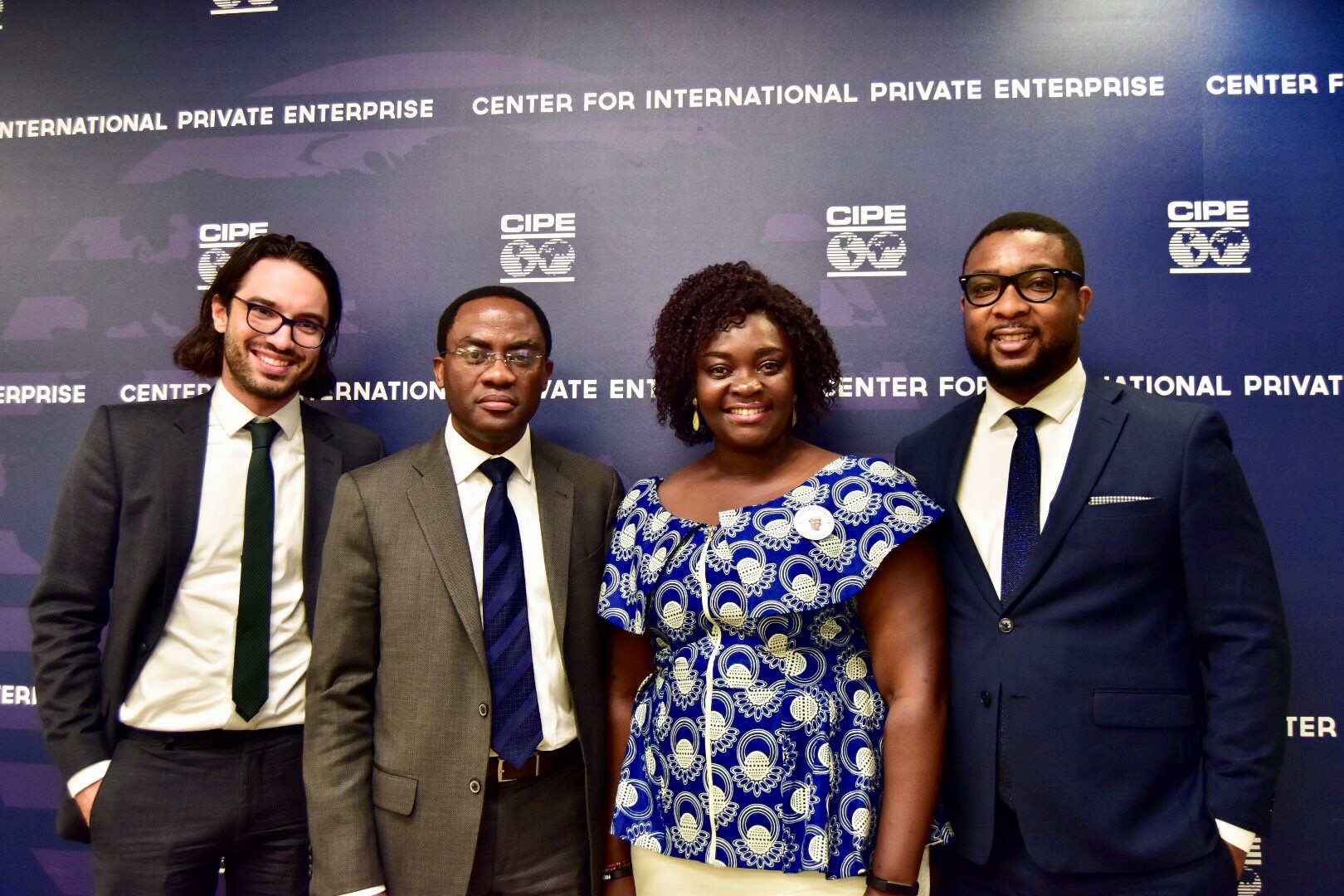 Cameroon is experiencing a dramatic decline in democratic freedoms and individual liberties amid an escalating internal conflict. Since 2016, protests over the imposition of the French language in the minority anglophone regions of the country have been strongly suppressed by the largely francophone government. The government's shutdown of the internet in response to the protests in the anglophone regions last year and security challenges have stifled economic activity and the freedom of expression.  Meanwhile, growing tensions between military forces and separatists threaten state and regional stability. Cameroonians are scheduled to go to the polls in October 2018 to vote in presidential, parliamentary, and local elections. However, there is a growing concern about the legitimacy of the elections if voters from the anglophone regions do not participate.
Please join CIPE for a roundtable discussion on the current political impasse in Cameroon, with a special presentation from Kathleen Ndongmo on promoting and defending digital rights. Following Ms. Ndongmo's presentation, Denis Foretia of the Nkafu Policy Institute and Pierre Tantchou of the Albright Stonebridge Group will share their thoughts on the way forward for democracy and a peaceful resolution of the conflict in Cameroon.
RSVP TODAY!
Opening Presentation:
Kathleen Ndongmo, Entrepreneur and Digital Rights Advocate
Commentators:
Dr. Denis Foretia, Co-Chair Denis, and Lenora Foretia Foundation
Pierre Tantchou, Director of Albright Stonebridge Group
Moderator:
Bios
Kathleen Ndongmo is an entrepreneur who currently serves as the principal officer of Anqhore Consulting, a management strategy, marketing, and digital media consulting firm she founded in 2011. She is also the Co-Founder and CEO of voKKall, a textile and African print fabrics distributor in Cameroon. A notable voice for digital rights in Africa, she was one of the leading voices against the Cameroonian Internet shutdown of 2017 and actively contributed to the #BringBackOurInternet campaign. She has been the country update speaker for Cameroon at the Paradigm Initiative's Internet Freedom Forum in 2016 and 201, and writes the Cameroon update for the Digital Rights in Africa Report. Kathleen is a member of the Netrights Africa Coalition, a pan-African coalition for digital rights in Africa.
Dr. Denis Foretia is co-chair of the Denis & Lenora Foretia Foundation and Senior Fellow at the Nkafu Policy Institute, a leading Cameroonian think tank. Along with co-chair Lenora Ebule, he shapes and approves strategy, advocates for the foundation, and helps set the overall direction. He is also the Chairman of Merckshire LLC, an international holding company with operations in the US and Cameroon. A surgeon by training, Foretia has always been involved in philanthropic activities and issues related to international development. He is currently the President of the Association of Cameroonian Physicians in the Americas (ACPA). He is also the Co-Founder and pioneer president of the Cameroon Professional Society (CPS) – the premier institution for Cameroonian professionals in the US focused on advancing economic opportunity and leadership development among Cameroonians.
Pierre Tantchou is a Director in ASG's Africa practice, where he advises and assists clients on growth strategies across the African continent. Prior to joining ASG, Mr. Tantchou held several roles at the National Endowment for Democracy, including as a Program Officer for Africa. In this role, Mr. Tantchou was responsible for developing country strategies and overseeing grants in Cameroon and other parts of Central Africa. Previously, Mr. Tantchou worked as Associate Consultant with The Corporate Council on Africa, Africa Analyst at Freedom House, and Country and Functional Reviewer at Global Integrity. Mr. Tantchou received an M.A. in International Affairs from Penn State University's School of International Affairs and a B.A. in Global Affairs from George Mason University.
Toni Weis is a Senior Program Officer on CIPE's Africa team, where he oversees a portfolio of projects on collective action in the business sphere. In this capacity, he helps private-sector organizations from Ethiopia to Senegal to organize effectively and advocate convincingly, enabling them and their members to break down market barriers, reduce insecurity, and improve democratic governance. In addition, Weis is also an adjunct faculty member at Johns Hopkins University (SAIS), where he teaches on state-business relations in Africa and a research associate at the University of Oxford's Global Economic Governance Program. Prior to joining CIPE, he worked as an independent consultant for the World Bank, risk analysis firms, and private investors. Weis holds a Ph.D. in Politics and an MSc in African Studies from the University of Oxford, as well as an MA in International Relations from Sciences Po in Paris. His work has been published in Foreign Affairs, Africa Confidential, and a number of academic books and journals.
Location
Center for International Private Enterprise
1211 Connecticut Avenue NW Suite 700
Washington DC, 20036