About the Event
Indo-Pacific countries that need foreign investment must guard themselves against corrosive capital that threatens to corrupt markets and weaken governance, while also building a better environment for constructive capital that generates greater opportunity. This is the focus of a new event series by the Center for International Private Enterprise (CIPE) and partners across Asia and the Pacific region.
Chinese investment in Papua New Guinea (PNG) headlined an event by CIPE and the Institute of National Affairs. In recent years, rising Chinese investment in the region has prompted geopolitical tensions, including concerns about the security of Chinese-built digital infrastructure projects. This event will draw on case studies highlighted on the BRI Monitor website, focusing on the role that local pressure and regulation can play in mitigating the risks of corrosive capital. Panelists will also discuss the broader risks associated with Chinese investment in the Pacific region.
About the Speakers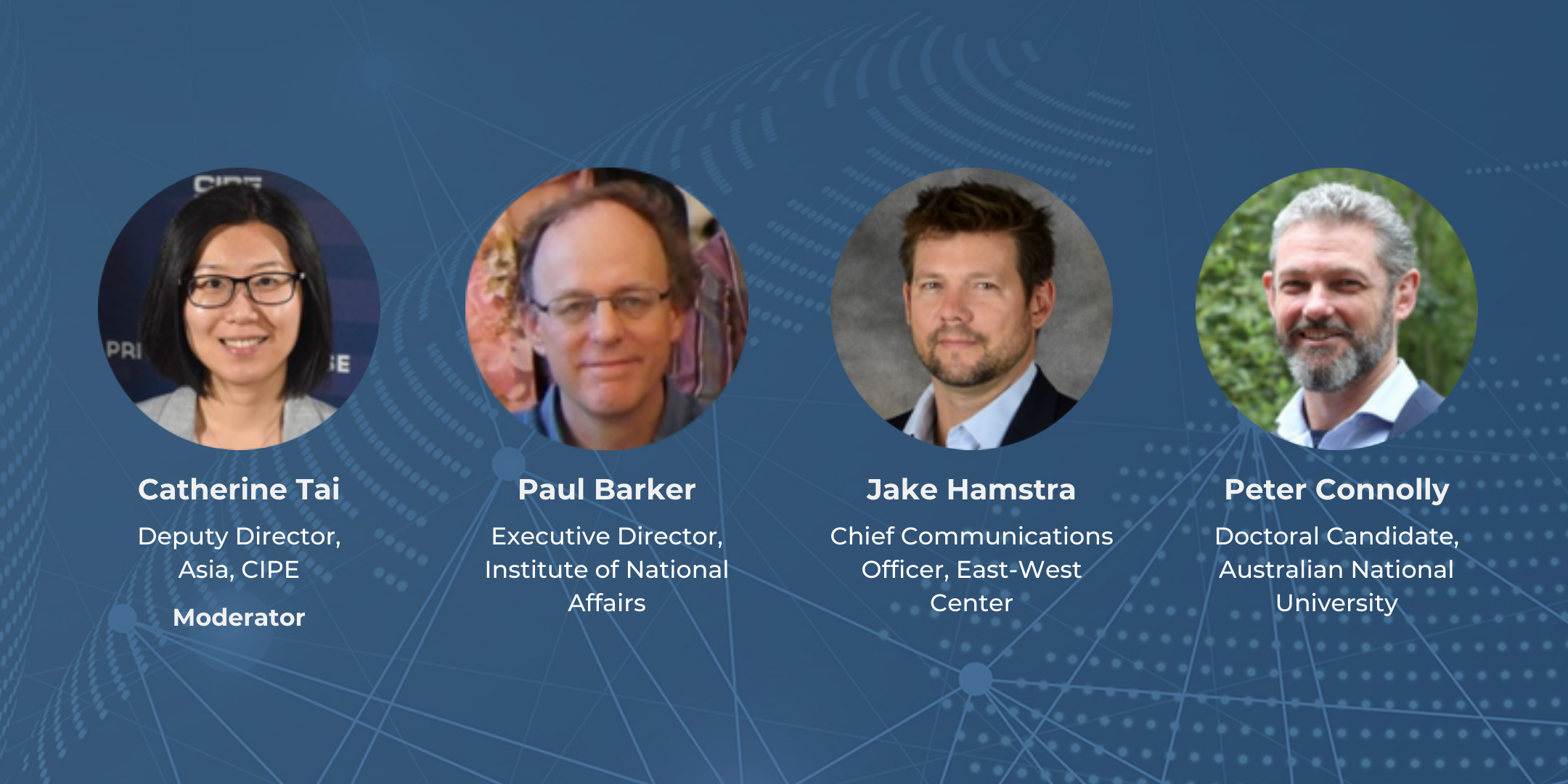 Catherine Tai is the Deputy Director for Asia of the Center for International Private Enterprise. She is responsible for overall program management, performance reporting, donor communication and partnership management throughout Southeast Asia. Tai's portfolio of projects focuses on partnering with business associations to strengthen the role of the private sector and mobilize local networks of small and medium enterprises for constructive policy reform. In addition, she manages anti-corruption initiatives that improve the monitoring of public procurement. She works closely with local program partners to ensure progress towards stated outputs and outcomes and travels throughout the region to monitor results and meet with stakeholders and beneficiaries. Tai is a seasoned international development professional with a decade-long experience conceiving, implementing, monitoring and evaluating programs in East and Southeast Asia. Previously, Tai was the Senior Program Officer for East Asia at the Eurasia Foundation, where she provided technical assistance to civil society groups and designed new initiatives with local partners. She has a Master's degree in Public Policy from the University of Maryland – College Park and a BA in Diplomacy from National Chengchi University, the top liberal arts university in Taiwan.
Jake Hamstra is the Chief Communications Officer at East-West Center, where he directs the Department of Communications & External Relations and leads the coordination of communications and engagement strategy and activities across the Center. He is the Principal Investigator of two interdepartmental initiatives, the Best American Story Evaluations (BASE), and PROJECT Governance. Jake previously served as Special Advisor to the President, with a particular emphasis on strategic communications and Pacific Islands programs. Before joining the East-West Center, Jake was Senior Policy Advisor at the New Zealand Ministry of Foreign Affairs and Trade office in Honolulu where he led engagement with the Compact States and analysis on regional economic, political, and defense/security issues. Jake spent a decade in Hong Kong as Asia Editor/Economist with The Economist Intelligence Unit, including several years as lead analyst for the Mekong region. Jake has lived in Sri Lanka, Bangladesh, Thailand, China, and Hong Kong. He holds an MA in International Relations from The Fletcher School of Law and Diplomacy (Tufts University), an MA in Political Philosophy from Georgia State University, and a BA (Hons) in History and Philosophy from Calvin College.
Peter Connolly is completing a PhD on Chinese interests in Melanesia, drawing on extensive research in China, PNG, Solomon Islands, Vanuatu, Fiji and Timor-Leste 2014-2020.This has involved research in areas of economics, politics and security at both the national and the grassroots levels in Melanesia, enabling a dynamic comparison of China's interests and influence across Melanesia as they have increased under Xi Jinping's leadership, including the arrival of the Belt and Road Initiative in 2018. During a 33 year career as an infantry officer in the Australian Army, Pete commanded troops on active service in Somalia, Timor-Leste and Afghanistan from platoon through to battalion level. He led inter-disciplinary teams in planning, analysis, contestability and international engagement in Defence, the US Joint Staff and on coalition operations. He has worked in Parliament House, Sandhurst and the Pentagon, completing his service as Director International Engagement – Army, and Director Australian Army Research Centre. He provides advice to the Australian Department of Defence on the Pacific and is an Adjunct Fellow with the Center for Strategic and International Studies (CSIS) in Washington DC.
Paul Barker came to Papua New Guinea in January 1978 and was based in the Highlands for five years with the Primary Industry Department. He headed the economics, marketing and statistics branch of the Primary Industry Department until 1988, when he was appointed special economic sector adviser in the Prime Minister's Deptarment, a post he filled until mid-2004. He was technical adviser with the European Delegation in the Solomon Islands until January 2006, and then appointed Executive Director of the Institute of National Affairs, an independent policy think tank based in Port Moresby, which addresses a wide range of economic and social issues affecting the country.
Location
Zoom & CIPE DC Facebook Live