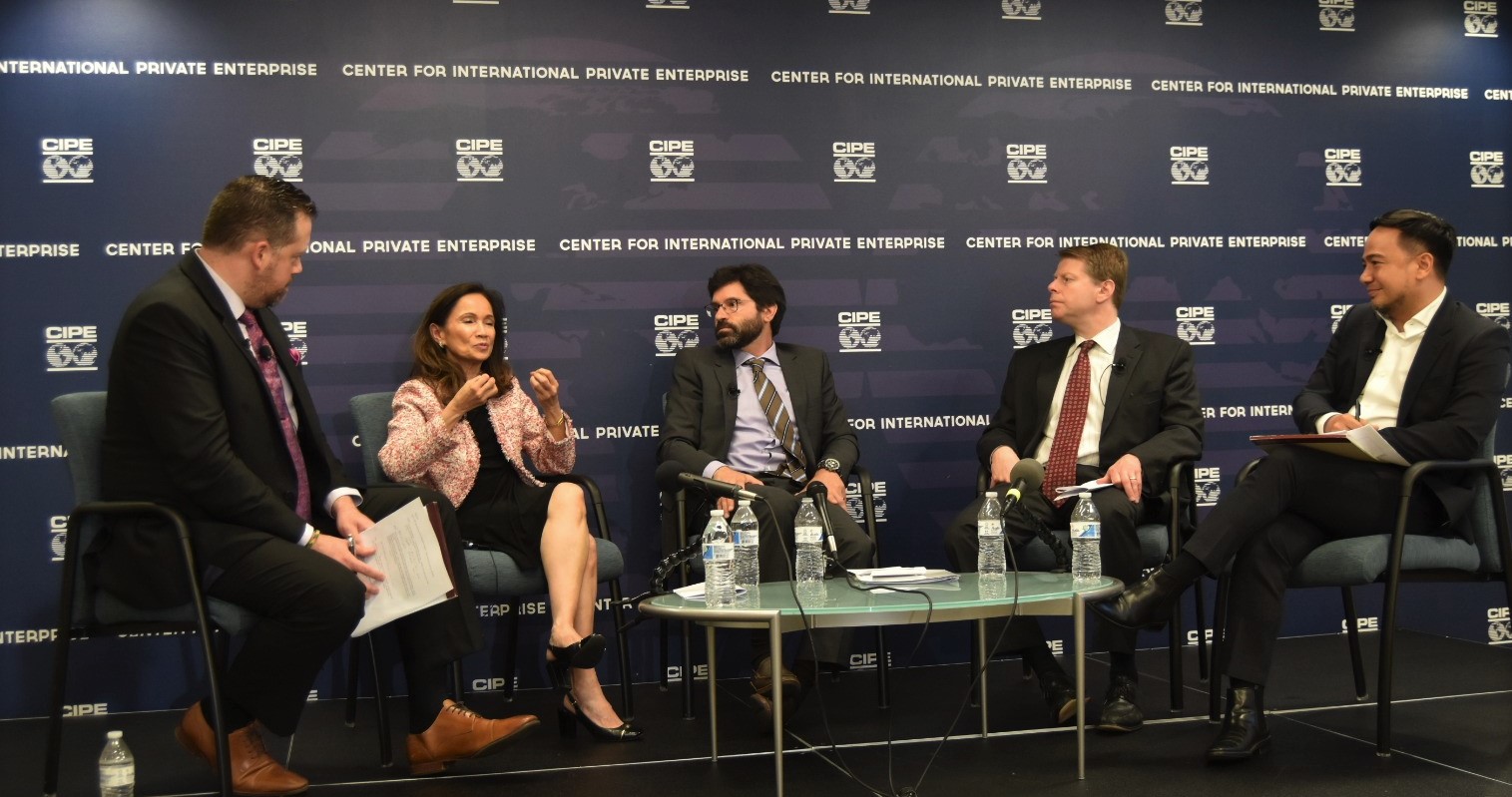 The Philippines will soon be ASEAN's fastest growing economy, according to projections of the World Bank's 2018 Global Economic Prospects Report. The country's GDP growth rate has exceeded 6% every year for the past seven years, but despite this growth, poverty statistics show an unequal distribution of wealth across the Philippines. The extreme income inequality and lack of inclusive growth found a political voice in the 2016 presidential election in the form of President Duterte.
The Duterte administration has introduced an ambitious and popular "Build, Build, Build" initiative to improve infrastructure and has committed to investing heavily in human capital development. Despite these promises, underlying challenges remain, including corruption, weak governance, and an increasing disregard of human rights and the rule of law.
Please join CIPE on June 6th — at the two-year mark of the Duterte presidency — for a panel discussion with experts that will shed light on opportunities to address these remaining obstacles for inclusive economic growth in the Philippines.
Panelists:
Gloria Steele, Senior Deputy Assistant Administrator, USAID
Brian Joseph, Vice President Programs– Asia, Global and MENA, National Endowment for Democracy
John Goyer, Senior Director of Southeast Asia, US Chamber of Commerce
Ryan Evangelista, Regional Coordinator for Southeast Asia, CIPE
John Morrell, Director of Asia and Pacific, CIPE (discussion moderator)
Speaker Bios:
Gloria Steele was the USAID Mission Director for the Philippines and the Pacific Islands prior to her appointment as Senior Deputy Assistant Administrator for Asia. Prior to her position in Manila, Steele served as the Senior Deputy Assistant Administrator for the Bureau for Global Health. At the Bureau for Global Health, she oversaw an average annual health program budget of $1.5 billion and a staff of 240. Steele served one year in the Bureau for Policy and Program Coordination, where she led the development of policies related to food security.Earlier in her career, Steele served as a management consultant to the Philippines' secretary of agriculture, and taught business economics at Letran Graduate School for Business in Manila.Steele received a master's in agricultural economics from Kansas State University and a bachelor's in business administration from Maryknoll College in the Philippines. Her awards include a Presidential Meritorious Executive Award in 2007 and a Presidential Distinguished Executive Award in 2008.
John Goyer joined the U.S. Chamber of Commerce in January 2012 as senior director of Southeast Asia. Goyer concentrates on developing and implementing the Chamber's ASEAN regional projects, as well as its bilateral programs with individual countries in the region. In addition, he is responsible for developing the Chamber's Australia Working Group, its Myanmar outreach, and other initiatives. Before joining the Chamber, Goyer served as vice president of the Coalition of Service Industries (CSI), a U.S.-based membership association that promotes the liberalization of international trade and investment in services. Earlier in his career, Goyer was senior director of the US-ASEAN Business Council, where he monitored and reported on major trade policy and political developments and trends impacting commercial interests in Southeast Asia, with a particular focus on ASEAN economic integration.
Brian Joseph is the Vice President, Programs – Asia, Global and Middle East and North Africa at the National Endowment for Democracy. Joseph has spoken widely and written about Burma, Pakistan, Thailand, human rights in Asia, and democracy promotion in closed societies. He appears regularly in the media, including on the PBS NewsHour, the Diane Rehm Show, The World, CNN and Aljazeera and his articles have been published in the Journal of Democracy, The Chronicle Review, The International Herald Tribune, and the SAIS Review. Brian has testified before the Senate Committee on Foreign Relations' Subcommittee on East Asia and Pacific Affairs, the Congressional Human Rights Caucus, and the Canadian Senate Committee on Foreign Affairs and International trade, provided high-level briefings for State Department officials, and lectured at the Foreign Service Institute.
Ryan Patrick Garcia-Evangelista has nearly 20 years of professional experience as a chamber of commerce executive, economic development, trade policy and business enabling environment specialist and institutional strengthening consultant. He currently serves as regional project coordinator of Center for International Private Enterprise (CIPE) managing projects in areas such as capacity development for economic think tanks in Southeast Asia, anti-corruption and good governance. He also serves as business-enabling environment and investment promotion expert of Strengthening Urban Resilience for Growth with Equity (SURGE) Project of USAID/Philippines, benchmarking and institutional strengthening consultant of the United Nations International Trade Centre (ITC-WTO-UNCTAD), associate governance fellow of the Institute for Solidarity in Asia (ISA), chairperson of the corporate governance committee of the Philippine Chamber of Commerce and Industry (PCCI) and steering committee member of the Free Enterprise and Democracy Network (FEDN).
Location
Center for International Private Enterprise
1211 Connecticut Avenue NW, Suite 700,
Washington DC, 20036