About the Event
Over the years, coalition building in democratic societies has evolved to support proactive policy advocacy, where building alliances and engaging the broader spectrum of civil society actors and institutions has been a game changer. The changing landscape of democracy and technology necessitates new approaches and greater knowledge sharing of good practices and lessons learned as the challenges of today are quite different from the challenges of a decade ago.  
To strengthen civic participation and promote good governance reforms, CIPE and WeSolve Foundation Inc. co-developed a new resource on advocacy coalition building, featuring various principles, practical guides, case studies and lessons learned drawn from the breadth of experience among CIPE Philippines partners. The guidebook is aimed at helping partners and change agents, emerging activists and advocates, and experienced organizers incubate coalitions that will contribute to building innovative and impactful governance solutions and policy reform.  
This webinar featured a presentation of this new resource as well as a discussion of the transformation of democracy, current challenges, and the increasing importance of advocacy coalitions in strengthening partnerships, amplifying voices, and building collective action for reforms. 
About the Panelists
Toix Cerna

Toix Cerna is a development worker, the vast part of her career devoted to advancing good governance through the empowerment of civil society, and promoting Development Entrepreneurship, an innovative approach to doing development. Development Entrepreneurship is part of a global community of practice known as "Thinking and Working Politically." As a policy specialist, Toix has experience in formulating policies for national government agencies and local government units that will change outcomes. She has also done research on transparency and accountability, integrity development, social accountability, and citizens engagement. She has a master's degree in Development Studies from the University of East Anglia, UK and obtained her bachelor's degree in Political Science from the University of the Philippines, Diliman.
Ken Abante

Ken Abante leads research and coalitions for WeSolve. He is a collective impact organizer with the Citizens' Budget Tracker (budget transparency), Move As One Coalition (public transport), and Tarabangan Kontra COVID-19 (COVID-19 Response and Recovery in Naga City). He also trains public servants on completed staff work. Ken holds a master's in public administration in International Development from Harvard Kennedy School.
Kim Bettcher

Kim Bettcher leads the Center for International Private Enterprise's (CIPE) Policy and Program Learning initiative, which captures lessons learned in democratic and economic institution-building around the world. The initiative shares strategies, best practices, and lessons with an international network of reform leaders. Dr. Bettcher has written and edited numerous resources for CIPE, especially toolkits on public-private dialogue and anti-corruption, a report on Creating the Environment for Entrepreneurial Success, three case study collections, and the CIPE Guide to Governance Reform, among others. Dr. Bettcher has published articles in the Harvard Business Review, Party Politics, SAIS Review, and the Business History Review. He has taught as an adjunct professor at George Mason University's School of Public Policy and was previously a research associate at Harvard Business School. Bettcher holds a Ph.D. in political science from Johns Hopkins University and a bachelor's degree from Harvard College.
Roxanne Lu

Roxanne Lu is the Programs and Projects Director of the Makati Business Club. She earned her bachelor's degree in Economics at the Ateneo de Davao University. She has been involved in the Asia Pacific Economic Cooperation (APEC) as a Programs Officer of the APEC Business Advisory Council (ABAC) Philippines from 2011 until the end of the Philippine hosting year of APEC in 2015. Her work area is on policy and economic research as well as designing and implementing programs focused on national development. She also served as a research officer at the Mindanao Business Council wherein she contributed in the work of the BIMP-EAGA Business Advisory Council Philippines.
Ryan Evangelista

Ryan Evangelista is overseeing programming activities of the CIPE regional office in the Philippines, focused on improving democratic governance and supporting market-oriented reform, fostering diversity, equity and inclusion (DEI), women economic empowerment, responsible and ethical investments, digital economy, strengthening business associations, think tanks and civil society organizations, and enabling stakeholder participation in policy advocacy. With 23 years' experience in private sector and development practice, he previously served as investment policy reform adviser of IFC-World Bank, investment promotions and business enabling environment expert of USAID-SURGE Project, and institutional benchmarking expert at International Trade Centre (ITC). He also served as executive director of the Australian-New Zealand Chamber of Commerce/ Philippines, Economic Growth Specialist at USAID/Philippines, deputy secretary general of the Philippine Chamber of Commerce and Industry (PCCI) and executive director of PCCI's trade policy think tank. He is a lecturer at the SME and Trade Academy in Geneva, Switzerland, and faculty member teaching stakeholder analysis and governance best practices at the joint ISA-University of Asia and Pacific (UA&P) Governance and Leadership Executive Program. In 2013, he was honored by Development Executives (Devex) as one of Manila's 40 most influential international development leaders under the age of 40. He earned his Master of Arts in International Relations from the Fletcher School of Law and Diplomacy-Tufts University, in Medford, Massachusetts, USA, and, undergraduate in Business Economics at De La Salle University-Dasmarinas.
About the Partnering Organization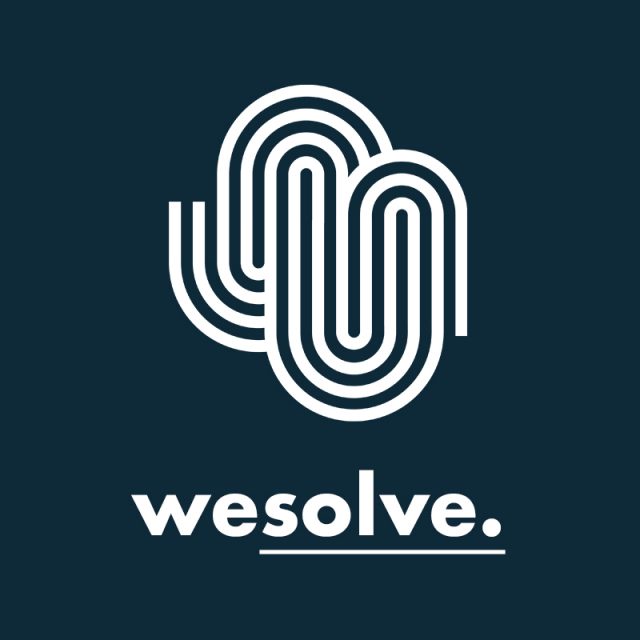 WeSolve is a social purpose organization that drives collaboration for sustained impact. We help mission-oriented organizations in the public, private and non-profit sectors to design, structure and operationalize collaborative approaches to shared social problems.  Specializing in incubating coalitions, we co-create equitable solutions powered by the collective strengths of communities, who share action and accountability, and stand with each other to lift society. Our vision is to build a Philippines that thrives in the abundance of nature, and where all Filipinos have equal access to the choices that enable them to live in dignity, liberty and hope.