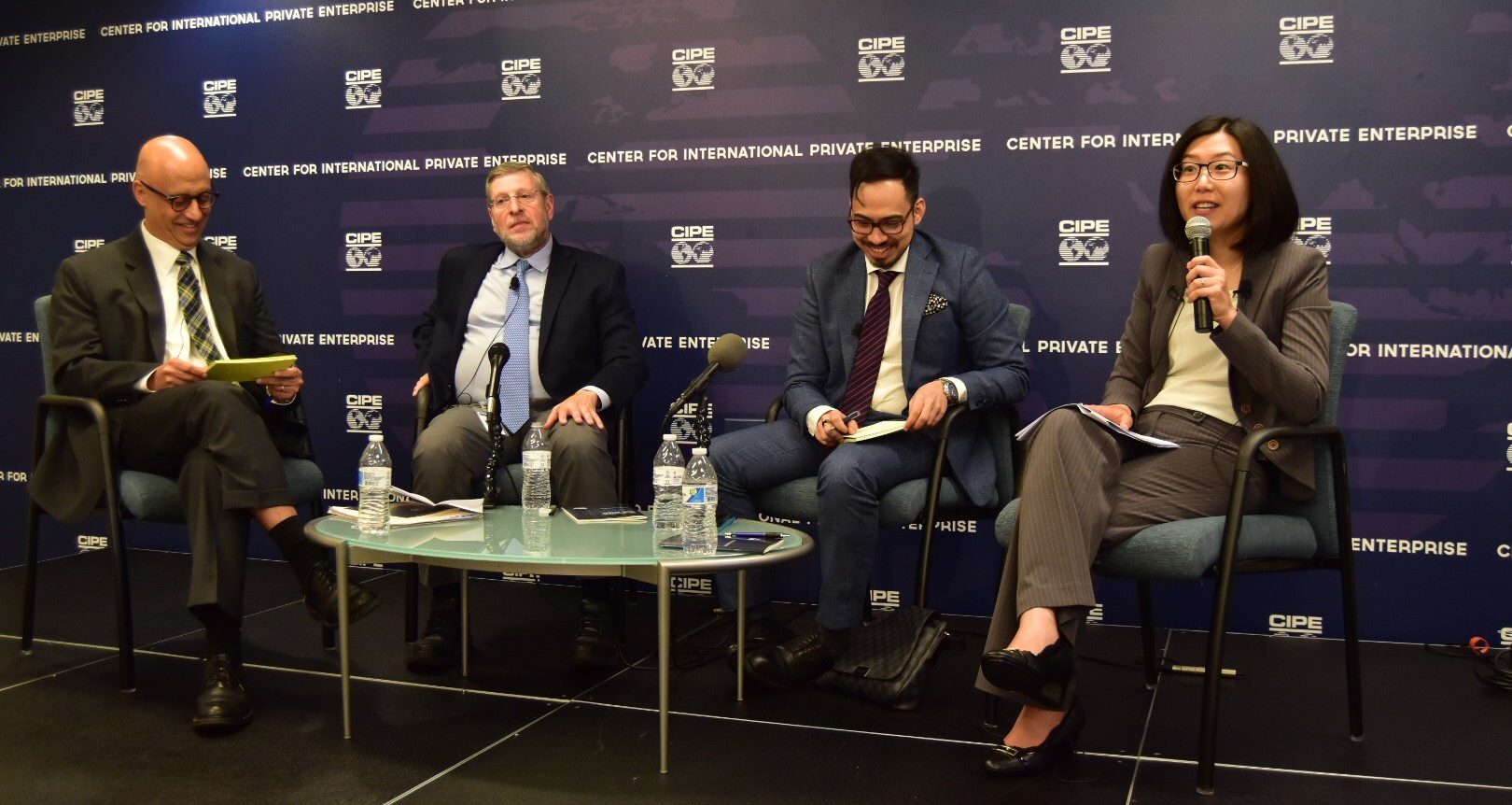 In 2013, the Chinese government unveiled its One Belt One Road initiative (BRI). Covering an expanse of 68 countries and 65% of the global population, the Chinese government is looking to invest up to $900 billion USD of infrastructure investments over the next decade, broadening China's already pervasive economic influence. This panel discussion, Belt and Road Initiative: How to Mitigate the Governance Impacts, will examine the impact of BRI and increased capital inflow on public governance and democratic institutions in recipient countries. David Dollar, a Senior Fellow at the John L. Thornton China Center at the Brookings Institution, will be joined by Catherine Tai, CIPE's Program Officer for Asia, and Professor Richard Javad Heydarian, author of Asia's New Battlefield: US, China & the Struggle for Western Pacific.
Watch the Video:
Opening Remarks:
Andrew Wilson, Executive Director, Center for International Private Enterprise (CIPE)
Panelists
David Dollar, Senior Fellow in the John L. Thornton China Center, Brookings Institution
Richard Javad Heydarian, ADR-Stratbase Institute Fellow and Philippine Daily Inquirer columnist
Catherine Tai, Program Officer for Asia, CIPE
Abdulwahab Alkebsi, Managing Director for Programs, CIPE (discussion moderator)
Bios
David Dollar is a Senior Fellow in the John L. Thornton China Center at the Brookings Institution. From 2009 to 2013, Dollar was the U.S. Treasury's economic and financial emissary to China, based in Beijing, facilitating the macroeconomic and financial policy dialogue between the United States and China. Prior to joining Treasury, Dollar worked 20 years for the World Bank, serving as country director for China and Mongolia, based in Beijing (2004-2009). His other World Bank assignments focused on Asian economies, including South Korea, Vietnam, Cambodia, Thailand, Bangladesh, and India.  Dollar also worked in the World Bank's research department. His publications focus on economic reform in China, globalization, and economic growth.  He also taught economics at University of California Los Angeles, during which time he spent a semester in Beijing at the Graduate School of the Chinese Academy of Social Sciences in 1986. He has a doctorate in economics from New York University and a bachelor's in Chinese history and language from Dartmouth College.
Richard Javad Heydarian is an academic, columnist, and author, having taught political science at Ateneo De Manila University and De La Salle University, Philippines. Currently a Resident Political Analyst at GMA network in Manila and a non-resident fellow at Stratbase ADR Institute, he is also a regular contributor to Centre for Strategic and International Studies (CSIS), Council on Foreign Relations (CFR), and the Lowy Institute. He is the author of, among others, Asia's New Battlefield: US, China and the Struggle for Western Pacific (Zed, London). He has lectured around the world, including in Stanford University, Harvard University, Columbia, Leiden University, Australian National University, among others, and has been described as one of the "most prolific and interviewed geopolitical analyst[s] currently writing and speaking not only in the Philippines but arguably in Southeast Asia." He has written for and has been interviewed by the world's leading news outlets, including BBC, Bloomberg, CNN International, The New York Times, Foreign Affairs, The Guardian, The Washington Post, The Financial Times, Wall Street Journal, The Economist, The Atlantic, South China Morning Post, Nikkei Asia Review, Straits Times, among other leading publications. He was awarded the 2016 Ten Outstanding Young Men (TOYM) for his contributions to social sciences. He has advised various administrations, government agencies, cabinet secretaries, presidential campaigns, and global hedge funds and credit rating agencies.
Catherine Tai is the Program Officer for Asia of the Center for International Private Enterprise. She is responsible for overall program management, performance reporting, donor communication and partnership management throughout Southeast Asia.  Tai's portfolio of projects focuses on partnering with business associations to strengthen the role of the private sector and mobilize local networks of small and medium enterprises for constructive policy reform. In addition, she manages anti-corruption initiatives that improve the monitoring of public procurement. She works closely with local program partners to ensure progress towards stated outputs and outcomes and travels throughout the region to monitor results and meet with stakeholders and beneficiaries. Tai is a seasoned international development professional with a decade-long experience conceiving, implementing, monitoring and evaluating programs in East and Southeast Asia. Previously, Tai was the Senior Program Officer for East Asia at the Eurasia Foundation, where she provided technical assistance to civil society groups and designed new initiatives with local partners. She has a Master's degree in Public Policy from the University of Maryland – College Park and a BA in Diplomacy from National Chengchi University, the top liberal arts university in Taiwan.
Abdulwahab Alkebsi is the Managing Director for Programs at the Center for International Private Enterprise (CIPE), a non-profit affiliate of the U.S. Chamber of Commerce and one of the four core institutes of the National Endowment for Democracy (NED). Alkebsi oversees more than 120 programs in over 55 countries and supervises a staff across nine countries, including Egypt, Iraq, Jordan, Tunisia, Nigeria, Ethiopia, Afghanistan, Pakistan, and Ukraine, and at CIPE's head office in Washington, DC. In his role at CIPE, Alkebsi oversees democracy and market-reform initiatives that combat corruption, build the capacity of business associations to represent private sector voices, strengthen entrepreneurship skills and ecosystems, empower women, organize the informal sector and strengthen property rights, enable access to information, and improve corporate and democratic governance. Prior to joining CIPE, Alkebsi served as the Director of the Middle East and North Africa division at the NED, and prior to that, Alkebsi served as Executive Director at the Center for the Study of Islam and Democracy (CSID), a non-profit think tank, based in Washington, DC, dedicated to studying Islamic and democratic political thought and merging them into a modern Islamic democratic discourse.
Andrew Wilson is the Executive Director of the Center for International Private Enterprise (CIPE) in Washington, DC. Prior to assuming the role as head of the organization, Wilson was Deputy Director for Strategic Planning and Programs, where he oversaw staff efforts to develop and implement program strategies, coordinate internal proposal development, monitor knowledge management activities, and manage relationships with donors. Previously, he was the Regional Director for Europe, Eurasia, and South Asia at CIPE, where he directed grant and technical assistance programs to the aforementioned regions and coordinated CIPE's corporate governance efforts across the globe. Working with CIPE he has extensive experience in dealing with private sector development issues in conflict and post-conflict settings, crafting successful business strategies to reduce corruption, encouraging entrepreneurship development, strengthening business advocacy, and the promotion of economic reform. Wilson has worked at CIPE since 1996, and prior to that worked for several development NGOs focusing on economic reform, private sector development, and public diplomacy. He received his MA in East European Area Studies from the University of London (SSEES) and a BA in History from Lewis and Clark College. Follow Andrew on Twitter.
Location
Center for International Private Enterprise
1211 Connecticut Avenue NW, Suite #700
Washington DC, 20036