Gary Kalman, Executive Director of Transparency International U.S., explains why Beneficial Ownership Transparency is one of the most effective tools for exposing corruption. Beneficial ownership laws reveal the real owners behind companies, even shell companies, so criminals can't anonymously enable financial crimes. Kalman, who oversees efforts to combat illicit finance, discusses the utility of building coalitions amongst business allies and other diverse stakeholders to make progress. This episode is hosted by Johannes Tonn, a Senior Anti-Corruption Advisor to CIPE for Beneficial Ownership Transparency, and Richard Christel, a former program officer at CIPE.
---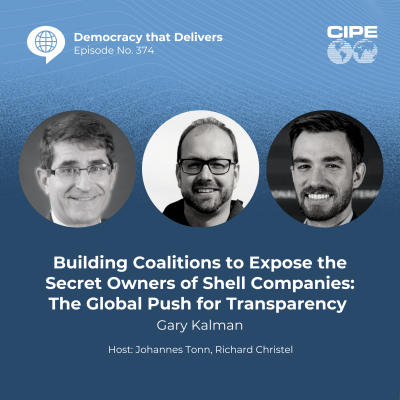 Want to hear more? Listen to previous podcasts at CIPE.org/podcast.
Subscribe to the podcast on iTunes or your Android device.
Like this podcast? Please review us on iTunes.
Published Date: August 30, 2023