Much anti-corruption work focuses on identifying corruption that already exists. A different approach proves more preventive: helping enhance efficiency, transparency, and accountability in organizations. That is the method used by Erry Riyana Hardjapamekas, who joins CIPE's Anti-Corruption & Governance Center podcast to discuss the award-winning work being done by the Private Sector Collective Action Coalition Against Corruption (KAKI), launched in September 2020 in partnership with CIPE.
A former commissioner with Indonesia's world-renowned Commission for the Eradication of Corruption (KPK), Pak Erry shares his vision for KAKI. KAKI's aim is to function as a unique platform that helps the private sector and government prevent corruption. Listen now to hear Pak Erry explain how KAKI provides companies with anti-bribery and anti-fraud expertise and raises integrity standards to avoid facing corruption investigations by the KPK down the road. This episode is co-hosted by ACGC Director Frank Brown and Cynthia Gabriel, CIPE's Senior Anti-Corruption Advisor based in Kuala Lumpur.
---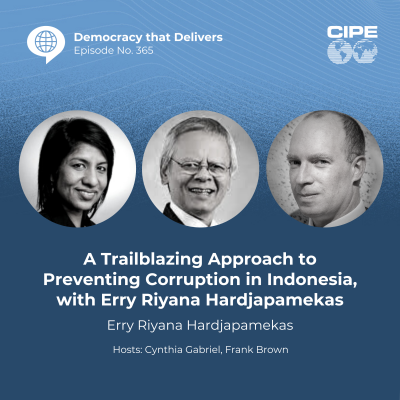 Want to hear more? Listen to previous podcasts at CIPE.org/podcast.
Subscribe to the podcast on iTunes or your Android device.
Like this podcast? Please review us on iTunes.