Serhiy Derkach, an anti-corruption lawyer who led the Department of Corruption Prevention and Detection at Ukraine's National Agency on Corruption Prevention (NACP) from 2020 to early 2023, joins CIPE's Anti-Corruption & Governance Center podcast this week to share about the agency's work both before and since Russia's invasion. Derkach, who was named Ukraine's Deputy Minister for Communities, Territories and Infrastructure Development in February, describes how the NACP has pursued its mandate since being created during Ukraine's 2014 Revolution of Dignity. Today, the NACP continues to support anti-corruption compliance efforts in both the public and private sectors. The agency also maintains various IT platforms to address corruption, from a sanctions portal to assets declaration registries and a reporting corruption hotline. Listen now to hear Derkach share how the war has affected the NACP's work, the agency's place in the country's anti-corruption system, and the crucial role Ukraine's civil society organizations are playing in establishing a culture of integrity in Ukraine. This episode is hosted by Katya Lysova, Program Director for Europe & Eurasia who oversees CIPE's business integrity programming in the region.
---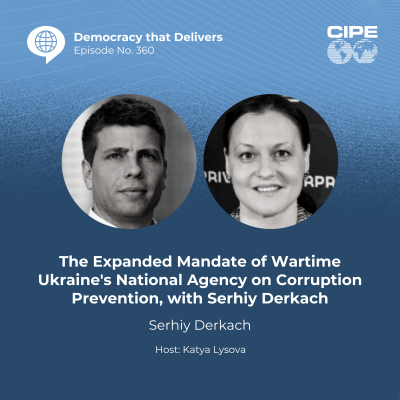 Want to hear more? Listen to previous podcasts at CIPE.org/podcast.
Subscribe to the podcast on iTunes or your Android device.
Like this podcast? Please review us on iTunes.