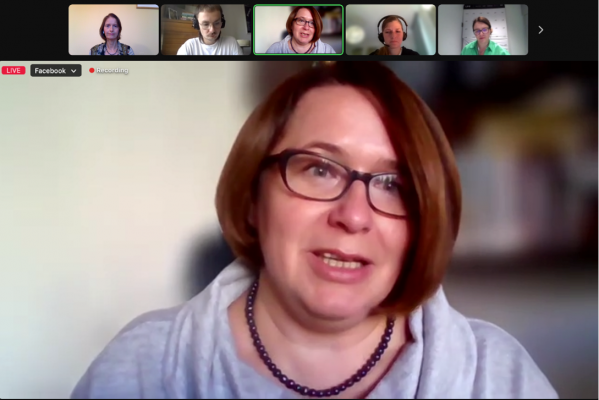 In today's complex world, diversity and inclusion (D&I) is increasingly becoming a focus area for companies aspiring to strengthen their cultures. The COVID-19 pandemic in particular – and the Great Resignation it fueled in countries such as the U.S. – has highlighted how crucial it is to build workplaces where employees feel welcome, can contribute their best ideas and talents, and want to stay with their employers. Yet, many companies continue to struggle with how to approach D&I given how vast a topic it is, often touching on sensitive issues like race or gender identity. This makes the guide published by the Polish Institute for Human Rights and Business (PIHRB), Diversity and Inclusive Culture Step-by-Step, a timely resource.
Originally published in 2021 in Polish, the guide has since been translated into English and Russian with support from CIPE and the Embassy of the Netherlands in Poland. The translated guides were launched at an online event on October 27 hosted by PIHRB and the Yaroslav Mudryi National Law University in Ukraine as part of a webinar series held by the Central & Eastern Europe & Central Asia (CEE & CA) Summer Academy on Human Rights and Business.
This multi-author publication is a joint effort by a group of individuals, organizations like PIHRB and Divercity+, and companies that participated in the D&I Roundtable initiative in Poland. The guide provides a practical roadmap for businesses on how to kickstart D&I initiatives, develop D&I competencies and strategy, communicate D&I internally and externally, and measure and monitor progress. The guide also describes many common components of D&I activities and how to make D&I a cross-cutting practice at the core of an inclusive culture.
There are two things that make this guide unique and applicable not just within the CEE & CA region, but more broadly. First and foremost, the guide was created by companies for companies and incorporates expert advice that focuses on the specific "why" and the "how" of engaging on this issue. Second, although many global conversations on D&I tend to be U.S.-centric and most available resources on this topic were created in English (and often stay in English), this guide highlights business perspectives on D&I from a different context. Because of each country's unique history, demographics, and socio-cultural context, there is no cookie-cutter approach to D&I. Rather, it is up to each company to learn from the experiences of others and figure out which approach applies best to its particular case.
While the guide spells out universally applicable D&I concepts and frameworks, its creation was above all an opportunity for companies in Poland to share their on-the-ground experiences and how they may inform the work of others in this space. During the webinar, where I also had the pleasure to speak, we heard directly from a representative of a company that contributed to the development of the guide. This representative was Kamil Kuhr, Associate Director of Learning Technology & Inclusion at AstraZeneca. We also heard from Małgorzata Chrzanowska-Rokacz, a D&I and External Relations Expert at LPP S.A., a leading Polish clothing company. Malgorzata used the lessons from the guide to help shape her work.
These individuals shared first-hand experiences and emphasized that in many firms, D&I is still relatively new and requires buy-in at all levels of the company – from senior leadership to frontline employees. In that respect, reading the guide is like (as Małgorzata put it) "calling a friend" for practical advice. These speakers also stressed that given the vastness of D&I, it is not possible to implement every best practice at once, so companies need to focus their finite time and resources on what is most salient to them. Finally, they emphasized the importance of making the business case for D&I when it comes to improved retention, productivity, and innovation. As the guide makes clear, D&I can be a long and complex journey, but every journey starts with a single step.