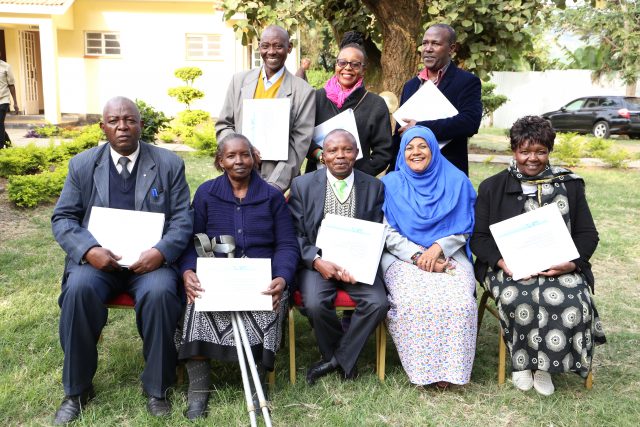 Looking back five years since the formation of the Africa Business Integrity Network (ABIN), we are thrilled to share some success stories and instructive insights about how the network has become an essential part of a business-centered and business-led strategy to address corruption problems throughout Africa. These lessons will not only guide us in the coming years, but we hope they will inspire partners and stakeholders to envision new ways to support business-centered anticorruption intervention and appreciate the potential of business leadership to encourage accountable investment and sustainable growth in Africa.
Over the last two decades, legal and regulatory interventions to curb corruption increased globally in response to the pervasive spread of corruption. Anti-bribery and corruption requirements began to cascade through global value chains, along with a global convergence on recognized standards of business integrity and collective action to reduce corruption. This created new challenges for emerging market economies in attracting foreign direct investment. The risk of investing in Africa, which was already high, increased further as African businesses in global value chains were suddenly required to meet stringent business integrity and compliance standards that were new and quite unrealistic for small and medium-sized businesses in their operating environments.
The ABIN now operates in a dozen Sub-Saharan African countries. The network consists of private organizations, chambers, or professional associations, that provide compliance services through certified professionals…To date, 645 people and 98 companies have received the training.
The situation spurred the creation of the ABIN in 2017 to empower businesses in the region to implement sound corruption mitigation systems that meet internationally recognized standards and are both appropriate for their experiences and adequate for their needs. The growing network now operates in a dozen Sub-Saharan African countries and consists of private organizations, chambers of commerce, or professional associations, that provide compliance services through certified professionals who have successfully completed the compliance training of trainers and certification. To date, 645 people and 98 companies have received the training.
Although, a part of a broader strategy to galvanize the private sector to lock efforts with governments, civil society, and other institutional stakeholders to combat corruption, the ABIN's role is primarily to make the business case for anti-corruption, and make compliance solutions, services, and support affordable, appropriate, and accessible to the majority of businesses in Africa.
Through funding from the National Endowment for Democracy (NED), the Center for International Private Enterprise (CIPE) supports the ABIN by maintaining a comprehensive curriculum, a well-rounded faculty of training the trainer facilitators, a robust compliance inventory for experts, and grants program to support and subsidize compliance training, services, and solutions provided by ABIN members in the regions.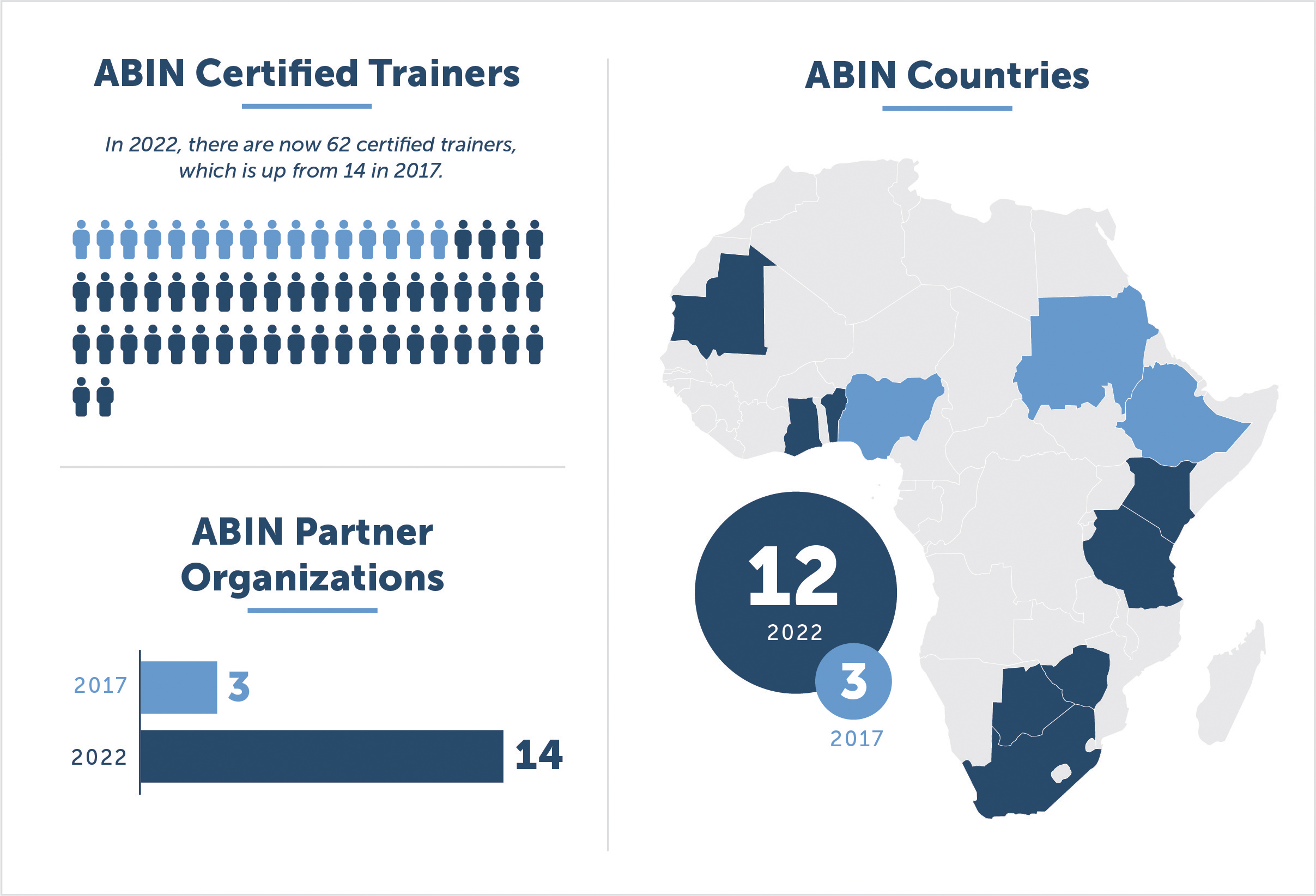 The ABIN's role is fundamental to the overall strategy, because the ABIN is a primary feedback channel from businesses on the frontlines, as it is a major source of empowerment to businesses. Therefore, ahead of the first ABIN award and recognition event holding on June 28th, 2022, we are delighted to share three impact stories about the incremental efforts of ABIN members whose commendable effort is making an impact in their communities and countries, as well as five fundamental lessons that reaffirm concepts around the necessity and value of business leadership in tackling corruption in Africa.
ABIN Impact Stories
Meeting Entrepreneurs at the Point of Need Through Compliance Clubs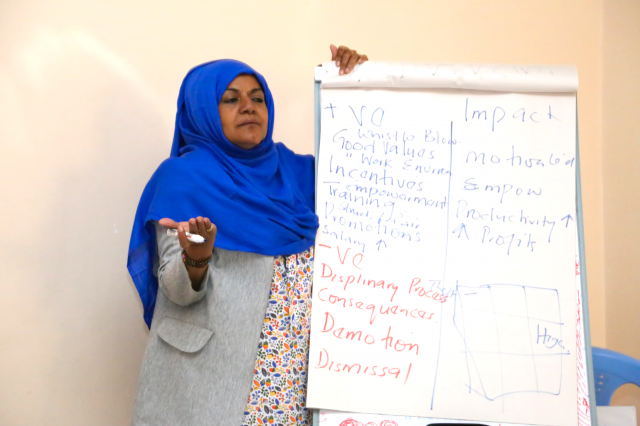 As Twi'wane, one of the ABIN members in Kenya, kicked off compliance workshops for small-scale entrepreneurs, it became apparent quickly that the immediate business management challenges were a lot more basic and fundamental to their success and in fact survival than knowing how to conduct a corruption risk assessment. Some entrepreneurs struggled to keep basic financial records which made them vulnerable mostly to fraud, theft, and tax-related corruption. Others faced an increased risk of corruption because of the pressure to comply with sit-at-home orders during the COVID-19 pandemic because they had limited to no digital marketing capabilities. Therefore, Twi'wane's compliance club model focuses on providing basic business management support based on the foundation of an ethical entrepreneur program that all members commit to. Watch these short videos to hear from the entrepreneurs:
Curbing Corruption Is Our Business Too – Africa Business Ethics Conference (ABEC)
While leading multiple business awareness events and workshops and convening high-level meetings to address corruption issues in the region, some consistent feedback received by Milestone Resources Solutions (MRS), an ABIN member in Kenya is that indeed businesses must take responsibility for preventing corruption, but they need cooperation from the public sector and collaboration across stakeholders groups to make sustainable changes. Therefore, MRS organized the first Africa Business Ethics Conference (ABEC), which has become an annual conference and been held in Kenya, Nigeria, and will hold in Morocco in 2022. ABEC's objective is to harness the power of business communities across Africa to convene constructive, solutions-oriented dialogue to address critical governance and business problems in Africa, including corruption. ABEC aims to advance efforts to increase transparency, accountability, and integrity through broad collaboration among the public sector, private sector, and civil society organizations.
Check out highlights of the recent ABEC conference on Twitter
Follow developments on ABEC on LinkedIn
Customized Compliance Support to the Rescue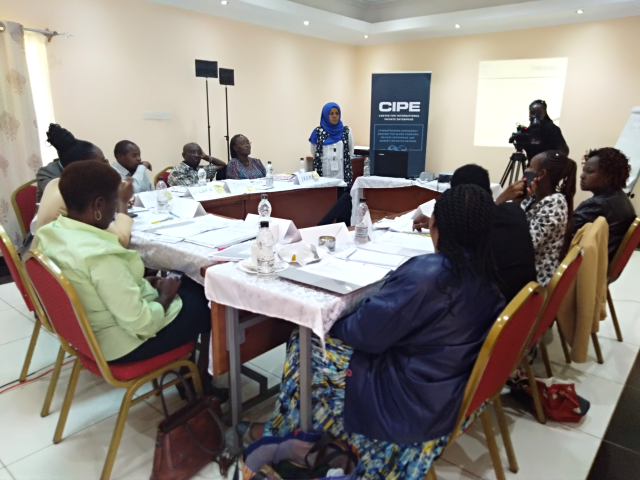 When companies are sanctioned by the World Bank and the Africa Development Bank, specific terms are typically attached, including time periods and conditions for release from the sanctions. The companies will be required to implement appropriate compliance measures before they can be released from sanction and become eligible to continue operations and access financing from the Banks. The vast majority of sanctioned businesses in Africa often fall into the small and mid-sized category and stay sanctioned indefinitely, or at least for much longer than the prescribed period, because of their inability to implement adequate compliance systems or access solutions such as a confidential reporting hotline service. The implications for sanctioned businesses can be dire as many rely on projects funded through Bank financing to stay afloat.
When companies are sanctioned by the World Bank and the Africa Development Bank, specific terms are typically attached, including time periods and conditions for release from the sanctions.
One example of ABIN support in such cases involves the Institute of Directors Center for Corporate Governance (IoDCCG) in Nigeria. Members became aware of a mid-sized construction company with completed remediation but lacking a competent hotline service to strengthen its compliance system. The well-established IoDCCG offered the service, along with additional perks such as ethical leadership and mentorship programs, and at a price point that is suitable for the company.
Five Lessons from Five Years of the ABIN
A common assumption is that one cannot operate a business in Africa without being corrupt.
---
We must leverage market incentives to curb corruption:
Business and financing opportunities are a major incentive for ethical behavior and compliance (at least in the short term).
External factors create opportunities/incentives for corruption therefore collective action is essential for businesses:
Corruption intimidates and embarrasses businesses, but it is often a matter of survival for small to mid scale businesess.
There is as much need for sensitization as there is for cross-collaboration to embed compliance and integrity as a business practice and culture:
Compliance and corruption mitigation resources, knowledge, and skill are in extremely limited supply, but they are also in very limited demand.
Because old habits are hard to break, there must be consistent and concerted efforts to form new ones by all stakeholders:
To change corporate behavior and attitude, there must be consistent access to capacity and systems that incentivize, reward, and encourage ethical behavior.
Large companies are essential allies in entrenching business integrity in the business environments of their third parties, but they must walk the talk:
Large Companies/Corporates (African and foreign) have a tremendous influence on how companies in their industry and network respond to corruption and ethical issues.
---
Learn more about these advancements to help businesses across Africa and learn how you can join or track our efforts by participating in the upcoming ABIN Awards event on June 28th, 2022. We will recognize individuals and organizations who have helped grow the network over the past five years and share more examples of how they are making a difference.