In the inaugural episode of a new Anti-Corruption & Governance Center podcast series on Private Sector Collective Action hosted by Katya Lysova, two experts on compliance and international trade talk about one of the largest and most sophisticated international anti-corruption coalitions in the world: the Maritime Anti-Corruption Network (MACN). Cecilia Müller Torbrand, who is MACN's CEO, joins Ann Shazell, a Global Lead Lawyer at Cargill International and MACN's Vice Chair discuss how public-private collaboration is crucial to combatting corruption in sea-based trade. With CIPE Senior Program Officer Lysova, the guests tackle the need for global NGOs to recognize collective action organizations as an effective anti-corruption strategy. They share how MACN is using data to analyze the types and scale of corruption in the global maritime sector.
---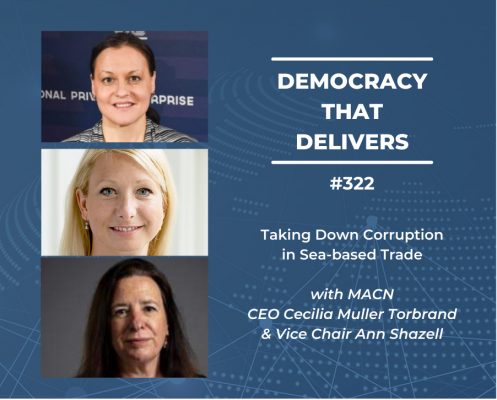 Want to hear more? Listen to previous podcasts at CIPE.org/podcast.
Subscribe to the podcast on iTunes or your Android device.
Like this podcast? Please review us on iTunes.