When problems develop, it is important to catch them as soon as possible, so you can start to solve them before they grow out of control. That's why CIPE leads a rapid response program aiming to support local NGOs in countries where a significant opportunity has appeared for achieving anti-corruption progress.
This program has been in place since 2017 and is proving especially important in the era of COVID-19. In fact, almost as soon as the pandemic hit last year, CIPE was using its rapid response program to support three organizations to implement initiatives aimed to mitigate corruption risks in Zimbabwe, Ethiopia and Ghana.
Transparency International Zimbabwe says it "exists to fight corruption [and] promotes transparency, accountability and integrity at all levels." In 2020, CIPE helped it launch a program to strengthen transparency and improve responsive systems during emergencies in Zimbabwe. The group put up an online resource tracker to show where the government was investing its money in response to the COVID-19 pandemic and allow citizens to have a voice in how public funds were spent during emergencies.
This program is already paying off. It has trained some 60 investigative journalists, boosted reporting of potential COVID-related corruption in the country, and improved ties with various stakeholders while setting up platforms for engagement between the public and private sectors.
In Ethiopia, CIPE is supporting the Addis Ababa Chamber of Commerce and Sectoral Associations (AACCSA) as it works to mitigate corruption through business-led interventions. AACCSA tries to build bridges between public sector and private sector representatives.
When COVID hit, Ethiopia declared a state of emergency in order to limit the spread of the virus. In this context, AACCSA began monitoring areas with the potential for corruption. It was especially concerned with the government's modified work hours, the national bank's injection of 15 billion birr into private banks for debt relief and stimulus loans, and restrictions on the use of private vehicles.
AACCSA has increased the business community's awareness of anti-corruption compliance through a series of trainings, ethical commitment SMS messages and posters to ensure that business integrity is not compromised during the challenging times of the pandemic.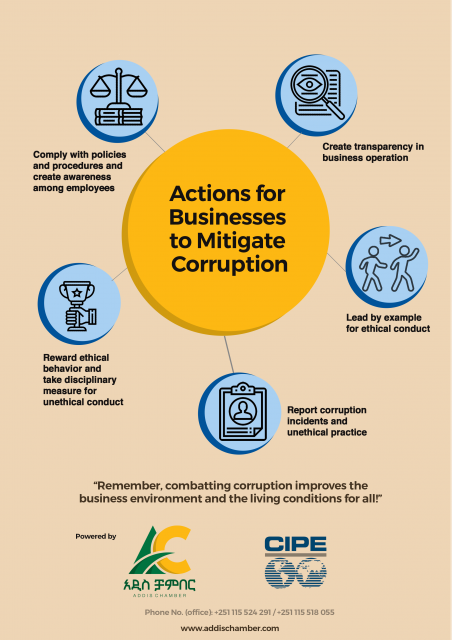 Additionally, as part of its public awareness campaign, it is producing a series of short videos that promote anti-corruption and compliance cases. AACCSA is also developing a mobile app and SMS notification system for reporting corruption and unethical business practices.
Finally, the Ghana chapter of Transparency International, the Ghana Integrity Initiative (GII)  focuses its work around "four main objectives specifically aimed at achieving the vision of a corruption-free Ghana." Responding to the increased risks of corruption brought on by the COVID-19 pandemic, GII conducted a Corruption Risk Assessment monitoring the various government interventions that were started to deal with the crisis. "The study adopted both quantitative and qualitative methods and a random sampling technique for data collection," GII explains. "Data was collected from over 3,000 respondents comprising public sector, civil society, private sector and the general population." The goal of the GII initiative is two-fold: to assess the resilience of the Ghana Government's COVID-19 interventions to corruption and to provide policy recommendations to relevant state agencies to ensure the integrity of social interventions.
Based on the findings of its corruption risk assessment, the Ghana Integrity Initiative is engaging with government and private sector representatives and contributes to increased transparency and accountability in emergency situations.
These three programs are just a sample of the rapid response program, and they were featured in a recent CIPE webinar. CIPE's Anti-Corruption & Governance Center is planning to roll out a new Web site soon. It will provide more details about the dangers of corruption and include examples of successful interventions against corruption.