Empowering Individuals
North Macedonia
North Macedonia has one of Europe's highest youth unemployment rates. Entrepreneurship is driven by necessity. Roughly half of its population under the age of 29 considers leaving to look for opportunities elsewhere, but opportunities are on the rise. For the first time in recent memory, there is great opportunity to promote entrepreneurship in North Macedonia for youth and adults as the ecosystem is growing year after year. Local stakeholders are trained overseas or online and sharing what they have learned from other ecosystems around the world. However, challenges remain as unemployment is still relatively high and the political future of the country is uncertain.
The time is now for citizens to take responsibility for the future and learn how to become an entrepreneur. As people who receive training on how to be entrepreneurial thinkers look for jobs in the private sector, they offer more value to employers, contributing to private sector growth. CIPE-supported activities (youth training, private sector engagement, outreach, advocacy) can provide a major impetus to further building the North Macedonian business economy. Done well, these projects have the potential to help entrepreneurs be more successful. They can develop forward-thinking employees who approach the future for their employers with vision, passion, and an entrepreneurial mindset. The ecosystem is growing, and so is its engagement, and CIPE can be a strong and positive influencer in the country's future moving forward.
CIPE partnered with the University of Michigan's William Davidson Institute, a global leader in entrepreneurship training, and with the Youth Educational Forum (YEF) to train Macedonia's new generation of self-made entrepreneurs. Igor Madzov, director of local organization "Start-Up Macedonia", led the training and provided valuable mentorship to its participants. Moving forward, CIPE and Start-Up Macedonia will work toward building a new mentorship program and networking platform for the country's newest entrepreneurs. To learn more about Start-Up Macedonia, please visit: https://startupmacedonia.mk/
In parallel, CIPE supported analysis of the barriers and opportunities for youth employment and entrepreneurship in North Macedonia. In this regard, the Ministry of Economy released a statement asserting that its highest priority was addressing youth unemployment.
Entrepreneurial Ecosystem Mapping
Current and prospective business owners and entrepreneurs in Mahare, a neighborhood in Nairobi, Kenya, struggle to remain profitable and start new businesses when facing the immense costs. While there are opportunities to strengthen the local economy, improve livelihoods and reduce unemployment through business creation, many of these opportunities are lost because the high cost of doing business disincentivizes entrepreneurship and leads to business closures.
To solve this issue, CIPE and partner SITE Enterprise Promotion (EP) created an enterprise ecosystem mapping solution to define gaps and subsequent opportunities to the challenges faces by entrepreneurs and business in the neighborhood. CIPE and SITE EP developed solutions to provide working spaces and integration of infrastructure in Mathare, and to promote economic and social development in the community. A public-private dialogue was held with over 40 participants, including 18 members of the Mathare advisory committee, county government, the Nairobi Chamber of Commerce, and five Nairobi government representatives. As a result of the dialogue, stakeholders made the commitments to work together to provide trading spaces to entrepreneurs, involve the community in the planning and budgeting processes, to raise issues identified in the policy brief for inclusion in the ongoing Nairobi Trade and Market Bill.
           Some top successes resulting from this work include:
The Mathare business community now has access to key government decision makers
The program laid the groundwork for business linkages and job creation
The Nairobi county government made progress towards involving the Mathare community in decision making
Open Internet for Democracy Leader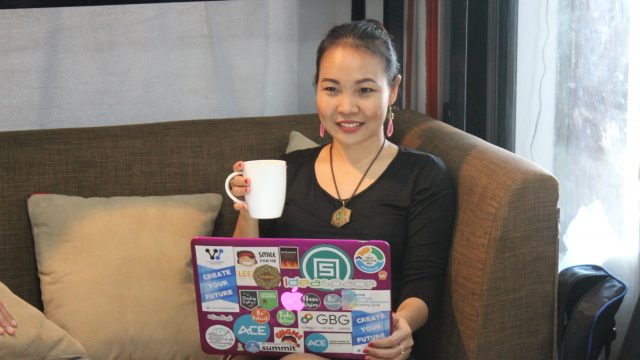 With a passion for innovation and entrepreneurship, Mary Rose Ofianga (Rose) founded Womenpowered, an organization that provides opportunities for women entrepreneurs to excel in the digital economy through training and community events. Since the founding of Womenpowered, Rose has become an advocate for digital rights and the use of technology for development, with an interest in data analytics, internet governance, and data governance. Rose also recently co-founded E3 Hubs (Entrepreneurs Empowering Entrepreneurs) in the Philippines. E3 is a global digital platform that provides a space for entrepreneurs to support, collaborate, and create opportunities together.
In 2018-2019, Rose was an Open Internet for Democracy Leader. The Open Internet for Democracy Leaders Program is a non-resident leadership program organized by CIPE, the National Democratic Institute (NDI), and the Center for International Media Assistance (CIMA). The program seeks to empower local actors to build their advocacy and thought leadership skills to defend internet freedom.
During her time as an Open Internet Leader, Rose hosted a digital rights literacy workshop for youth entrepreneurs in the Philippines, wrote thought pieces on the importance of including entrepreneurs and SMEs into digital rights advocacy initiatives, and participated in international fora on internet freedom. Moreover, she was accepted as a member of the UN Internet Governance Forum (UN IGF)'s Multi-stakeholder Advisory Group (MAG). The UN IGF is a leading global event that brings together various stakeholders to discuss current trends in the digital space and the future of global internet governance.