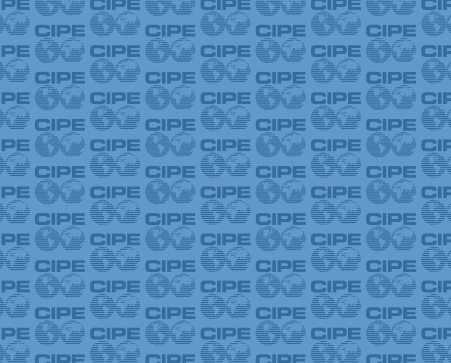 Southeast Asia is currently home to around 8% of the world's population. Collectively, the countries that comprise Southeast Asia – Brunei, Cambodia, Indonesia, Laos, Malaysia, Myanmar, the Philippines, Singapore, Thailand, and Vietnam – are projected to become the fourth largest economy globally by 2050, with a combined workforce that is already the third largest in the world – after China and India. The region has experienced rapid economic growth over the past decade and exhibits tremendous diversity in terms of ethnicity, culture, religion and income levels. The establishment of the ASEAN Economic Community (AEC) in 2015 signaled a strong support from members for closer economic integration of these diverse populations.
Recently, CIPE gathered economic think tanks from across Southeast Asia to launch the Southeast Asia Think Tank Network in Manila to offer a first-of-its-kind platform for participating think tanks to learn from each other's best practices, share lessons learned on advocate for market oriented reforms, and collaborate on joint research projects to tackle shared challenges and amplify their voice.
The Southeast Asia Think Tank Network aims to take advantage of the region's new economic and political dynamics to empower think tanks in the region to take a lead role in advocating for smart policies. These smart policies will boost the region's market economy, improve competitiveness, and lower barriers to entrepreneurship and cross-border trade. Through data-based advocacy, economic think tanks can credibly explain the benefits of market systems, publicize barriers to competitive markets, and propose specific solutions.
The inaugural workshop attracted 25 think tank leaders from eight countries in Southeast Asia, who came together to explore the role of think tanks in economic and governance reform, the policy priorities for their respective home countries, and the shared institutional challenges faced by participants. Participants concluded the workshop by collaborating to define a mission and vision for the network: to bolster regional cooperation among think tanks in Southeast Asia and to strengthen advocacy skills of think tanks to become stronger advocates for market-oriented reforms.
CIPE collected extensive feedback from the participants including how they valued the rare opportunity to learn from and network with their regional peers across borders. One such example of feedback included the Secretary General of the Vietnam Private Sector Forum, Dao Huy Giam who expressed  about following through on the opportunity to cooperate with his regional peers and claimed he was deeply impressed by other think tanks in the network. Bima Santosa, the managing director for the Jakarta-based Paramadina Public Policy Institute noted that he had "gained a network of think tanks" by collecting business cards from the various participants at the workshops, while  Khin Moe Myint from the Renaissance Institute in Burma spoke for many when she exclaimed that "this workshop exceeded my expectation!"
Many will agree that the network is off to a good start but there is more work ahead. Over the next three years, CIPE will continue to facilitate workshops and webinars to strengthen the network, facilitate peer learning and joint projects, and bolster regional cooperation to advance market-oriented reforms.
Catherine Tai is Program Officer for Asia at CIPE.