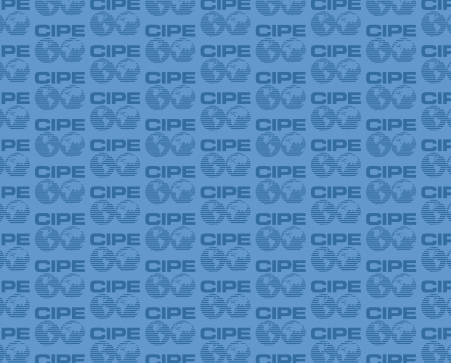 When the Open Government Partnership chose the theme of Openness for All: Enabling Sustainable Development for the 2015 Global Summit in Mexico City, it signaled more than a healthy interest in the Sustainable Development Goals recently proclaimed in New York. OGP was expressing the value of openness as a means to progress on issues that matter to citizens, in addition to achieving openness for its own sake.
As United Nations Development Programme Administrator Helen Clark noted at the summit opening, "transparent, accountable, and responsive institutions and governance" are key to achieving progress across the Sustainable Development Goals."
While OGP is broadening its mandate to address issues of sustainability, it is also broadening the number of constituencies who participate in the movement. Asked which key constituencies should be engaged, OGP leaders such as Sofyan Djalil, Fernando Straface, and Francis Maude listed the private sector, together with the media, political parties, and labor. Many in the private sector have been deeply involved in the search for solutions for sustainable development. Now, within OGP they have the potential to amplify demand from civil society for accountable and effective government.
The stories shared at the summit revealed what companies are already doing on governance challenges linked to sustainability. For example, GE advocated in Mexico for energy market reforms to increase transparency in the sector while reducing electricity costs for small and medium-sized enterprises. Also in Mexico, the ICT chamber CANIETI and the government collaborated on the national digital strategy to produce a protocol for response to natural disasters. In Tanzania, KPMG helped form local beach management units, which formulate and enforce bylaws governing fisheries. Doing its part, Thomson Reuters supported city planning and access to services in Cape Town, South Africa, through an initiative to improve transparency and efficiency in the land valuations system.
As innovative as these programs may be, governance partnerships need to be more systematic, said Christiaan Poortman, Chair of the Construction Sector Transparency Initiative, during a panel organized by the Private Sector Council on Open Governance. Partnerships need to go beyond CSR and should be rooted in sustained commitment from the private sector, the public sector, and civil society. As Microsoft Vice President Toni Townes-Whitley put it, we need to triangulate, build trust across sectors, and apply the same principles that are used to engage citizens as we also engage the private sector.
OGP can become a leading platform for implementing the Sustainable Development Goals, especially the goal of effective, accountable, and inclusive institutions. It is on track to do so as it broadens its attention to citizen priorities and broadens its stakeholder base. Still, OGP needs to keep the momentum and consciously build a platform for partnerships with the private sector. What will it take to establish these partnerships?
An invitation from government to the private sector to participate in consultations
Proactive input and innovative solutions from private businesses, entrepreneurs, and associations
Processes for transparent, inclusive dialogue and partnerships
Sharing of priorities and progress between civil society organizations and the private sector
These four steps form part of a Road Map to Accelerate Collaboration with the Private Sector proposed by the Private Sector Council on Open Governance. As OGP seeks to maintain its entrepreneurial spirit and relevance, the private sector is one good place to start. The road map can open the way to sustained partnerships.
The Private Sector Council on Open Governance was established in 2013 to engage diverse businesses and entrepreneurs in promoting open governance, economic growth, and local innovations. The Council coordinates private sector participation in the Open Government Partnership (OGP), a 65-country alliance of governments, civil society, and other stakeholders to promote transparency, accountability, and civic participation within participating countries.
Kim Bettcher is Senior Knowledge Manager at CIPE.