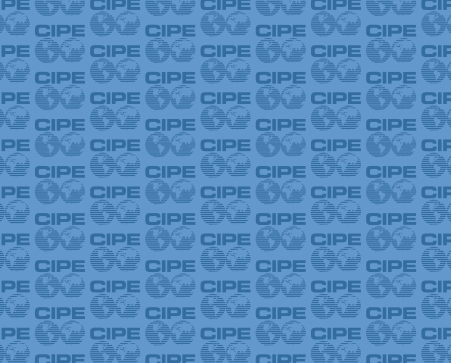 This blog is the second in a three-part series addressing recent findings of the Arab Barometer, whose objectives include the production of scientifically reliable data on the political attitudes of ordinary citizens. Read the first part, about Iraq, here.
By James Stricker
In Jordan, economic factors have played an important role in political stability since 2011. Jordanians as a whole consider economic rights to be a core component of democracy.  This is demonstrated by the fact that most public protests began as a response to economic grievances. The trend corresponds strongly with the Arab Barometer's recent MENA opinion poll results: throughout the region, Arabs are at least as concerned with securing their economic rights as they are with securing political rights.
As the Arab Spring gained momentum in Egypt, Tunisia, Libya and Yemen, a number of protests sprang up throughout Jordan in 2011. However, the most prevalent slogans were not against the regime itself, nor were they about securing more political rights.  Instead, Jordanians who took to the streets voiced their frustrations with price inflation and corruption.
Samir Rifai, the Jordanian Prime Minister at the time, was the initial target in the first waves of protest. Angry crowds accused him of corruption and criticized his recent amendments to the national election law. In reaction to these demonstrations, Rifai raised subsidies on cooking fuel, rice, and livestock.  Although these subsidies were largely unsustainable for the Jordanian government, which ran a $2 billion deficit in 2011, they managed to stave off further escalation of the protests by reducing financial strain on the average Jordanian.  Sporadic protests continued  throughout 2011, but did not reach their peak until late 2012 when many demonstrators publicly called for King Abdullah to step down—a demand that had been largely absent up until this point.
So why did it take almost two years after the beginning of the "Arab Spring" for the demonstrations to reach this level of severity? It's the economy, stupid!  In late 2012, the Jordanian government had just sharply reduced its fuel subsidies as a precondition to receive a $2 billion IMF loan crucial to keeping its struggling economy afloat.
Since then, subsidies have become even more of a burden due to the influx of refugees fleeing the instability in Iraq and Syria. Currently, at least 600,000 Syrian refugees reside in Jordan — a country with a population of about 6.7 million. This, combined with many thousands of Iraqi refugees from the last decade, has caused a dramatic increase in demand for staple goods and public services such as education and healthcare, which are open to most refugees and visitors.  In turn, this has made them much more costly for Jordan's government to fund.  Additionally, periodic sabotage of the Arab Oil Pipeline in Egypt's Sinai Peninsula has interrupted Jordan's supply of natural gas, adding to the increased costs of fuel, and consequently fuel subsidies.
No doubt the Jordanian government recognizes the danger of continuing these subsidies for much longer, but it is clear that continued cutbacks could result in more intense protests and potentially in instability. This phenomenon is visible in the Arab Barometer's survey results as well; when asked about what they consider to be the most important features of democracy, respondents throughout the Middle East and North Africa were split evenly between political considerations (i.e. "the opportunity to change the government through elections") and economic factors (i.e. "providing basic items to every individual," or "eliminating financial and administrative corruption").  Jordan's protest behavior corresponds with these results, with economic strain serving as the impetus for almost every major demonstration since 2011.
Although the deluge of refugees has put financial strain on Jordanian citizens, its causes may also be making them more willing to tolerate the resulting impact on their standard of living.  Two trends in the Arab Barometer's recent results demonstrate this. First, the number of Jordanians who believe that "democracy is appropriate for [their] country" decreased from 62 percent in 2011 to 57 percent in 2013 (although a majority continued to believe that democracy is, in theory, the best form of government).
Second, Jordanians tended to feel less secure, both in terms of economy and safety, in 2013 than in 2011.  Although they are disillusioned with their declining economic well-being, Jordanians may be unwilling to risk the fate of other Arab states, such as Syria, that have been embroiled in civil conflict in the years following the initial uprisings. The bloody civil war in Syria and ISIS threats to invade may be why protests against the Jordanian government have not escalated to their late-2012 severity a second time. In other words, the violence and unrest in Jordan's neighbors may be discouraging Jordanians from resorting to revolutionary behavior out of fear of a breakdown of social order and security.
The data show that Jordanians have not lost faith in the virtues of democracy, but may simply be wary of the effects of revolutionary regime change on their well-being and safety. Democratic empowerment coupled with economic reform is the key for Jordanians to secure their rights and ownership stake in society. By fostering democratic values and seeking a greater voice in decision-making, civil society organizations representing the private sector can help usher in genuine economic liberalization and development over time.
CIPE works with its partner in Jordan, the Young Entrepreneurs Association (YEA), in keeping up the reform pressure through a constructive dialogue and to seize reform opportunities to widen the space for democratic actors and institutions. YEA realized that to achieve meaningful and comprehensive reform that would improve the environment for SMEs in Jordan, the process would have to be private sector-led. With CIPE's support, YEA developed and published a national Small and Medium Business Agenda (SMBA) that proposes policy recommendations that would improve the business environment for entrepreneurs and SME owners. The pillars of the SMBA are: innovation, access to capital, entrepreneurship education and training, enhancing exports, government procurement, and tax incentives.
Through a grassroots outreach and consensus building campaign, YEA engaged a diverse group of private sector actors from across the country in a deliberative process of prioritizing the numerous recommendations contained in the SMBA, identifying the most pressing challenges to SME development in their communities. CIPE is currently supporting YEA to form a private sector coalition to advocate for the government to adopt the SMBA reforms. It is essential that independent voices from the private sector and civil society, such as YEA and its coalition partners, continue to represent average Jordanians in the policymaking process in order to bring about real reform.
James Stricker was an intern for the Middle East & North Africa at CIPE.