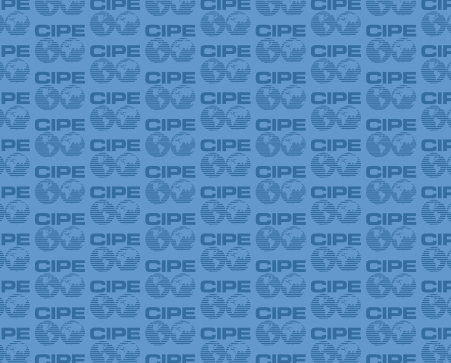 Naledi Modisaatsone is a CIPE-Atlas Corps Think Tank LINKS Fellow at the Urban Institute
The concept of "smart cities" has become synonymous with developed countries. When people talk about smart cities they often mean high-tech urban innovators in North America, Western Europe or East Asia. Africa is not featured on the list.
This situation, however, has been changing following the recognition that smart city thinking is not necessarily about being high tech, but rather about cities that efficiently drive sustainable economic growth, competitiveness, prosperity and a better life for their citizens.
A report by Deloitte  defines a smart city as "when investments in human and social capital, traditional (transport) and modern information and communications technology ICT infrastructure fuel sustainable economic development and a high quality of life, with a wise management of natural resources". In that way Africa is right at the heart of the conversation.
The UN Habitat Global Activities Report 2013 states that in 2009, Africa's total population for the first time exceeded one billion of which 395 million (or almost 40 per cent) lived in urban areas. Around 2027, Africa's demographic growth will start to slow down and it will take 24 years to add the next 500 million, reaching the two billion mark around 2050, of which about 60 per cent will be living in cities. Africa should prepare for a total population increase of about 60 per cent between 2010 and 2050, with the urban population tripling to 1.23 billion during this period.
These demographic shifts will present policy makers in Africa with unprecedented challenges in handling of urbanization given that infrastructure networks and public services are already overwhelmed.  African cities wishing to uplift their populations into the 21st century are going to have to start focusing today on what the city of tomorrow will look like.
How will  Africa position its cities as drivers of sustainable growth using technology?
Ensuring that this mushrooming of urban populations in Africa, a region facing substantial resource constraints, is both sustainable and equitable will require a fundamental shift in public policy. It is a process in which information technology will play an essential role.
Policy makers in Africa must start addressing urban planning using ICT, leveraging data management systems to effectively oversee traffic, increase public safety and emergency responses, and using technology to improve environmental and energy management. There are already some success stories of smart cities adapted to an African context.
SOUTH AFRICA
There is an initiative to tackle inadequate slum housing in Stellenbosch, South Africa. The Stellenbosch Innovation District, in collaboration with the local university, has built "smart shacks." The project is using alternative energy and mobile technology to address the needs of the people living in the shacks. The "smart shacks" are made from easy to assemble fireproof material that produce off-grid energy through roof-mounted solar panels. One can also buy electricity through mobile phones.
The do-it-yourself shacks services range from $500 to $1000 depending on how much is required. Batteries are charged in the day and used at night inside the shack to charge cellphones. According to program manager Pieter van Heyningen, the town is also trialing electronic hubs with downloadable education resources, and large-scale solar farms.
TANZANIA
There is an initiative to monitor the rapid urbanization in Dar es Salaam, Tanzania. The initiative combines up-skilling local students with utilizing smart technology. The students were given access to tablet computers and were also trained on OpenStreetMap, and tasked to go out into the slum and actually map the slum. Through this project both the government, policy makers and city planners had a visual of what the slum looked like. It allowed them an opportunity to make an assessment of the slum's needs in terms of the people and the infrastructure. The success of this project shows how a combination of innovation and technology can be used to enhance policy making and to boost economic development.
The image of a smart city is filled with high-tech digital infrastructure and perfect public transport. For example, at the Smart City World Expo 2013, exhibits included electric bikes, electric cars, and robot assistants, which at the moment have no relevance for the developing world.
It is also true that examples of smart cities emerging from the developing world may not grab the same headlines as the flashier tech cities, but it is still important to pay closer attention to their importance for development. As the role of information technology in the expansion and construction of cities continues to grow, it seems beyond doubt that it will play a vital role in developing regions such as sub-Saharan Africa.
Integrating that technology in the right way will be essential if urbanization in the 21st century is to be an engine of growth in middle and low income regions, rather than a magnet for inequality and social disenfranchisement.
CIPE-Atlas Corps Think Tank LINKS Fellowship brings talented young professionals with strong research backgrounds to shadow researchers and experts at leading U.S. think tanks for six months. Naledi Modisaatsone is part of the Fellowship, serving at the Urban Institute.