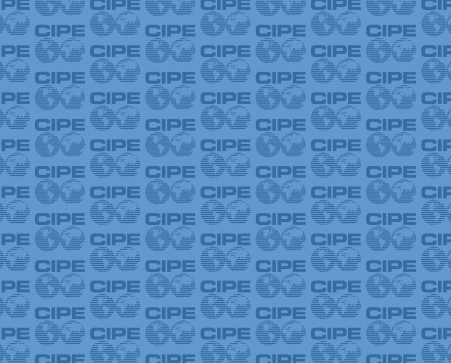 Sergio Daga is a CIPE-Atlas Corps Think Tank LINKS  Fellow serving at the Heritage Foundation. 
The latest Global Entrepreneurship Monitor Report for Bolivia, published in 2010 and led by Marco Antonio Fernandez C. from the Catholic University of Bolivia, shows interesting findings that shed light on the state of entrepreneurship in Bolivia today. In a survey of individuals between 18 and 64 years old in the three biggest cities of the country, nearly 76 percent said they believe they have the skills required to be an entrepreneur, over 53 percent foresee opportunities to start a business, and only 28 percent are afraid of failure.
The Global Entrepreneurship Monitor (GEM), an initiative founded and sponsored by Babson College (US), Universidad del Desarrollo (Chile), and Universiti Tun Abdul Razak (Malaysia), has completed 13 annual surveys of the entrepreneurial attitudes, activities, and aspirations of individuals around the world. Its latest edition covered 69 countries that represent 74 percent of the world's population and 87 percent of the world's GDP. One of  GEM's unique characteristics is that they conduct specific in-depth country studies about entrepreneurs in mainly developing countries.
A striking indicator for Bolivia is the Total Early-Stage Entrepreneurship Activity (TEA) rate, which shows the rate of individuals in the working-age population who are actively involved in business start-ups, either in the phase preceding the birth of the firm (nascent entrepreneurs), or the phase spanning three and a half years after the birth of the firm (owners or managers of new firms). The TEA rate for Bolivia was almost 39 percent and this rate is the second highest among the 59 countries who participated in the TEA research in 2010.
According to the same report, the motivations for starting a business stem mostly from opportunity (measured as the desire to increase revenues), and not necessarily to gain independence (measured as the desire to become their own bosses). Additionally, aspirations for growth (which translates to creating jobs) among Bolivian entrepreneurs are significantly low. Only 65 percent of the early-stage entrepreneurs planned to create one job, and only 4 percent of them aspired to create more than 20 jobs in the next five years. When the already established entrepreneurs were asked about their growth outlook, it was even worse – not even half of a percent of the respondents said that they aspire to create more than 20 jobs in the next five years.
Lack of innovation and creativity is another problem.  Out of the early-state entrepreneurs, less than 1 percent answered they incorporated new technologies or innovative ideas into their ventures. Furthermore, a vast majority of the early-stage entrepreneurs indicated they are in the service sector, offered no new products, and faced high competition due to the homogeneity of their offerings.
Finally, the report also painted a picture of an average Bolivian entrepreneur:  a male between the age from 25 to 34 with only a primary education, and a monthly family income between $145 to $290 USD. They call themselves independent, but actually belong to the informal economy (paying no taxes and receiving no social benefits) and their main motivation is to generate more revenue, not profit.
Although "attitudes and perceptions to become an entrepreneur are quite favorable within Bolivians" (GEM Report Bolivia, 2010), the truth is that the vast majority of Bolivian entrepreneurs have low aspiration to increase production and to create jobs. Entrepreneurs are not innovating nor advancing the use of technology into their products and services. As a result they face higher competition and lower prices for their products.
In another study, conducted by the International Finance Corporation (IFC), already established firms in Bolivia (independently of their size) were asked what real obstacles they think undermine the potential of entrepreneurship in their country.  The top answers on the list were unfair competition formal entrepreneurs face because of the informal market, political instability in terms of predictability of public policies, and the unprepared and unskilled labor force.
As CIPE has pointed out building entrepreneurial economies requires many steps, including:
 "building market institutions; removing barriers to starting, operating, and growing a business; reforming educational systems; and creating a broader awareness and understanding of what entrepreneurship means as well as appreciation for its contribution to the development of democratic societies. As simple as the recipe for entrepreneurship-driven development may be, the implementation of necessary reforms is a much more complex matter. Only when the right institutional climate is in place can small business success stories become more commonplace. Entrepreneurial economies sustain growth through the rule of law and a functioning democracy. Institutional change takes time, effort, determination, and, above all, dedicated reformers."
Will there ever be such reformers in Bolivia? My organization, Políticas Públicas para la Libertad, is working to make this happen.
CIPE Atlas Corps Think Tank LINKS Fellowship brings talented young professionals with strong research backgrounds to shadow researchers and experts at leading U.S. think tanks for six month. Sergio Daga is part of the inaugural class, serving at the Heritage Foundation as Visiting Senior Policy Analyst for the Index of Economic Freedom in Latin America.