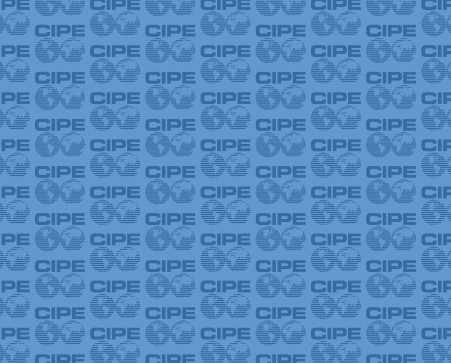 People start their own businesses for a variety of reasons — not only to make a living, but also to be their own boss, address a social problem, or fulfill a lifelong dream. No matter one's motivation, the initial step to earning that first dollar is developing and evaluating a business idea. Then comes figuring out the business' legal structure, choosing a name, registering, preparing founding documents…the list goes on.
Imagine doing all of this in New York City. Hard work, right? Now imagine going through the same process in Tegucigalpa, where the cost of registering a business is nearly half the average annual income, or in Cairo, where it takes 193 days to purchase and register property.
Entrepreneurs in developing countries face myriad obstacles in bringing a concept from idea to the marketplace — crossing what is known in the start-up community as the valley of death. In countries with weak democratic institutions, starting a business can be exorbitantly expensive, or even impossible, without the right political connections. The entrepreneur's list of concerns can include not only acquiring capital and creating a sustainable business plan, but also dealing with corrupt government officials, a lack of educated workers, and unreliable access to basic necessities such as water and electricity.
In the long run, entrepreneurs in Honduras, Egypt, and everywhere else need strong institutions, including the rule of law, enforced property rights, and efficient and effective regulations. Unfortunately, institutional changes that would make Cairo and Tegucigalpa more like Silicon Valley are complex and take time. So what happens to aspiring entrepreneurs living in countries that may still be decades away from meaningful institutional reform—how can they too jump-start their innovative ideas?
Financing for entrepreneurs in developing countries is an important first step, but it is only one part of the equation. Having an experienced mentor who has navigated the complex process of getting a business off the ground can be invaluable to entrepreneurs fresh off the block. Like their counterparts in Boston and Chicago, entrepreneurs from Lagos and Lima need mentors and entrepreneurial networks just as much as they need investors.
Funding for entrepreneurs in developing countries comes with details on loan repayments, but not necessarily with the training, mentorship, or know-how needed to get the job done right. As Alfred Watkins, Executive Chairman of the Global Innovation Summit, pointed out at a recent event, financing successful entrepreneurship and innovation in developing countries requires Silicon Valley-type financing: investors that do not disappear after allocating their funds.
In Palo Alto, if you are developing a new application or product, you become part of an entrepreneurial ecosystem where you receive mentoring and advice as well as money. There are no passive investors. Investors work with inventors, spreading enthusiasm for entrepreneurship and promoting a culture conducive to further innovation (see an article from The New Yorker on Stanford's relationship with entrepreneurs in Silicon Valley).
Silicon Valley's success holds fruitful lessons for spreading a strong culture of entrepreneurship to other regions of the world. In fact, there is already strong evidence that investing in an entrepreneurial environment can foster broader success.
For example, in Peru CIPE partner Instituto Invertir has trained 430 students through an entrepreneurship education program called EmprendeAhora. Alumni of the program have in turn created more than 40 new businesses and arranged entrepreneurship workshops for more than 12,000 other Peruvian students since its inception three years ago.
Bringing students from Peru's poorer and more isolated regions together, this three-part training program presents an invaluable networking opportunity for students to meet peers, share experiences, and join an active alumni network of entrepreneurs, civic-minded citizens, and volunteers.
While institutional reform is the ultimate solution to sustainable economic prosperity in Peru, EmprendeAhora's experience demonstrates that building a network of successful entrepreneurs is crucial to keeping the entrepreneurial momentum going for innovators in rural Peru, just as it is for software developers in the United States. We can only guess where the next Apple or eBay will come from if entrepreneurs from developing countries can also reap the benefits of investment and mentorship, the entrepreneur's one-two-punch.