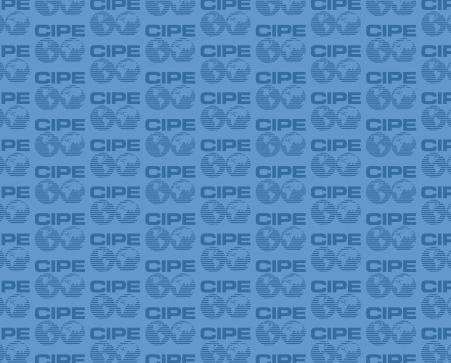 The voices of youth have been heard loud in clear in Tahrir Square and in other demonstrations throughout the Arab Awakening. Young people are at the forefront of change, demanding that they have a stake in their countries' futures. Yet their participation in the reform process often ends there.
As Ambassador Melanee Verveer recently noted, youth are often left out after the protests. "In Yemen, the exit of President Ali Abdullah Saleh was negotiated among men representing the political opposition and the country's Arab neighbors," she said. "Women and youth, who had been so essential to the popular movement, were excluded."
The reality is that youth are frequently excluded from political and economic policymaking even though their engagement is crucial in creating effective new policies. In order to become capable leaders, young people need to build their confidence and capacity to articulate their ideas. To this end, CIPE and Atlas Corps have launched an exciting new program called the Think Tank LINKS Fellowship.
For six months, from January through June 2013, four young researchers from developing countries will shadow experts at leading U.S. think tanks to hone their ideas on democratic and economic reforms and build their research and analytical skills to catalyze those reforms.
If you are a young researcher interested in gaining tools and leadership skills to increase your advocacy skills and become more engaged in your countries' policymaking process, click here to find out how you can become a Think Tank LINKS Fellow. The deadline to apply is August 15, 2012.
For think tanks and other research organizations who are interested in hosting such a dynamic young researchers, click here to find out how you can become a Think Tank LINKS host organization.