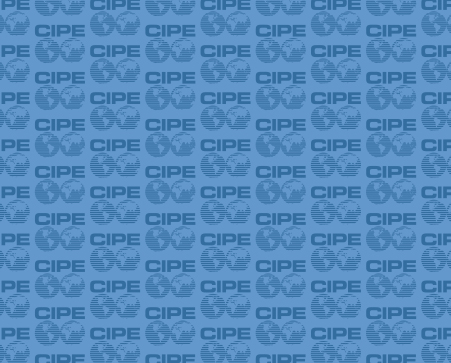 The question about the link between democracy and economic prosperity is key for scholars and policymakers alike, especially when it comes to transition economies. The Arab Spring brought the challenge of building democracies that deliver into a new, sharp focus and emphasized the need for sharing lessons learned from the experiences of others. In that spirit, Wrocław Global Forum, an annual summit organized by the Atlantic Council, the city of Wrocław, Poland, and other partners, hosted an international panel on this subject.
Radosław Sikorski, Polish Minister of Foreign Affairs, noted that there is a common assumption that dictatorships may be better at some economic tasks because they do not have to pay attention to public opinion. Yet communist governments in Central and Eastern Europe certainly failed to live up to that supposed economic advantage. Sikorski explained, "My thesis is this: contrary to received wisdom, dictatorships also have public opinion and dictatorships are usually more cowardly than democrats. That is why fundamental economic reform under dictatorships – in Chile for example – is the exception, not the rule. It is usually the democrats who have to tidy up the mess, including economic mess, left by dictatorships."
Carl Gershman, President of the National Endowment for Democracy (NED), agreed with Sikorski's thesis, citing the example of China where 60-80% of the wealthy want to leave the country, taking their money out, and where mass protests against government corruption and violations of individual rights – including economic rights – are multiplying rapidly and reaching 200,000 a year. "I'm fundamentally an optimist about democracy," said Gershman. "There are new studies being done confirming the ancient wisdom of Adam Smith about the rule of law, markets, social peace. You can't have social peace without democracy that is inclusive of all the different people. Democracy with all its problems has a deeper legitimacy [than dictatorship] — it rules by consent and therefore you can have mistakes, you can have problems. Democracy has the capacity to reform itself."
The link between democratic and market institutions, and the challenge of building them, is especially salient to transition countries. In 1989, that was Poland's situation. Today, Tunisia and others in the MENA region face a similar challenge. Hédi Ben Abbes, Tunisia's Secretary of State for the Americas and Asia, shared the experience of his country. "The question now in Tunisia is how to create democracy from scratch, how to build up institutions, how to make those institutions contribute to growth. … It is not a question of the relationship between democracy and prosperity – we all know that for the most part they feed on each other. We cannot have democracy without economic prosperity because we cannot feed people just slogans, ideas, we have to give substance to those ideas and that substance should be economic and social growth. Why is it difficult? Because we need to create all that at the same time."
Lee Feinstein, United States Ambassador to Poland, affirmed that the U.S. stands by countries in transition and supports their reform efforts, "From an American perspective, from the very beginning, our view has been that democracy and prosperity are inextricably tied."
While there is no simple, linear connection between democratization and economic growth, the key to realizing the link between the two lies in proper understanding of democracy. While democracy is often equated with elections, what happens between elections matters as much as voting. Do citizens have the right to information and free association? Are property rights protected and contracts enforced? Both well-functioning democracies and market economies require institutions that create transparency, hold those in power accountable, and enable broad participation in day-to-day policy making. For MENA just like for Central Europe two decades ago, there are no quick fixes: meaningful reforms take time. In the long run, successful reforms are about creating institutions that guard the principles of fairness, accountability, transparency, and responsibility in political and economic systems alike.
Wrocław Global Forum brought together important decision-makers and business leaders from the United States and Europe to discuss the role of Central Europe as a strong partner in the transatlantic community and a leader on global values. Discussing the values that underpin democracies and market economies, and how transition countries have been working to implement those values, was an important part of the Forum. So was its culmination event: a ceremony honoring the recipients of this year's Atlantic Council Freedom Awards meant to recognize individuals and organizations that defend and advance the cause of freedom around the world. The National Endowment of Democracy was among them, honored almost exactly 30 years after President Ronald Reagan's speech at the Westminster Palace laid the foundation for creating the NED.
You can watch on YouTube the session on democracy and prosperity as well as other WGF sessions.