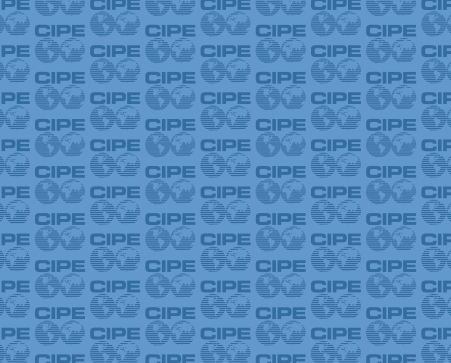 Recent events around the world have shown the power of youth.  The Arab Spring has been fueled by young people who became disillusioned with the status quo and are ready for change.  In India, it was the youth that lead an anti-corruption protest movement.  But young people are more than just a conduit for political change: as future leaders and entrepreneurs they are a powerful force for economic development.  However, in many developing countries, young people do not understand the role they can play in a free-market economy, or are simply disinterested.
Overcoming this challenge and encouraging young people to participate was the focus of an event at the National Endowment for Democracy titled, "Democracy, Entrepreneurship and the Inclusion of Youth."  A presentation by Daniel Cordova, president of CIPE partner Instituto Invertir in Peru, highlighted the fact that one of the main challenges facing free-market reforms in developing countries is the ambivalence that youth feel toward the relationship between democracy and economic development.
According to Cordova, 70% of Peruvian youth are comfortable with authoritarian regimes and feel that democracy does not work correctly.  This stems from what he calls "The Latin American Tragedy of the 20th Century." In this tragedy, the role of the hero is played by democracy whose tragic flaw is being susceptible to populist policies resulting in economic recession.  This leads to a climactic coup d'état, where an authoritarian government restricts political freedom, but institutes good economic policies.  This cycle has repeated several times, and has created the perception that democracy is generally bad for the economy.
Instituto Invertir's EmprendeAhora program, winner of CIPE's 2011 Leading Practices Contest, focuses on promoting entrepreneurship and raising awareness of democracy, market economies, the rule of law, and the role of private enterprise.  A survey of EmprendeAhora Fellows prior to the program showed that only 39% disagreed with the idea that a free-market economy is only advantageous for large companies.  Similarly, 66% of Peruvian youth do not even give credence to the possibility of becoming entrepreneurs, instead believing that employment by an existing firm or government agency is the only way to make a living.
Focusing on the rural provinces where social conflict is rife, EmprendeAhora seeks to change participants' assumptions about the free market.  Over the course of several months, the program engages Fellows on topics including developing business plans, corporate social responsibility, creativity and innovation.  All participants are required to complete a final project which includes a business plan, and a video on the relationship between democracy and the free-market.  Also included is a leadership component in which participants conduct a training session in their home towns drawing on what they have learned in the program.  The fellows who produce the best business plans are offered the option to report to investors in an attempt to secure funding for their businesses.
In the end, the participants of EmprendeAhora return to their home villages and towns with a fresh view on how democracy can deliver through entrepreneurship and the free market.  Since 2008, EmprendeAhora alumni have started over 40 companies spanning industries including ecotourism, IT, and architecture.
As Edith Peña (Class of 2008) said "EmprendeAhora sparked my entrepreneurial spirit…it'd never occurred to me to open my own business."  The alumni also continue to educate the rural public about the benefits of a free market.
Though EmprendeAhora and similar CIPE projects around the world continue to show results and engage the youth, the link between youth, entrepreneurship, and economic development is generally not given due respect.  However the tide seems to be changing.  The Graduate School of Business at Stanford University recently received a $150 million donation to explore the linkages between economic development and entrepreneurship in developing countries.  Using the money, Stanford established the Institute for Innovation in Developing Economies on the belief "that a critical route for economic growth is through the creation of entrepreneurial ventures."  The institute, known as SEED, is envisioned as having three directives: research, educate, and support.  By educating students from around the world in the skills and concepts necessary to become effective entrepreneurs hopefully Stanford will effectively replicate EmprendeAhora's success on a global scale.
CIPE Latin America Program Officer Brent Ruth recently visited Peru to speak with some EmprendeAhora graduates. Read about his trip here.