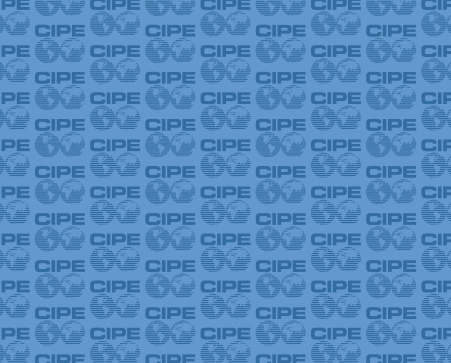 The participants of this year's ChamberL.I.N.K.S. program came together last week in Washington, DC to meet with various policy-makers, US Chamber of Commerce staff, CIPE staff, and other non-profit organizations. This was also an opportunity for the participants to reflect on lessons learned, and strategize how they're going to translate their fresh ideas and energy into their everyday work once they return home.
While it's too early to determine how the ChamberL.I.N.K.S. experience will have an impact on the participants' future, they were able to pinpoint what they learned from partaking in daily operations of successful chambers of commerce and business associations in the United States. Here are highlights of what they noted:
1. What are some things that associations in the United States do differently from associations in your home country?
The differences between my Chamber [Zimbabwe National Chamber] and the Ponca City Chamber of Commerce range from the governance structures, committee systems, the extent of membership services, categorization of membership, and largely the way of doing business.  Professionals in the United States run on time and meetings are very structured; this is something that's very uncommon in my country. (Kipson Gundani, Zimbabwe)
U.S. associations plan and budget everything and are also very organized in terms of procedures and details of events. The follow-up they do is impressive. Also, it was very interesting to see how staff interact: everyone respects each other's work and trusts one another's capabilities. (Esteban Strauss, Bolivia)
One major difference I've noticed is how "success" is defined in terms of membership development. Back at [SNNPR Chamber of Commerce and Sectoral Association], we simply look at the numbers and set only quantitative goals (e.g.: raising the number of members). However, my host organization in the U.S. taught me that it's also important to look at how the members are developing because they're gaining value from being part of the association network/member. It's a completely different mindset; and the first thing I'm going to do when I return to my home chamber is to evaluate what value we're offering to our members. (Meselu Sefiw, Ethiopia)
I observed that at the Greater Cheyenne Chamber of Commerce, the flat organizational structure  and high level of delegation of authority gives employees more autonomy to work with high accountability. I also noticed how much emphasis the Greater Cheyenne Chamber put into engaging with not only its members, but also with the Greater Cheyenne community at-large. That's something my home chamber [the Rawalpindi Chamber of Commerce], doesn't do, since we only focus on the business community. (Shumaila Khalid, Pakistan)
2. What are some leadership qualities that you have observed from shadowing senior members of your host organization?
Time management is a significant quality I admire. The Oklahomans in general are very punctual and it helps. The constant contact by [the President of Ponca City Chamber] with his board members and the chamber members is exceptional, and I hope to emulate that when I return [to the Zimbabwe National Chamber of Commerce]. Another important observation I have noted is the inclusively of their programs. Almost every staff member knows exactly what is happening at any given point in time. Transparency helps run programs much smoother – and I hope to bring that back. (Kipson Gundani, Zimbabwe)
From my experience, I was impressed with how open the CEO and Vice President were with their staff members.  They were always trying to help and motivate their teammates. They know that the key asset of their organization is the staff, so the senior managers were always keeping the team spirits high so that everyone felt encouraged and motivated to their best. That's something I respect a lot. (Esteban Strauss, Bolivia)
The president of my host association was an inspiring leader who knows exactly what makes the difference between management and leadership, and who also knows that leadership is about inspiring others through one's own example of integrity, commitment, transparency, and willingness to foster other team members' growth. (Paula Anastasiade, Romania)
One important leadership quality I've observed is that creativity should be encouraged – and that it's never bad to suggest new ideas! (Dalil Batryov, Kyrgyz Republic)
3. What fresh perspectives do you think you'll bring back to your home organization?
When I return to my home chamber [Chamber of Exporters of Santa Cruz], I will definitely encourage implementing the "follow-up" culture so we track each other's activities. Also, I hope to work towards building a sense of team spirit with my staff and start building a stronger support system for the team. (Esteban Strauss, Bolivia)
An important programmatic knowledge I have gained so far is the use of webinars. Instead of asking my home association [the Association of Agribusinessmen of Kyrgyzstan] members and board of directors to come the association's office, I will encourage the use of webinars to distribute quarterly reports and expense reports. That way, not everyone will have to travel a long distance to come hear a 30 minute presentation. (Dalil Batryov, Kyrgyz Republic)
The concept of volunteerism. Instead of appointing people to lead various Chamber committees or activities, it's much more effective to have individuals nominate themselves to run them.  This way, we have people who are self-motivated and who want to engage in Chamber activities – they won't feel "obligated" or "forced" to do them. (Kipson Gundani, Zimbabwe)
I'm interested in promoting the concept of volunteerism when I return home. I'll start by involving myself and inspiring people in my network for some sort of community work. At my home chamber, I'd be interested in initiating a women's empowerment seminar, similar to the one I attended through the Greater Cheyenne Chamber called "Women Wisdom Series", to encourage and train professional women in the Rawalpindi area. (Shumaila Khalid, Pakistan)
All the participants saw this experience not simply as a chance for professional development, but also as an opportunity to observe how they can help develop their communities back home. And they all seemed eager to return to their home countries and apply their new knowledge and improved skills. CIPE will keep in touch with them, and we're excited to see what they'll do in the future!
Update: Shumaila Khalid completed the program at a later date than the other participants. Her responses are now included above.