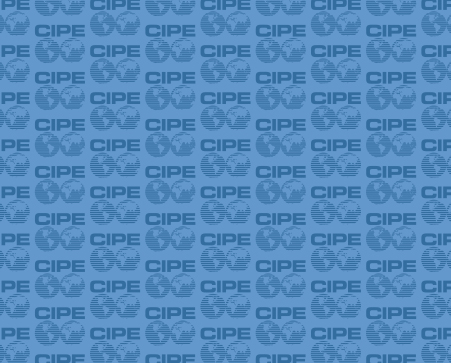 This article is part of a series of interviews with participants of Instituto Invertir's EmprendeAhora entrepreneurship and leadership training program in Peru. Read the introduction to the series and Part 1.
In order to promote the EmprendeAhora program and encourage new applicants from throughout Peru, each year CIPE partner Instituto Invertir conducts an extensive promotional campaign in every major regional university. Local teams made up of EmprendeAhora alumni are in charge of distributing materials in their universities and in other youth spaces in their cities (Internet cafes, church, library, etc.). The alumni also give informative talks at universities and speak to the local media. It was through this promotional campaign in the summer of 2010 that Gerson Casas learned about the benefits of EmprendeAhora from Coco D'Azevedo, the 2008 alum profiled in a previous post.
Like Coco, Gerson is from Iquitos, Peru and was drawn to the program for the opportunity to travel to Lima, meet new people, and learn more about being an entrepreneur. After completing the rigorous application process, Gerson was selected to attend EmprendeAhora 2010.
According to Gerson, the EmprendeAhora business plan competition was the most important aspect of the program. As part of the competition, students are divided into groups of three to five from the same city to work together to choose a business idea that could eventually be launched in their region to create employment and economic growth. Students work progressively on the projects throughout the three EmprendeAhora sessions with an assigned coach – a professor from the university or a successful entrepreneur.
Gerson and his three partners came up with the idea for a chocolate company called Chocohuayo featuring chocolates filled with aguaje and camu camu, two fruits native to the Loreto region. They worked with their coach, Margarita Reyes, on their plans for production, marketing, and costs. In Iquitos the group conducted surveys as part of their market research and while in Lima for the sessions the group visited a number of chocolatiers to see what other aspects of the business they should incorporate into their plan. Although Chocohuayo did not win the business plan competition, they were selected as one of ten finalists out of the 40 different business plans.
Jump ahead to January 2012 and I find myself sitting in a small workshop in Iquitos. Unfortunately there are no tasty chocolates to eat; rather, I am surrounded by colorful wooden puppies, airplanes, and race cars. The shop, called Chiki Madera, is Gerson's wooden toy business. Upon completion of EmprendeAhora, Gerson didn't need to look very far for a new business opportunity. His father owns a furniture factory and he grew up making small wood carvings with scraps left over from the doors, chairs, and tables that his father was building.
Implementing many of the things he learned during the EmprendeAhora business plan competition, Gerson resourcefully utilized his father's carpentry tools, shop space, and scrap wood and began crafting and selling wooden toys, a product that none of the other carpenters in Iquitos were producing. His main startup costs were for the paint, varnish, and display cases, making it fairly easy to begin with little capital.
While Gerson is the owner and sole full time employee of Chiki Madera, this past Christmas he contracted two helpers to complete all of the toy orders in time for the holidays. He also receives some help from his mother – a restaurant owner – in creating the toy designs. Gerson admits too that he gets design inspiration from television and even from the construction workers digging up the street in front of his shop. Case in point: his newest design is a backhoe tractor.
Gerson is happy running his own business in Iquitos, serving a local clientele and occasionally traveling to fairs to sell his products. In 2011, Chiki Madera was one of more than 400 exhibitors with a booth at Perú Gift, an international fair specialized in gifts and decoration. Approximately 8,000 national and international visitors attend each year. There he made contacts that could help him reach his goal of exporting his products. Regardless of whether he ultimately exports, he sees his current work as preferable to studying another career or working in a company, the alternatives he envisions had he not attended EmprendeAhora.
Having witnessed the positive stories of Coco and Gerson, and with my mementos from Iquitos in tow – brochures from Coco and a red, white, and blue wooden puppy that I couldn't resist purchasing from Gerson – I boarded a flight back to Lima for the first session of EmprendeAhora 2012.