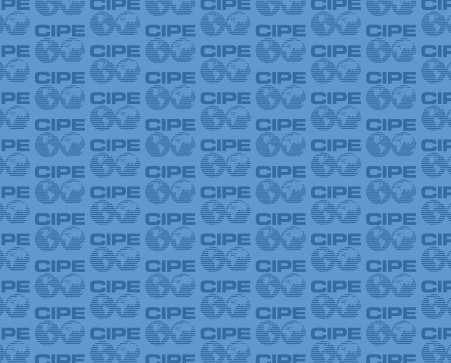 The Think Tanks and Civil Societies Program at the University of Pennsylvania released its 2010 rankings of think tanks around the world in January. The report identifies 6,480 think tanks in the world and notes the growing impact of policy research organizations, especially "as catalysts for political and economic reform." Many CIPE partners are included among the leading 25 think tanks from each region; we congratulate them for their performance. Here are a few examples of how think tanks have been working with CIPE to improve democratic policymaking.
The Foundation for Higher Education and Development (Fedesarrollo) organized candidate debates in Colombia's 2010 presidential election. Fedesarrollo's policy papers on tax reform, labor markets, and infrastructure policy provided the foundation for three televised presidential debates. Some of the debate topics have become priorities in the new government of President Juan Manuel Santos; and certain recommended reforms have become law in areas such as youth employment and natural resource management. President Santos used Fedesarrollo's recommendations to eliminate tax advantages from capital investment and for the gradual elimination of Colombia's financial transaction tax.
The Ahram Center for Political and Strategic Studies and CIPE conducted a survey of nearly 800 Egyptian small and medium-sized enterprises about their experience with corruption in the course of doing business. They then surveyed a nationally representative sample of nearly 1,800 Egyptian citizens to gauge their perceptions of corruption. Supported by USAID, the survey results informed four CIPE papers outlining recommendations for policy changes to curtail corruption in the country. The papers, produced under the guidance of CIPE Egypt's expert advisory council, address the implications of decentralization, the importance of access to information, and reform of the bureaucracy.
In 2008, the Institute of Economic Affairs in Ghana organized two presidential, one vice-presidential, and eight parliamentary debates. Over 10 million people watched the presidential debates on live television and about 8 million listened over the radio. For the first time in Ghanaian history, presidential candidates from all major political parties took part. The four presidential candidates clearly stated their platforms and made a pledge for peace, a promise that they kept. The open and informative treatment of the campaign issues by candidates inspired citizens to organize their own local parliamentary debates as well. Consequently, the elections were issue-based, rather than personality-based.
Here are all of the CIPE partners featured in the 2010 Global Go-To Think Tanks report:
Top Think Tanks in Latin America and the Caribbean
#4. Center for the Implementation of Public Policies Promoting Equity and Growth (CIPPEC), Argentina
#6. Fedesarrollo, Colombia
# 15. Institute for Liberty and Democracy, Peru
# 16. Center for the Dissemination of Economic Knowledge (CEDICE), Venezuela
# 25. Ecuadorian Institute for Political Economy (IEEP)
Top Think Tanks in the Middle East and North Africa
#3. Al-Ahram Center for Political and Strategic Studies, Egypt
#20. Israel-Palestine Center for Research and Information
#21. Lebanese Center for Policy Studies
Top Think Tanks in Sub-Saharan Africa
#6. Centre for Development and Enterprise, South Africa
#11. Institute of Economic Affairs, Ghana
#25. Kenya Institute of Public Policy Research and Analysis (KIPPRA)
Top Think Tanks in Central and Eastern Europe
#21. Center for Liberal Democratic Studies, Serbia