The research of legal regulation and practice of working time recording was based on the study of EU Directive 2003/88, legal regulation models of EU member states, European practice, the 2019 decision of the CJEU, as well as the Georgian practice.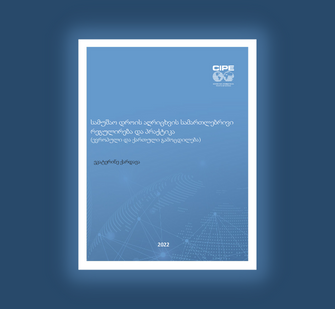 The research document was commissioned by Center for International Private Enterprise (CIPE) under the project "Engaging Workers and Civil Society to Strengthen Labor Law Enforcement."
The aim of the development of this research document is to support the member organizations of the Economic Policy Advocacy Coalition (EPAC) in advocacy. Particularly, in collaboration with the CIPE, an EPAC Labor Law Reform Working Group has been established, where business representatives have the opportunity to discuss current labor law enforcement issues in Georgia and work on policy advocacy.
The Economic Policy Advocacy Coalition (EPAC) was founded in 2015 and aims to develop policies that promote a business-friendly environment through dialogue between public and private sector actors. EPAC includes about 50 Georgian business associations, chambers of commerce, as well as strategic research centers and non-governmental organizations dealing with economic and business issues.
EPAC Labor Law Reform Working Group Members are the following organizations:
Georgian Farmers' Association
Infrastructure Construction Companies' Association
Georgian Producers' Federation
Georgian SME Association
Georgian Lawyers for Independent Profession
Georgian Tourism Association
Georgian Distributors Business Association
Georgian Waste Management Association
Institutional and Capacity Development Center
HR Professionals Association
Confederation of Safety&Health Organizations
German Economic Association
NNLE Association of Mediators of Georgia
Retail Association
Association of Law Firms of Georgia
European Business Association
Georgian Employers' Association
Business Association of Georgia
American Chamber of Commerce
Georgian Chamber of Commerce and Industry
Gastronomic Association of Georgia
Georgian Women Business Association
Information Technology Association of Georgia
Association "Women for Tomorrow"
The author of the research document: Ekaterine Kardava, Dr. of Law, Associate Professor (affiliate) at the Caucasus University (CU), Professor at Gori State Teaching University (GSTU), Co-coordinator of Jean Monnet Project LFEU, Coordinator of Jean Monnet Module EUEAA, Head of the Association "European Time".
"Funding is provided by the United States Department of Labor under cooperative agreement number IL-32531-18-75 K, through a subaward to the Center for International Private Enterprise (CIPE) from the Solidarity Center. 100% of the total costs of the project or program is financed with federal funds. This material does not necessarily reflect the views or policies of the United States Department of Labor, nor does mention of trade names, commercial products, or organizations imply endorsement by the United States Government."
© CIPE
© Ekaterine Kardava
Tbilisi, 2022