Organization: Instituto Invertir
Country: Peru
Name of the Practice/Program: EmprendeAhora
Start date: February 2008
1. What is the problem addressed by this practice?
EmprendeAhora is a training program that was design to change the bad attitudes and wrong concepts that university students of the regions had about Democracy and Market Economy. Also, we wanted to give them the necessary tools so they could open their businesses and create local employment.
2. Describe the practice.
EmprendeAhora trains the best university students from all over Peru in Leadership, Democracy, Market Economy and Business Plans. After a national promotional campaign developed by the ex-EmprendeAhora students, we developed a strict selection process that includes an aptitude and entrepreneurial attitude exam, a business idea, and a personal profile.  Over five months, we bring more than 100 students to Lima to receive 100 hours of classes in three educational sessions. The sessions include classes, business plan coaching, and talks by important entrepreneurs, opinion leaders and political leaders. There are also visits to big companies, workshops with other young leaders from Lima, cultural activities and an Entrepreneurial Fair. To graduate, the students have to develop a Business Plan for their regions in groups. Between sessions they develop a 12 week Virtual Business Plan Course with a personal coach. The 10 finalists present their projects to a jury, the best 3 plans receive cash prizes in the Closing Ceremony and they can access financing with Crediscotia, our financial partner. Also, to graduate students have to do a Leadership and Entrepreneurial workshop in their region for university or school students; and develop a Democracy video. The best assignments are awarded in the closing ceremony too.
3. Explain why and how your organization developed this practice.
Invertir Institute was born with the mission of promoting entrepreneurship and market economy as the best way to overcome poverty in Peru. One of the ways of fulfilling this objective is though training. That is why we wanted to train the most distinguished students of the regions, where young people have less job opportunities and an attitude of rejection and disenchantment towards market economy and democracy. We designed the project, present it to CIPE and looked for local sponsors and allies who believed in training the best students of the regions in entrepreneurship and democracy as a good way of generating development.
4. Describe steps or tips for implementing the practice.
In order to carry out a Project like EmprendeAhora, the first thing to do is develop an image (logo, slogan, Web, mission, mystic, etc). Then the most important step is the generation of alliances of all kinds with different stakeholders. The first main alliance has to be with a prestigious educational institutional that supports the program. They will be in charge of all the academic matters and will co-design the modules. After that, make alliances with other institutions (NGOs, companies, etc.) that work entrepreneurship and educational subjects. It doesn't have to be a monetary support; these alliances will give more credibility to the program. Then make press alliances to warrantee publicity and coverage of the program, which will interest the potential sponsors. Search for sponsors that can give money or in kind products or services in order to execute the program. The first year there has to be a lot of effort put on the promotional campaign so students get to know the program and apply. Search for the best way to get to the target students. Identify an institution that works with all universities (NGO, rectors association, etc.). In the second year, the ex students can be in charge of the promotion. Find creative ways of making the ex students stay linked to the program (contests, benefits, etc). This will help identify success cases and the program's impact, which has to be promoted among the allies, sponsors, potential sponsors and press. Project manager is clue and should be young and related to youth institutions and NGOs.
5. Describe actual results of the practice and useful applications. Include evidence of effectiveness.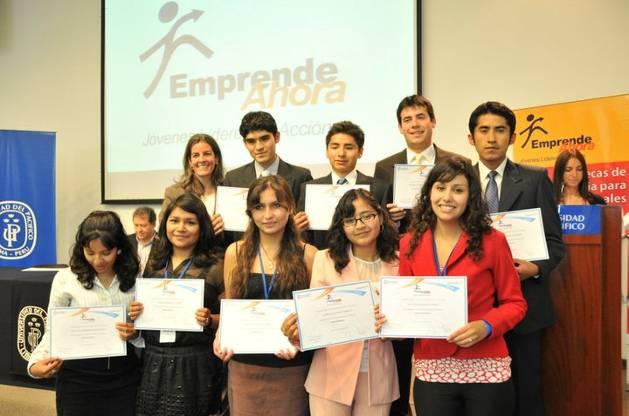 Since EmprendeAhora started in 2008, we have had excellent results:
430 students trained
Over 2700 applications
Over 25,000 visits to the web during promotional campaign of 2010
Selection process includes the support of over 30 universities in 23 regions
Over 60 media impacts (TV, Radio, Press)
Over 30 important expositors
Over 30 business coaches involved
International Recognition (Templeton Freedom Award and Francisco Marroquín Price – Atlas USA)
National Recognition (Finalists in ANDA Peru 2010 and Solidarity RPP Prices.
About the impact:
Over 40 new businesses have been created by students of 2008, 2009 and 2010 after the program. Seven of these businesses are in the process of being financed by Crediscotia, our financial partner.
More than 12,000 students of schools and universities have been benefited by the EmprendeAhora multiplicative effect, thanks to the mandatory leadership and entrepreneurial workshops organized by the students in their regions, and thanks to the ones they did after the program in a volunteer way.
After the workshop, with other leaders of Lima, three groups of students decided to replicate Voluntades in their regions (Puno, Huancayo, Chiclayo). They are now working values with low income teenagers. Students are becoming leaders and taking responsibility in improving their environment.
According to the baseline surveys and the testimonies, the attitudes and perceptions from the students towards democracy and market economy changed after the program.
6. Describe lessons from your experience, such as circumstances in which the practice can work, challenges faced, and success factors.
A positive circumstance in Peru was the Pro Entrepreneurship environment. By the time we started EmprendeAhora, entrepreneurship was starting to be a very important topic. El Comercio launched a supplement for entrepreneurs (Mi Negocio). Also, Canal N and Frecuencia Latina (TV) launched two entrepreneurial programs with great success. Business Plan contests, fairs, and small business incubators started multiplying in various spaces (universities, NGOs, Production Ministry etc). This added to a more solid Social Responsibility culture made it easier to close alliances of all types. The biggest challenge was the international crisis (no money, no program). The main success factors were:
The capacity of building alliances and managing them well (co-identification of value for the institution and co-organization of activities; periodic news, reports, pictures, etc.)
The capacity of motivating the ex students to stay linked, making them feel as part of an alumni network that can keep changing their lives.