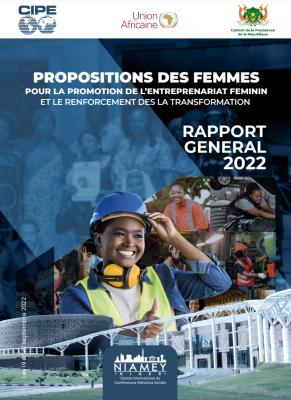 This new report sheds light on how to strengthen women's leadership in transformation, processing, and industrial development in continental Africa. The report was developed by CIPE in partnership with the Government of Niger and the African Union following a roundtable in Niamey, Niger. The objective of this report is to propose concrete recommendations and inputs from women in processing for women's economic empowerment. These recommendations have been presented at the African Union Heads of State Summit on Industrialization.
On September 19 and 20, CIPE, the Government of Niger, and the African Union held a roundtable focused on promoting women's entrepreneurship and strengthening agro-processing value chains ("Propositions des Femmes pour la Promotion de l'Entreprenariat Feminin et le Renforcement de la Transformation"). This event was organized as a preparatory meeting ahead of the African Union Heads of State Summit on Industrialization that took place in Niamey from November 20 to 25.
More than 80 participants from over 10 West African countries attended the event, including women entrepreneurs in agriculture, agro-processing and manufactured products; academics; and government officials from Niger. High-level representatives from CIPE, Niger's Ministry of Industry and Youth Entrepreneurship, the United Nations Economic Commission for Africa, the African Union, and a number of international donor organizations agreed upon the high importance of supporting women's entrepreneurship. These representatives highlighted how supporting women's entrepreneurship can be used as a lever for inclusive development, contribute to job creation and food security, and advance sustainable practices to reduce poverty.
The roundtable featured a wide range of international experts who exchanged experiences and shared recommendations with participants. The expert panel included three core presentations based around the following themes: (1) the progress of women's economic participation in West Africa and ongoing challenges; (2) the critical need to support transformation and industrialization to promote the economic contributions of women; and (3) the major challenges of private sector development and how to optimize of gender promotion in economic activity.
Following the expert panel, participants broke into thematic working groups. These groups provided a space for participants to share their experiences and inform recommendations on how to advance women's economic empowerment and inclusion. These groups focused on:
Economic participation and access to finance, including a focus on improving the overall business environment for women, capacity-building, and strengthening market systems.
Production and transformation of women's economic realities, including discussion of the need for critical public reforms – such as expanding access to education and opportunities to participate in industrialization.
Public-private sector dialogue and representation, with a focus on how to engage public institutions in dialogue on women's economic empowerment.
After the roundtable discussions, the participants established six priority recommendations for West African authorities, regional bodies, and non-governmental actors:
The establishment of a regional online ledger for women in processing, providing information on products available per locality and locations through a digital platform. This platform would facilitate exchanges and trade in the sub-region.
The establishment of a Women in Transformation Organization in each country to create collaborative advocacy and gender-specific industrialization activities at a continental scale. These activities would include services adapted for women-specific transformation (including capacity building, technical and financial support, and fair trade). The organization would also facilitate engagement with state-sponsored programs for the professionalization and formalization of primary sectors (e.g. sectors involving activities exploiting natural resources – agriculture, fishing, forestry etc), as well as the promotion of local products.
The implementation of a campaign by public institutions that promotes local production, under the common slogan "Consume Local, Consume African."
The adoption of a legal framework to promote the production and consumption of local products that meet a gender quota for public procurement, and the establishment of a monitoring mechanism (Women's Public-Private Technical Committee).
The establishment of a financing framework for women in transformation in relation to national women's transformation associations.
The integration of a transformative women's structure and the establishment of the industrialization program by the African Union.
Given these recommendations, participants agreed to transmit the following conclusions and practical steps towards women's economic empowerment to the African Union Heads of State Summit on Industrialization:
The creation of a continental Women Chamber of Commerce to mobilize women around scaling activities and providing technical services for growth.
The establishment of specific mechanisms to provide women with greater access to finance. Examples include providing incentives for financial and non-financial institutions to target exclusively women entrepreneurs via the creation of guarantee mechanisms, interest rate subsidies, or coverage for first loss for women who do not have personal capital or collateral assets to provide.
The formation of special economic zones (SEZs) and industrial parks: areas within the participating countries that are subject to different economic regulation that the host countries.1 The creation of these areas would strengthen the business environment for women by dedicating industrial infrastructures for transformation and processing, thus reducing the per-business cost of those infrastructures.
The establishment of a structured public-private dialogue platform for women in processing to facilitate advocacy and communication between the various actors of the value chains.
"The objective of this roundtable and the African Union Summit on Industrialization is to give visibility to women's activities, support the establishment of an African regional network for the promotion of women's economic participation, including representative employers' and consular associations, but also women entrepreneurs, and capitalize on knowledge and experience to engage public advocacy around priority reforms to improve the business environment for women and strengthen their economic empowerment." – Allahoury Aminata Zourkaleini, Minister for the Advancement of Women and Child Protection
Read the full report here (available in French).
---
1 The World Bank's definition of a SEZ includes geographically limited area, usually physically secured (fenced-in), with single management or administration; eligibility for benefits upon physical location within the zone; a separate custom area (duty-free benefits) and streamlined procedures.