Introduction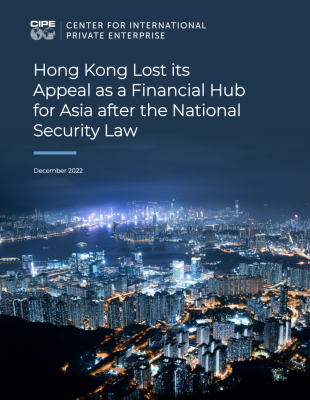 The introduction of the wide-ranging National Security Law (NSL) in Hong Kong on July 1, 2020 officially shattered the political autonomy promised Hong Kong under China's "One Country, Two Systems" principle. The NSL allows Hong Kong residents to be sent to trial in China and charged with secession, subversion, terrorism, or collusion with foreign organizations. Furthermore, the NSL undermines the independent judicial system in Hong Kong and features an unprecedented extraterritorial reach that can also apply to Hong Kong's non-permanent residents and visitors. Since the passage and implementation of the NSL, authorities in Hong Kong have arrested hundreds of protestors, activists, and former opposition lawmakers. As a result, Hong Kong has experienced a systematic erosion of liberty and democracy, prompting condemnation from international actors, including a joint statement by 50 UN Special Rapporteurs and human rights experts that noted "the repression of protest and democracy advocacy" and "severe restrictions on civil and political rights."
After its passage, the Hong Kong Bar Association (HKBA) released an analysis of the NSL, explaining that the law is "capable of being applied in a manner that is arbitrary, and that disproportionately interferes with fundamental rights, including the freedom of conscience, expression, and assembly." The HKBA's analysis also raised concerns about the law's threats to judicial independence: the law empowers the city's chief executive to appoint judges to oversee national security cases. Moreover, the law curtails nonviolent expression, including speech and peaceful advocacy, because expressing particular views could be interpreted as criminal behavior under NSL. In the two years since the NSL's passage, Hong Kong authorities have used the NSL precisely as the HKBA warned. As a result, civil society space shrank significantly, judicial independence was eroded, and freedom of the press was curtailed. Any dissent from official CCP narratives is construed as an act that violates the National Security Law.
The NSL has significant economic implications for the city-state. As one of the primary financial hubs for Asia, Hong Kong has long depended on its judicial independence and political freedoms to provide the transparency and rule of law needed to attract foreign investment and achieve economic growth. Without these distinct freedoms, Hong Kong is just another Shanghai, with few distinctions from financial hubs in the Mainland. As a result, the NSL is hurting the financial interests of Hong Kong's private sector and prompting many multinational corporations (MNCs) to consider the relocation of regional offices away from Hong Kong.
This paper examines the Balance of Payment (BoP) and subsequent Foreign Direct Investment (FDI) data from Hong Kong, Singapore, and investing countries to trace the reshaping of the investment landscape in Asia as a result of the NSL. The findings indicate that Hong Kong's diminishing space for free speech and rule of law due to the NSL and other political tensions has made Hong Kong less attractive as an investment destination for foreign business. However, because Chinese investments have filled the economic vacuum in Hong Kong's economy, Hong Kong has not suffered from the loss of international investment thus far. This increased Chinese investment in Hong Kong is making Hong Kong's economy increasingly reliant on Chinese capital, enabling Hong Kong's absorption into the Chinese economy.
Published Date: December 01, 2022