A Methodological Guide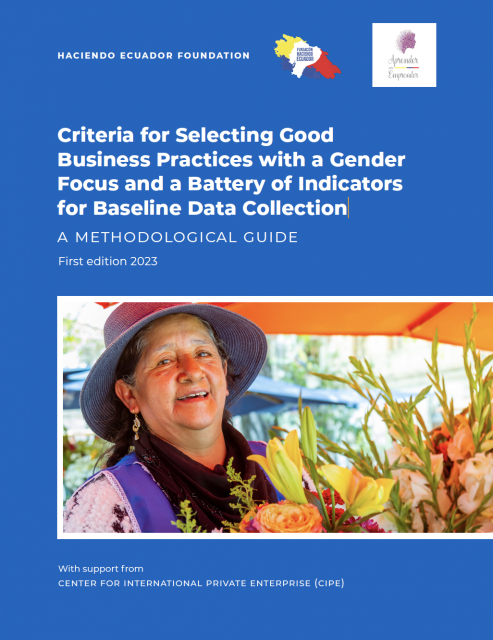 This methodological guide is part of "Good Business Practices with a Gender Focus in Ecuador," a research project promoted by the Fundacion Haciendo Ecuador with the support of the Center for International Private Enterprise (CIPE) in close collaboration with the Chambers of Commerce of Quito, Guayaquil, Cuenca and Manta, and the technical work of the National Council for Gender Equality (CNIG).
The guide presents the methodological considerations on which the research has been developed and implemented. It refers to the work carried out by the public-private Business Alliance for Gender Equity in Colombia organization. It substantially modifies, however, several of the processes, groups, themes, and information gathering instruments, to address the social, economic and legal context Ecuadorian women operate under. We highly recommended reviewing this guide as it constitutes the main roadmap on which the research was conceived and reflects the considerations adopted for the Ecuadorian context. By comprehensively addressing existing gender gaps in the country's business sector, it also explicitly posits the goal of conducting research that enables a comprehensive diagnosis of the women's labor situation in areas ranging from company objective management and human talent management, to organizational culture and structure.
This research is designed to identify the determinants that continue to diminish the entry, permanence, and professional development of millions of women in the labor market. It also aims to highlight the current initiatives that the Ecuadorian business sector has implemented to reduce existing gender gaps in the country.
Published Date: August 03, 2023