Executive Summary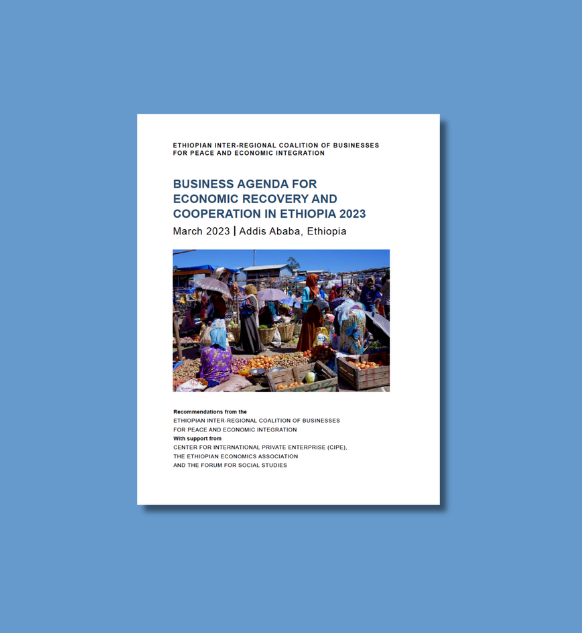 Recent conflicts in Ethiopia have taken a great toll on the social and economic life of the country, and the war in Northern Ethiopia in particular has had a devastating impact on the Ethiopian economy. The war has damaged crucial economic facilities such as airports, roads, bridges, power stations, farms, and processing plants. In addition, basic services such as health, education, banking, and communi-cations have also been disrupted which has led to the closure of businesses, the inability to access inputs, shortages of cash, unemployment, displacement, and considerable social trauma. As financial institutions were badly affected by the conflict, access to finance for both businesses and individuals has decreased significantly. The manufacturing sector was gravely affected by the conflict.
The November 2022 ceasefire agreement between the government of Ethiopia and the Tigray People's Liberation Front (TPLF) has ended the violent clashes that broke out in November 2020 in Northern Ethiopia, forging pathways toward peace in war-affected regions. However, to sustainably redress the effects of conflict and ensure lasting peace in northern Ethiopia and other regions affected by instability and violence, rebuilding destroyed infrastructure, restoring basic services, upholding rule of law, and supporting the private sector to resume work at full capacity should be prioritized.
Considering the crucial role Ethiopia's private sector plays in promoting economic reform, the business community's engagement in issue-based, inter-regional conversations can contribute to sustainable peace. In this context, CIPE aided in the establishment of an inter-regional private sector coalition consisting of chambers of commerce, business associations, and civil society organizations (CSOs) between four regions, Oromia, Amhara, Somali, and Afar. The interregional coalition aims to foster an environment for collaborative peacebuilding, economic recovery, and regional economic integration and stability. The coalition currently includes 25 chambers of commerce, business associations, and women and youth organizations in the four regions.
The coalition was actively engaged in identifying priority issues and solutions that are captured in this business agenda for peace and economic recovery. The agenda will form the basis for a dialogue between the government and the inter-regional private-sector coalition. Such dialogue aims to gar-ner support for the key priorities and solutions identified by the business community to rehabilitate businesses in conflict-affected areas. In addition to the consultation workshops conducted among the coalition members, the business agenda was also informed by the policy-oriented research conducted by EEA in the four regions.
Published Date: June 27, 2023