The Policy & Program Learning (PPL) team is pursuing answers to crucial questions about the direction of democratic free-market systems and highlighting areas for business leadership in reform. Supporting independent economic voices and democratization opportunities requires knowledge of international experience, policy options, and technical tools. To advance this work, PPL focuses on three core areas of work: Policy and Applied Research, Knowledge Management, and the Free Enterprise & Democracy Network.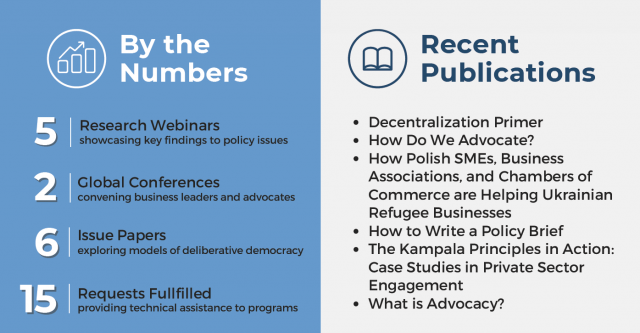 In 2022, PPL has commissioned studies, conducted opinion polls, and leveraged the expertise of global practitioners and scholars. PPL also tapped into CIPE's growing interest in youth through our programming and continued to focus on cross-team collaboration.
This report provides actionable knowledge and an opportunity to learn more about PPL products.
Published Date: March 29, 2023